Andrew Strauss credits Mohammad Yousuf for giving him clarity on how to play better
Strauss recalled the times in 2008 when he was about to get dropped from the team.
Updated - Apr 9, 2020 12:53 pm
2.2K Views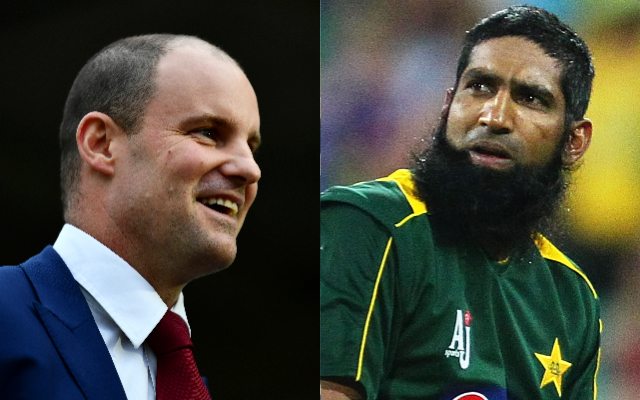 Follow us on Google News
Andrew Strauss has made some really important contributions to the England Test side. From winning an Ashes away from home to building a team which later went on to win the world cup, Strauss has been an inspiring person. Having played exactly 100 Tests, the left-hand batsman has enough experience, so when he speaks, its only obvious one should listen.
Recently, in an interview he opened up about the innings which revived his career and changed his mindset. He also credited former Pakistan batsman Mohammad Yousuf for the same as he said he picked it the mindset from the legendary batsman.
Andrew Strauss recalls the moment when he scored 177 in 2008
The former England captain talked about England's tour of New Zealand in 2008 when he felt that he was going to get dropped due to bad form. Andrew Strauss said that after thinking of getting dropped, he just let things go. He admits that he just wanted to bat like it was his last game for England and stopped worrying. Strauss went on to get 177, his highest Test score.
"Having had 12 months worrying and fearing about the humiliation of getting dropped, when that was actually the next thing that was going to happen to me, I just let go all my feelings. I was thinking that if this is my last innings for England then I am just going to go out and enjoy it and almost treat it like my debut.
"My debut was a step into the unknown for me much like this one and so what will happen, will happen. I thought I am not in control of this, God is in control and amazingly with that mindset, I went out and got 177", said Strauss.
As per the reports in Cricket Pakistan, Andrew Strauss then cited the example of former Pakistan batsman Mohammad Yousuf. He spoke about how Yousuf's mindset of just not worrying too much and believing god helped him transform his game. Strauss also said that the mindset which Yousuf carried would be something he would teach young cricketers.
"I always like to use the example of Mohammad Yousuf. When he was Yousuf Youhana, he was averaging 40 in Test cricket. Then he became a devout Muslim and on the back of that he had this philosophy that God willing, what will happen will happen. He had a much different outlook on life and he went from averaging 40 over the space of three years to averaging 70 in Test cricket.
"And that's just based on shifting his perspective on life. He was almost trying not to be as much in control of his batting as he was previously. Just kind of accepting that fate will have something in store for him. I think that was a really good illustration for me that sometimes you just have to let it all go. If I was working with a young player, this would be the philosophy I would try to embed in them," the 43-year-old said.
Follow us on Telegram