Angelo Mathews- The silver lining in Lanka's dark clouds
At Chandigarh, it was all about a one-man show from Angelo Mathews with no semblance of assistance from his fellow partners.
Updated - Dec 15, 2017 10:52 pm
159 Views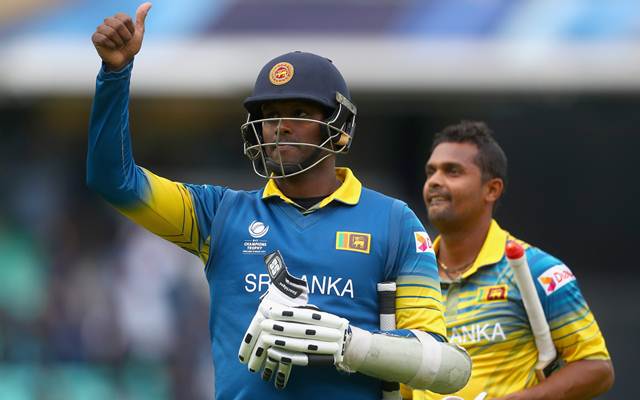 Fight, a five-letter word is mostly associated with a goal. Subsequently, we strain every sinew to reach the desired destination. Meanwhile, hurdles are pretty 'obligatory' in the expedition. Sometimes, the efforts are translated into triumphs. Other times, one has to sportingly embrace the defeats. Both victories and defeats are part and parcel of a career irrespective of the profession.
It's a harsh, yet a ground reality that every effort can't attribute to glory. But, what if a majority of the fight doesn't convert into victories? What if the 'fight' is mostly for a lost cause? Remember a dialogue by the charismatic Naseeruddin Shah from the iconic Bollywood flick 'Iqbal'- "Ek cricketer koi kisaan se kam mehnat nahi karta" (a cricketer doesn't work any less than a farmer). Rightly so.
Cricket is a physically and psychologically taxing sport, just like the exertions that go into farming. It can be highly dispiriting if the efforts constantly lead to despair and dejection. However, the passion and urge to succeed keep us rejuvenated even if it means pulling things off single-handedly. Angelo Mathews' recent livings with the Sri Lankan team runs parallel to the above-explained prologue.
Valiant, yet unsuccessful attempts
The second One-Day International was no different either for the Lankan all-rounder. The Islanders started their run chase at a required rate of 7.86. By the time Mathews strode out after 7.3 overs, the rate had already leapfrogged to an alarming 8.54. In an era of slam-bang cricket, a rate hovering between eight and nine isn't alien to international teams.
Moreover, it's considered achievable, even though chances of overhauling it are remote. However, a collective effort can defy the inevitable. South Africa, chasing 434, steamrolled Australia in 2005 on the back of Herschelle Gibbs' exemplary ton. Sri Lanka nearly traced down 400+ runs against India in 2009 courtesy Tillakaratne Dilshan's swashbuckling century.
Nevertheless, both knocks required appropriate support from the other end. Subsequently, they paved the way for an impressive display of batsmanship. At Chandigarh, it was all about a one-man show for Sri Lanka with no semblance of assistance from his fellow partners. Quite expectantly Angelo's valiant efforts went in vain.
It was bound to, more so as the next highest score was a laborious 34 runs by Asela Gunaratne. To be precise, Mathews notched nearly half of the runs scored by the Lankan batsmen. While it depicts his proficiency with the willow, it also indicates Sri Lanka's dismal state in their batting department. The pitch had no demons whatsoever, yet the Lankan batsmen imploded miserably.
Angelo Mathews indeed survived till the end, but at the halfway mark, the game was poised to head in only one direction- none other than a comprehensive Indian victory. Despite his heroics, a tragic one, Sri Lanka posed minimal threat to the Indian bowlers and were never in contention to breach India's mammoth total.
Statistics don't lie
Nonetheless, it wasn't the first occasion when a stupendous show by the all-rounder couldn't guide Sri Lanka past the finishing line. He has 35 half-centuries to his credit, out of which 16 of them were scored on losing causes. To make things worse, both of Mathews' two One-Day International tons couldn't fetch Sri Lanka victories.
Last time around, he racked up a staggering 139 runs off 116 balls in 2009 against India. Lahiru Thirimanne chipped in with an impressive half-century, but the other batsmen stumbled. Consequently, Sri Lanka slumped to a below-par score which eventually didn't turn out to be suffice to challenge India's star-studded batting line-up on a bowler's graveyard in Ranchi.
The conundrum of Sri Lanka's search for a dependable batsman has grown, especially after the departure of the likes of Kumar Sangakkara, Mahela Jayawardena and Tillakaratne Dilshan. Quite recently, they tantalisingly ensured direct qualification for the 2019 World Cup and the struggle didn't spring a surprise.
No dearth of potentiality
Amidst the shambolic performances, Sri Lanka have thrown up sparks of brilliance. They turned over India in the 2017 Champions Trophy when the odds were heavily stacked against the Islanders. If we delve deep into the scorecard, there's a stark contrast to their performances in recent times. When Mathews' walked in, the platform was already set for an improbable run-chase.
Nobody got a century but scored big enough to put India on the mat. He notched a half-century, a match-winning one, and brushed India aside. Therefore it's not like that they can't deliver with the bat. However, lack of experience and inconsistencies have tarnished their reputation as a cricket team. Angelo Mathews is currently into his 30s and has a fair amount of cricket left in him.
However, it will be unfair on him to be Sri Lanka's saviour everytime he takes the field. He has undoubtedly been an indefatigable trouper for the Lankans. However, the management somehow has to churn out quality cricketers to first assist him and then take the baton.
For the time being, Sri Lankan cricket is heavily dependent on the all-rounder's prowess with the willow, which might land them in further troubles going into the future.