Anil Kumble picks his Indian Test XI of the players who played after 1990
Kumble revealed his Test XI of Indian players who have played after 1990 or retired after Kumble's debut.
Updated - Jan 6, 2019 6:16 pm
3.8K Views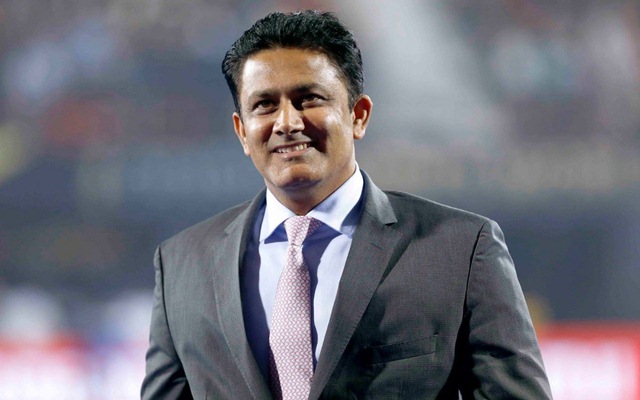 Follow us on Google News
A lot of players have been making their all-time Playing XI across formats. A team where former Indian skipper Anil Kumble was himself designated as captain, he had to pick his XI amongst players who have played for India after 1990- the year Kumble made his debut. He roped in players from his era and also some of the current players who have impressed the legend.
When it comes to choosing Indian openers for an all-time Test XI, Virender Sehwag was an automatic choice for Kumble. Sehwag who is the second highest run-scorer as an Indian opener has been considered the best since Sunil Gavaskar. The latter did not make the cut because he retired before the year 1990.
As for Rahul Dravid, who is the best No. 3 India have ever produced with 10501 runs in that position, was given the spot of an opener instead. Kumble in an exclusive for CricketNext explained that he wanted more depth in the middle order and hence this decision.
Kohli, Sachin and Laxman in the middle order
Kumble had no hesitation in assigning the third and fourth batting position to Virat Kohli and Sachin Tendulkar respectively. The best Indian batsman of this generation and arguably the best of all time were bestowed with the positions quite generously. As for VVS Laxman, a sublime hero of strokeplay, the only point that raised eyebrows is that there would be no left-handed batsman in the mix. Kumble anyway chose Laxman ahead of India's best left-handers- Mohammad Azharuddin, Dilip Vengsarkar and Sourav Ganguly. Laxman's ability to form long partnerships put him ahead.
Jumbo again made had hesitation in assigning the number 6 position to the great Kapil Dev. Kumble unhesitantly titled Kapil as the best Indian all-rounder and also stated that he could any day qualify for just his batting. His versatility on the field is also something that counts.
WicketKeeper – MS Dhoni over Mongia and More
MS Dhoni's brilliance behind the wickets alone earned him a place in Jumbo's team. The latter couldn't stop complimenting Dhoni's wicket-keeping skills and how his stumpings and run-outs have become a benchmark for all players now. But while explaining why Dhoni was chosen over Mongia and More, Kumble said that MS is an entire package. His ability to read the game from behind the stumps is a huge plus.
Spinning partner – Harbhajan over Ashwin
We have all witnessed a long run of spin-partnership between Anil Kumble and Harbhajan Singh and Jumbo quite evidently cherishes it. Although it was a close call between Ravi Ashwin who's well-known for his wicket-taking abilities, Kumble chose his old partner Bhajji instead. After all, it's who you're happiest to play with!
India finally have a pace trio to die for, but before that, the best that they've had was Zaheer Khan. No wonder he is an inspiration for James Anderson! Zaheer's ability to produce swing and reverse swing has earned him a place in Jumbo's team. We are aware of Kumble and Srinath's friendship. He explained Srinath's inclusion by talking about his ability to produce big spells.
Anil Kumble's India Test XI since 1990:
Virender Sehwag, Rahul Dravid, Virat Kohli, Sachin Tendulkar, VVS Laxman, Kapil Dev, MS Dhoni(wicketkeeper), Anil Kumble (C), Harbhajan Singh, Zaheer Khan, Javagal Srinath
[interaction id="5c2c6f5a8f833d27c9ea767c"]
~ Written by Sritama Panda
Follow us on Telegram