Anisa Mohammad first to take 100 T20 International wickets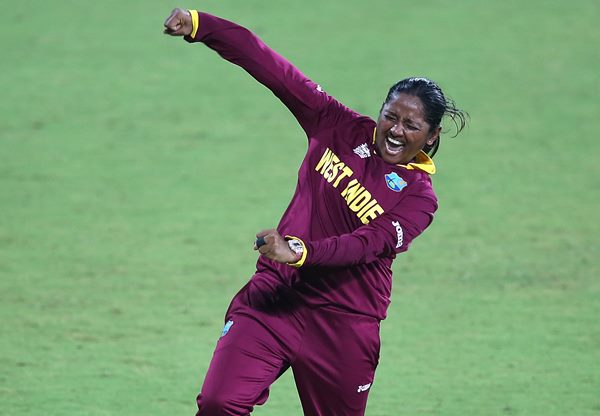 Anissa Mohammad, the right-arm off-spinner of the West Indies Women's team, has become the first bowler to take 100 T20 international wickets. She achieved this feat in the WT20 game against Pakistan and in her career's 81st game. Shahid Afridi (Pakistan) is second with 95 wickets in 95 games. No other female cricketer has taken more than 75 wickets in the T20 format. She made her debut with the West Indies team back in 2003 when she was just 15 years old against Japan Women. She bowled 10 over on her debut in which 6 were maiden and conceded only 4 runs. Her T20I debut was in 2009 vs the Ireland Women but she didn't bowl in that match.
Most Wickets in Twenty-20 Internationals (Men and Women combined)
Player
Matches
Wickets
Anissa Mohammad (West Indies Women)
81
100
Shahid Afridi (Pakistan)
95
95
Umar Gul (Pakistan)
60
85
Saeed Ajmal (Pakistan)
64
85
Lasith Malinga (Sri Lanka)
62
78
Ellyse Perry (Australia Women)
75
73
Shanel Daley (West Indies Women)
68
72
Danielle Hazel (England Women)
66
68
Ajantha Mendis (Sri Lanka)
39
66
Stuart Broad (England)
56
65
*all stats are updated until March 16th, 2016
Apart from becoming the first cricketer to take a century of wickets in the shortest format, Anissa also has many made records with the ball in her hands.
She is one of only three bowlers in the world to take more than one five-fers in T20Is. Others are Umar Gul and Ajantha Mendis.
She has the Most Wickets for West Indies in T20Is (Men or Women).
She has the Most ODI Wickets for West Indies Women.
She was the first cricketer (male or female) from West Indies to claim 50 T20I wickets.
She was the first female cricketer from West Indies to claim 50 ODI wickets.
Of all the bowlers who have bowled their full quota of overs on ODI debut, she is the only bowler to concede less than 5 runs.