Arthur knows the Gabba and some of our players but the team has changed: Mitchell Starc
Updated - Dec 11, 2016 1:33 pm
44 Views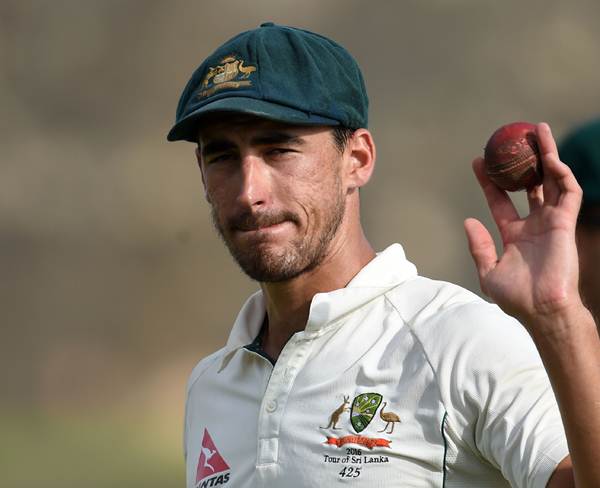 Come the 15th of December and two teams will take field in whites and a lot more than the series will be at stake. As Australia and Pakistan prepare in their own ways for the series both the teams have varied yet significant importance of this series. The Aussies have a familiar face in the opposition think tank in Mickey Arthur and that gives Pakistan the edge as he would have already prepared them for what's in store.
Pakistan's clear strength is their bowling and specifically pace bowling and since the first Test will be played with the Pink ball and under lights they will definitely be excited to take field in Brisbane. For Australia, Mitchell Starc will be a really important bowler. He has the pace and of course the swing to rattle the Pakistani batting and will come hard at them.
He is aware they sort of have an insider in the opposition camp and agreed Arthur knows a bit about the Gabba as well as the Aussie players but maintained that things have changed since Darren Lehmann took over. "He has been a coach of an Australian cricket team, he spent some time in domestic cricket in Australia, he'll have a bit of knowledge around the Gabba and some of our players," Starc said of Arthur. "But our team has changed immensely since he has been put out of the job… we're a lot closer.
"Boof's [Lehmann] obviously brought his own coaching theories and concepts into the group, so the group has obviously changed personnel-wise as well. We've developed massively as a squad since the time of Mickey Arthur, and I think all for the better."
Starc was a rookie while Arthur was at the helm and has developed into a lethal pacer in the years. Differentiating the two coaches he said, "One probably rode the game a little bit more and I think at times found it hard to watch," Starc said. "Whereas Boof instills a lot of confidence in you, he has got that laid back old-school attitude but doesn't sugar coat anything. I think that's what this young group needs as well, with some hard truths sometimes.
"Obviously over the last couple of months we haven't played our best cricket but having a nice win in Adelaide and a good amount of cricket in the last 10 days to win that series against New Zealand pretty solidly. So I think we've got a bit of momentum behind us and Boof has been great to contribute to that."
Pakistan have done well in Tests under Misbah-ul-Haq as the team has on a lot of occasions punched above its weight but Starc acknowledged that they struggled in New Zealand and that makes them vulnerable.
"They've played some really good cricket over the last year-and-a-half to fight to the top of the world rankings in the last couple of months," Starc said of Pakistan. "They've struggled in New Zealand and probably struggle a little more away from home – they're really comfortable in the UAE.
"So it's a good opportunity for us in this Test match in Brisbane to assert our dominance first up, make an impression in the first Test of the series, which we all know goes a long way to working out the final result."