Ashes well poised for sledging episodes
Updated - Jun 23, 2015 9:53 am
24 Views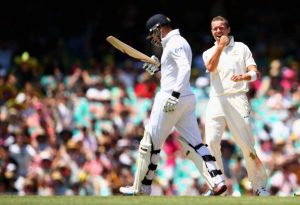 Ashes well poised for sledging episodes: Australian opener Shaun Marsh expects verbal sledging attacks from both the sides in the Ashes. Marsh, speaking ahead of the first Ashes Test against England in Cardiff on July 8, said: "It is an Ashes series and I am sure there will be sledging from both teams, but I am also sure it will be in the spirit of the game."
The opener also said: "I think it is really important to get out there and show your aggression and put your stamp on the game — that is the Australian way." But there was a recognition that things had got out of hand during the last Ashes campaign, which saw Australia whitewash England 5-0 on home soil in 2013/14.
During the first Test in Brisbane, Australia captain Michael Clarke told England tailender James Anderson to "get ready for a f***ing broken arm".
But that didn't prevent Haddin from giving send-offs to several departing New Zealand batsmen during Australia's seven-wicket World Cup final win in Melbourne on March 29. Haddin subsequently gave a radio interview in which he defended his actions by saying: "They were that nice to us in New Zealand (when Australia lost a pool match) and we were that uncomfortable.
"I said: I'm not playing cricket like this. If we get another crack at these guys in the final I'm letting everything (out). "And I'm not going to play another one-day game so they can suspend me for as long as they like," added Haddin, still Australia's first-choice Test gloveman.
England and New Zealand have just finished spine chilling Test and one-day series where both sides have been appreciated for proving that it is possible to play aggressive cricket without sledging.
New Zealand opener Martin Guptill, who played in the World Cup final and has been a mainstay of the side in England, said he expected the conducive atmosphere to remain when the Black Caps completed their tour with a lone Twenty20 international at Old Trafford on Tuesday.
"The respect between both sides has been right up there and that shouldn't change tomorrow (Tuesday)," Guptill told reporters at the Manchester ground on Monday. As for Australia's sledging in the World Cup final, Guptill said: "It's just the way they are. We can't do a lot about them, can we?"