Ashwin can do whatever he wants to do with the ball: Shakib Al Hasan
Updated - Feb 5, 2017 9:24 pm
50 Views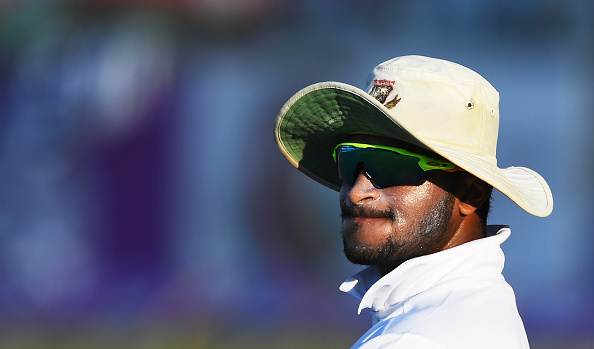 Hyderabad February 5: Bangladeshi star Shakib Al Hasan, who is currently at No.2 in ICC Test all-rounder's rankings says he isn't thinking about competing with India's Ravichandran Ashwin, the No.1 bowler and all-rounder in Test cricket at the moment in the upcoming one-off Test match at Hyderabad.
Shakib, who has been serving Bangladesh cricket for over 11 years now said that his first priority is to contribute to the team's cause. Talking to the media at the Gymkhana ground in Hyderabad, the left-hander said, "I do not think of it the way he (Ashwin) does. There is no competition between us,"
In fact, I don't think anyone thinks of it that way. He is doing well from his part and I am trying to do well from my end. The better I do the more help the team gets. The importance of a certain player is different from team to team. I will be happy if I get to contribute for my team with the role I have." Shakib said.
He showered praises over the Indian off-spinner for his performances in the recent years which had put him and India on top in the longer format. "He has been bowling really well for India in the last 2-3 years. The control on his bowling makes him different. He can do whatever he wants to do with the ball. If you are good at that, you don't need to do anything else as a bowler. The control and the confidence he had made him the No.1 bowler." Shakib said of Ashwin.
The allrounder opted out of playing in the 2-day warm-up game against India A here at Gymkhana ground and instead had a brief session in the nets. The 29-year-old did point out that there is a need for their side to have contributions from both batsmen and bowlers. He also talked about the importance of every individual understanding the team's requirement.
"The team can perform well only when they get contributions from every department. In New Zealand it happened for us; where we batted well in one game and we bowled well in other game, but that didn't happen simultaneously."
"Everyone has a contribution in a game even for those who are new. It is a challenge for everyone. If you post 250 runs and your bowlers do well, then 250 runs suddenly seems to be a big total. But if you score 500 runs and your bowlers give away, if becomes a small total." Shakib added.
Bangladesh left-arm seamer Mustafizur Rahman, who represents the Hyderabad franchise Sunrisers Hyderabad will be missing out playing in the Test in conditions best known to him. The KKR allrounder admitted that they would miss Mustafizur's services.
"He hasn't played for a while. But it will be great to get him back in the Team as soon as possible once he is fit. Hopefully we can see him performing for the team very soon."
Along with left-arm spinners Shakib and Taijul Islam, the latest sensational off-spinner Mehedi Hasan has strengthened Bangladesh's spin attack. However, the veteran thinks that bowling to the No.1 side will be a big challenge for them especially against a team like India that has the reputation of playing spinners well.
"We also need to think that they (India) play spin well. I think they are a very good side against spin, so it will be a big challenge for us. If we can do well in this game, it will a huge confidence booster for the Sri Lanka series." Shakib said.