Asia Cup 2018: A bridge too far for Virat Kohli
The Indian skipper will have a much-needed break following the arduous England tour.
Updated - Sep 3, 2018 7:58 pm
2.1K Views
Follow us on Google News
When it comes to modern-day batting, there is none better than Virat Kohli. At 29, it would seem an unmountable challenge to his contender, thus making it improbable for anyone to move ahead of him. At the moment, at least. The stats have always been there to back him up. But for those who have been watching cricket since 2008, King Kohli and his voluminous stats simply are not required.
If one looks at the statistics and judges a player, they have simply missed the point. He is and always will be beautiful to watch. What will follow India's narrow loss at Southampton will be a flight back to London where they will play for pride in the Oval. Under Kohli, the Indians have always been fantastic when it comes to playing for pride. Everyone remembers the spoils of war that were churned out in the drama at Johannesburg. One can only expect the same at the Oval.
However, unknown to most of the Indian team in England was the erstwhile MSK Prasad. The latter had made little impact with his international career, in the grand scheme of things. However, as chief selector, Prasad was in a fix. The Asia Cup 2018 is of tantamount importance and putting a team that could compete was a relic that would define whether or not he could keep his job.
Surrounded by some of the brightest minds in cricket, Prasad shut the door and turned on a solitary lamp, lighting the dimly lit conference room within the embers of the BCCI headquarters. He had till the end of the day to put out a team on paper. A team that could compete against the best in Asia.
A few long hours in the conference room was followed by Prasad greeting reporters from all quarters of the globe. His decision was final, as it always had been. As was his confidence. He would deliver this time, especially with the likes of Pakistan playing in it. He knows he needs Virat Kohli. And he knows what exactly is at stake.
The team Prasad would go on to name was indeed a strong one by any stretch of one's imagination. With the talent pool available in the country today, Prasad definitely has a tough choice to make. Thus, it was a pleasant surprise when Rohit Sharma was named as the captain of the side yet again.
Virat's India vs Rohit's India
Most of the Indian team and the rest of the billion Indians look up to Virat. Not just as the captain, but as the messiah, someone who will give them hope when all seems to wane. And he has shouldered the responsibility rather amicably.
The last ten times Kohli has gone out to bat has been against England this series. And across all three formats. In spite of it not looking so good on paper with defeats in ODIs and Tests, His Indian team has been quite fantastic. The whiffs of victory coupled with brilliant performances and players coming of age, Kohli would seem as the Alpha and Omega of Indian cricket.
However, when it comes to leadership, Rohit has indeed shouldered his responsibility well. As captain, Rohit's record speaks for itself. Wins against Sri Lanka and Zimbabwe have only bettered his case. Everybody saw his exploits in the Nidahas Trophy as well, a tournament played under similar circumstances.
Apart from being a more than capable captain, he will now have a lot more riding on his shoulders. With a second-string of a squad for the Nidahas Trophy, Rohit spun gold. This time around, he will have the best squad on paper with the expectations proportionate to his leadership and subsequent talent.
A much-needed rest following England
The amount of cricket being played today is quite insane. And that is putting it mildly. An understatement to such an extent that the ICC has almost given into the Indian public's demand of having at least two away tours a year. As of 2018, the Indian cricket team has traveled to South Africa, and England already- thus completing two massive and arduous tours.
What's more? A significant trip to Australia awaits the Indians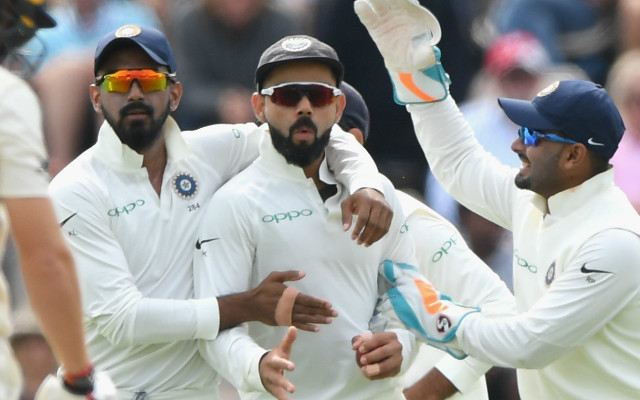 Prior to the series against England, Virat Kohli had sustained an injury, something that was a stress fracture – an injury courtesy of a repeated occurrence and therefore, Kohli had to miss out playing for Sussex. Although he proved that the stint was not required, it was clear as day that even King Kohli needed a rest.
Matches against Ireland, those grueling encounters in the limited-overs series against Eoin Morgan's England and then Joe Root's England has indeed left its enduring hallmark. Even on an alpha male such as Virat as it would seem. A neck injury following the dominating win in Trent Bridge had left the 29-year old nursing an injury, something Ravi Shastri was answering for, almost on a daily basis.
A Bridge too far
Kohli will miss the Asia Cup. And it would seem as the Pakistan fans around the world can continue their 'Kohli has not really faced real pace bowling'. However, one really cannot blame him. He might have had an injury-free career so far, but he too needs a rest. When God created the universe, even he indulged in a carefree Sunday.
As things stand, and with the massive amounts of cricket, MSK Prasad and his band of merry men have done rather well in terms of keeping the players fit and the workload. Whether or not they can sustain in this way remains to be seen. But as far as Rohit Sharma is concerned, he will have just one thing on his mind – 'Onward Ho!'
Follow us on Telegram