At the end of a Twitter war with Mehbooba Mufti, Gautam Gambhir calls her 'callous individual'
Gambhir hits back to Mehbooba Mufti on twitter
Updated - Apr 9, 2019 11:18 pm
12.1K Views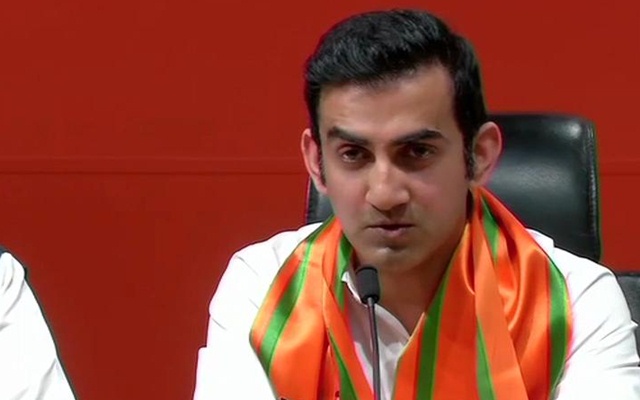 Former India opener Gautam Gambhir is at it again. The former cricketer, who joined the ruling Bharatiya Janata Party (BJP) recently, has had arguments with former Jammu and Kashmir chief minister Omar Abdullah in the past. And now, he has found himself in the middle of an argument with another top leader and another former CM of the state, Mehbooba Mufti.
The 37-year-old Gambhir, who quit the game last December during Ranji Trophy, had a spat with Abdullah over the latter's "separate PM for Kashmir" statement recently. He has now said that he has been blocked by Mufti, the leader of the Peoples Democratic Party, on Twitter following an argument over Article 370.
The PDP chief, who was the chief minister of Jammu and Kashmir till June last year in alliance with the BJP, had slammed the BJP over the public interest litigation filed in the Delhi High Court seeking a direction to ban J&K politicians like the Abdullahs and herself from contesting the upcoming Lok Sabha election over their statements "against the Indian Constitution".
"Why waste time in court. Wait for the BJP to scrap Article 370. It will automatically debar us from fighting elections since Indian constitution won't be applicable to J&K anymore. Na samjho gay tou mit jaouge aye Hindustan walo. Tumhari dastaan tak bhi na hogi dastaano main (If you do not understand, people of India, you will be erased. You would not have your tales written in history)," Mehbooba Mufti wrote in a tweet on Monday.
The tweet irked Gambhir who said in a replying tweet: "Yeh Bharat hai. Koi aap jaisa dhabba nahi jo mit jayega (This is India. No one is a blot ike you to be erased)."
Mufti calls Gambhir's cricket career 'abysmal'
The J&K politician hit back at Gambhir's tweet after 10 hours by remarking on his cricketing career and blocked him. She said she hoped the latter's political innings in the BJP was not as "abysmal" as his cricketing career.
Gambhir scored over 10,000 runs in international cricket that lasted between 2004 and 2016 and hit 20 tons. He also successfully led the Indian side at times and also won two Indian Premier League titles for Kolkata Knight Riders in 2012 and 2014.
Gambhir hit back at Mufti again. He said in a tweet: "Oh! So you have unblocked my twitter handle! U needed 10 hours to respond to my tweet and come up with such a pedestrian analogy!!! Too slow. It shows the lack of depth in ur personality. No wonder you guys have struggled to solve the issues at hand (sic)."
"Most welcome @MehboobaMufti Ma'am, happy to be blocked by a callous individual. By the way, at the time of writing this tweet there are 1,365,386,456 Indians. How will you block them?" The ex-cricketer asked.
Most welcome @MehboobaMufti Ma'am, happy to be blocked by a callous individual. By the way, at the time of writing this tweet there are 1,365,386,456 Indians. How will you block them?

— Gautam Gambhir (@GautamGambhir) April 9, 2019
[interaction id="5cab5930abf28f54e83bc7c9″]