Aussie fans lash out at Virat Kohli for instigating the banter with Tim Paine
Both of them exchanged a lot of verbals during the fourth day's play.
Updated - Dec 18, 2018 11:13 am
564 Views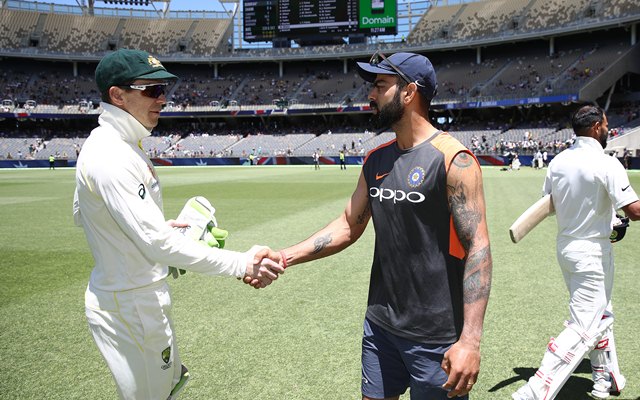 Whenever India and Australia lock horns on a cricket field, the energy and hype around is immense. The contest between the two teams is always entertaining and equally so is the one between individual players. Great players from both teams tend to outclass their counterparts from the other. It's the 'Border-Gavaskar' trophy after all that the teams keep battling for.
While the most buzzed rivalry has been that between Australia's bowling quartet and the Indian captain Virat Kohli, it's the banter between the two skippers that is topping the charts. Australian captain Tim Paine has exchanged words with his Indian equivalent for a while in the second Test match at Perth. Things were going well until Day 4 as the repartee went slightly overboard on Monday. The fans, particularly from Down Under, didn't seem to be impressed with how things unfolded.
Aussie fans unimpressed with Kohli's attitude
Australia started Day 4 at 132 for 4 with Paine and Usman Khawaja being unbeaten. The wordplay between the former and Virat Kohli had started on Day 3 and continued the same way on Monday morning. India's No.4 said few words to Paine and the latter had no hesitation to respond. The umpire Chris Gaffaney had to intervene and asked both of them to keep calm and just play the game.
Paine maintained that he was chatting casually with Virat and weren't swearing. He then looked at Kohli and said, "Keep your cool, Virat". The two, a few balls later, bumped their chests while the Aussie captain was trying to sneak in a single.
Although the incident involved two parties, the fans of Australian cricket team were unabashedly unimpressed only with Virat Kohli's behaviour. The fans took to Twitter and expressed their resentment towards the Delhi-born's attitude. One of them compared him with their countryman Nick Kyrgios, a talented tennis player who is infamous for his conduct on court. Some of them affirmed that the misbehavior from any player on field is wrong and Kohli isn't an exception.
On the other hand, some of the former players and experts find no problem in the whole banter. They feel that such incidents are good as long as they stay within what the rules permit. The fans, though, are divided in opinion in this regard. While some of them invite sledging and banter to a cricket field, others find them threatening to the integrity of sport.
Here's how the fans lashed out at Kohli:
Tim Paine absolutely smashing kohli on the field with the banter. Paine knows he's a sook when he doesn't get his way #AusvIndia

— Tristam Marshall (@travmarsh8) December 17, 2018
Im so happy Paine dint take kohli's rubbish laying down like the rest of the team he's given it back and this will give the whole team SO MUCH momentum This test is lost but im 100% sure we will see a new Australian team for the next two tests

— kane thanos williamson (@llapskywalker) December 17, 2018
Sooo Virat Kohli has had a word to the Umpire's & complained about Tim Paine talking to him.
🤔#AUSvIND#whinger

— Ross Martin (@RossMartin1960) December 17, 2018
What an absolute flog. Was there any need for Kohli to be in that spot?

This bloke makes kyrgios look like a good bloke. https://t.co/3s1oWdPgYe

— The Unsportsmen 🇦🇺 (@unsportsmenpod) December 17, 2018
What a laugh that was from Kohli, i'll just walk straight into the line a Batsman is running (a single) then look straight at the umpire because I'm never in the wrong. Paine should've ran straight through him and sat him on ass, give him something to cry about. 👍 #AUSvIND

— Nathan Watson (@NathanW39506373) December 17, 2018
I'm not impressed by Kohli and his petulant behaviour. Get on with the game .

— jackie caldecourt (@jcaldecourt) December 17, 2018
[interaction id="5c162a0c08b5341855788419″]