Australia Test series atmosphere 'wasn't especially polite' says Pakistan skipper Sarfraz Ahmed
Nathan Lyon was particularly vocal during the series.
Updated - Oct 20, 2018 3:04 pm
2.5K Views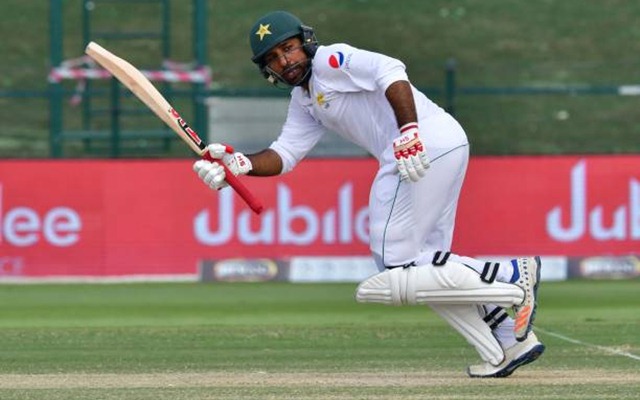 Pakistan captain Sarfraz Ahmed said that the atmosphere in which the Australia Tests series was played 'wasn't especially polite'. The visiting Australian side were without the controversial trio of Steve Smith, David Warner and Cameron Bancroft, who have all been ousted from the national side following their involvement in the ball-tampering scandal. Despite the shake-up in the country's cricket and the approach towards matches, it seems the on-field behaviour hasn't changed entirely, as Sarfraz has claimed.
Australia were blown away in the second Test in Abu Dhabi, after having scripted one of the best rearguards in Dubai, Usman Khawaja being the hero there. But the visitors were no match for the mesmerizing Mohammad Abbas, whose 10-wicket haul carried Pakistan to an emphatic victory by 373 runs, and possibly one of Australia's heaviest defeats in Test history.
But the Australians weren't all meek and subdued. Veteran spinner Nathan Lyon was a prominent chatter through both Tests. He warned Pakistan of spinning them out in Dubai while jousting with Sarfraz on the third day in Abu Dhabi, where he questioned whether the captain was playing for his own hundred or the team cause. When asked if he saw a difference between Tim Paine's current side and the Australians in 2014, Sarfraz Ahmed was quick to respond that the verbals were very much at the same intensity.
Chatter with Lyon throughout: Sarfraz
Speaking after the landslide victory, the Pakistan skipper said, "We had quite a bit of chatter throughout with him [Lyon], he spoke a lot and we did as well. I told him that you've had a six hit off you, if I was in your place I would want to be hit for another six by keeping mid-on up.
"It was nothing unusual, they were also playing. You can say yes, they are also going through a process and are trying to fix things after what has happened with them, but it wasn't like it was an especially polite atmosphere out there," he added.
Sarfraz had a simple piece of advice, directed not just to his boys but perhaps towards the Australians as well. "It's a simple formula, when you are batting, don't look for trouble. Just play cricket and concentrate on your performance. You're already playing such top teams. If some guy does say something to you, if he says something personal, then ok you can talk back, but otherwise you don't need to say anything. Play and perform."
The two teams now take each other on in a 3-match T20I series.