Australia vs India 2018-19 – India's Predicted Test Squad
Although Smith and Warner will not feature, this series will provide a stern test of character for the visitors.
Updated - Oct 15, 2018 3:14 pm
3.9K Views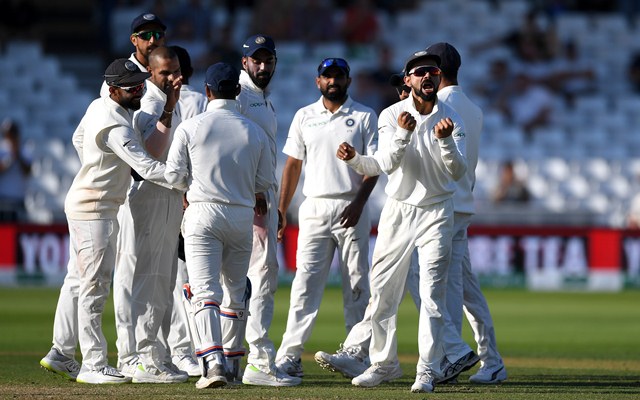 Australia are wounded, but on home turf with the fans backing the Kangaroos, they might as well find a cure. But one team who would be desperate to keep them away from that medication and register their first ever Test series win down under is India, who will be traveling there next month.
After the suspension of David Warner and Steve Smith, the Aussies have catastrophically fallen apart in the Tests. Their recent draw against Pakistan was a result they would've been pleased with, considering how they edged a stalemate from the jaws of defeat.
India will be a much tougher competition for them, no matter where they are playing without Warner and Smith. Virat Kohli seems to have found a perfect bowling combination and a pretty decent batting lineup, which according to many will change the history.
Before we head into the big series, here's the predicted squad of the Indian side that would travel Australia for the much-awaited contest:
Openers  – Prithvi Shaw, KL Rahul, Murali Vijay
Prithvi Shaw won the player of the tournament award in his debut series and nothing more can be asked from an 18-year-old prodigy. He has assured his place in the squad with that rendition and despite being very inconsistent in recent times, KL Rahul might be getting a nod from the selectors.
Murali Vijay has done tremendously well in Tests in the last half a decade and despite his poor run in England, it will not be lost on the selectors that he's one of the best in the Indian circuit in terms of temperament. He scored a mind-boggling 482 runs in his previous visit to Australia and that should play a part in him making a comeback.
Middle order – Virat Kohli (C), Cheteshwar Pujara, Ajinkya Rahane, Rishabh Pant (wk), Hanuma Vihari, Karun Nair
Skipper Virat Kohli and Ajinkya Rahane did a great job last time in Australia, especially the former. He scored four tons and recorded 692 runs at an average of 86.50 in the four tests played in 2014/15. Rahane too got a brilliant hundred at the MCG and collected 399 runs in total. Pujara didn't have a great time in the last tour and he will be eager to turn the tables around.
Youngster Rishabh Pant seems to be the likeliest choice to go all the way as the wicket-keeper. Accompanying the dashing southpaw would be Hanuma Vihari and Karun Nair, who might not get a lot of chances, but will be desperate to prove a point. Of the three aforementioned youngsters, Pant will be under a lot of scrutiny and the pressure on him to perform well would be high.
All-rounders – Hardik Pandya, Ravindra Jadeja, Ravichandran Ashwin
Given Hardik Pandya attains full fitness before the team is selected, he will be a major weapon for Kohli in the Australian conditions. Pandya, who made his International debut in the same country a couple of years ago, has come a long way in the last 30 months and is keen to secure his place in all three formats.
Although both Ravindra Jadeja and Ravichandran Ashwin will travel to Australia, only one of them will feature in the XI at once. Going by recent form, Jadeja might be picked ahead of Ashwin in the XI and it will be interesting to see if the young leggie Kuldeep Yadav is considered after what transpired in England.
Fast bowlers – Mohammed Shami, Jasprit Bumrah, Umesh Yadav, Bhuvneshwar Kumar, Ishant Sharma
Of the five names mentioned above, Kohli can randomly pick any three names to feature in the XI and be happy with them. Such is the strength of the Indian fast bowling contingent at the moment. Mohammed Shami is the only bowler who seems a bit lacklustre but he hasn't been bad as well in recent times.
Jasprit Bumrah is an X-factor of the team and Bhuvneshwar adds solidity. Umesh Yadav and Ishant Sharma bring in experience, pace and bounce which can prove to be pivotal in those conditions. Experts keep talking of the term "Healthy headache" in cricket and Kohli will have one when he will have to sit down and decide the XI in Adelaide.
Keep following CricTracker for more news and updates.