Australian umpire Sam Nogajski hospitalized during Ranji Trophy match
Updated - Nov 14, 2016 2:42 pm
49 Views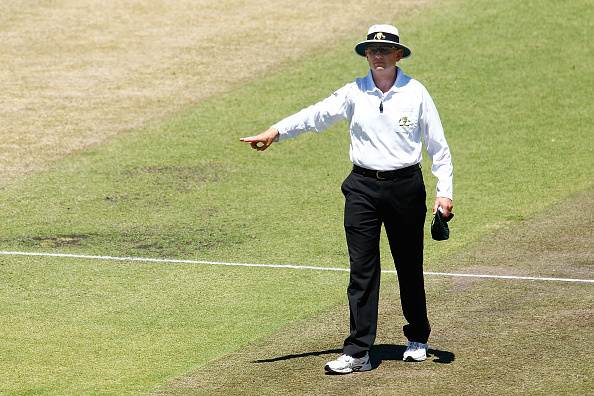 Follow us on Telegram
Australian umpire Sam Nogajski was taken to hospital earlier today when he suffered from dehydration in the Ranji Trophy encounter between Uttar Pradesh and Mumbai earlier today. This saw the Australian umpire rushed off to a hospital in Mysuru wherein he was kept under observation before further comments were released to the media.
While this was going on, Nogajski's partner at the other end, Virender Sharma was officiating at both ends as there was no fourth umpire available for the same. Balachandra, the convener of the Karnataka State Cricket Association (KSCA) in Mysuru said that Sam Nogajski was rushed off to a local hospital as a precautionary measure when he complained of a stomach ache as well as vomiting.
"The umpire has been admitted to a local hospital at 7 am after he complained of loose motion and stomach ache. The doctors attending him said it is a case of dehydration," KSCA Mysuru Convener Balachandra told PTI.
While Balachandra said that he was hopeful that the Australian umpire would make a comeback, the fact of the matter remained that he would not officiate any further and someone else would take his place alongside Virendra Sharma. "We were hopeful of Nogajski making a comeback and officiating from the post-lunch session, but the doctors, in their bulletin, advised Nagajski complete rest," Balachandra said.
"It also means he will not officiate in the match any further," he added.
The Australian-based umpire will now be taken to Bengaluru wherein he will be put under a further process of medical observation. Balachandra added that a local umpire has also been kept in his place at the moment. "Nogajski will be taken to Bengaluru tomorrow where he will be again put under medical observation."
"A local umpire has been replaced, but officiating as a leg umpire. Virender Sharma is officiating from both ends as a straight umpire," he said.
Follow us on Google News