Ayavuya Myoli refuses to drop assault charges on Robert Frylinck
Updated - Feb 9, 2016 1:45 pm
126 Views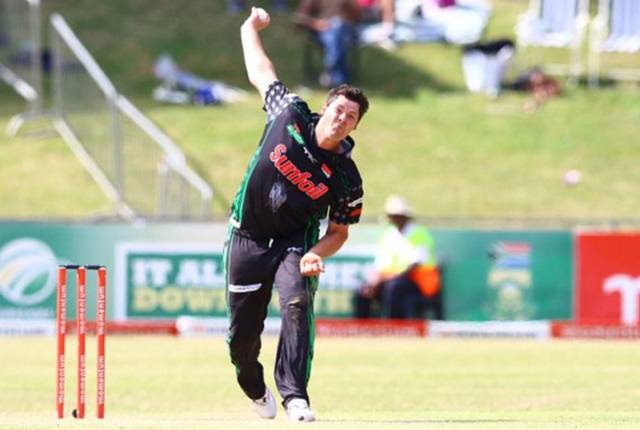 Dolphins fast bowler Ayavuya Myoli is unhappy at the way teammate Robert Frylinck's disciplinary hearing for punching him was handled by the franchise, and reportedly has refused to drop the assault charges he made with the police against the all-rounder.
Frylinck was suspended on January 24 for punching Myoli. Frylinck had entered in an argument with Myoli about underusing him in a match against Boland and the heated argument ended with a punch to the face of the latter. The fast bowler bowled only 11 overs that match. The incident occurred when the Dolphins were returning from a seven-wicket defeat to Boland in Paarl in a three-day Cup Sunfoil Cup game.
Frylinck's suspension was lifted last Thursday 'without a clear explanation', but Myoli did not let the matter rest despite Dolphins CE Pete de Wet declaring the matter closed.
It is alleged Frylinck arrived with a lawyer after a prior agreement with Myoli and witnesses Brandon Scullard and Calvin Savage that there would not be legal representation at the hearing.
"None of them actually testified and Myoli asked if he could bring in his lawyer and he was told that there was no need. When he arrived at the hearing Frylinck had legal representation and from there Frylinck's suspension was lifted without a clear explanation. It was said that he will apologise and that was that." timeslive.co.za reported a source as saying.
Another source said Myoli was also asked to drop the assault charge he had laid with the police, something he has refused to do.
"It was agreed between the parties that the details of the sanctions will remain confidential.
"Frylinck will be eligible for future selection in representative teams of KZN Cricket," said de Wet. "Chaired by an independent labour expert, the hearing was conducted in line with KZN Cricket policies and resulted in appropriate sanctions being implemented."
Neither Myoli nor Frylinck, who were omitted from the Dolphins' one-day game against the Lions on Friday, were available for comment.