Azharuddin can be a reason behind Younis Khan holding a knife against Grant Flower's throat: Rashid Latif
Latif recalled that Younis had acknowledged Azharuddin (not Flower) after smashing a double century at the Oval in 2016.
Updated - Jul 5, 2020 12:42 pm
766 Views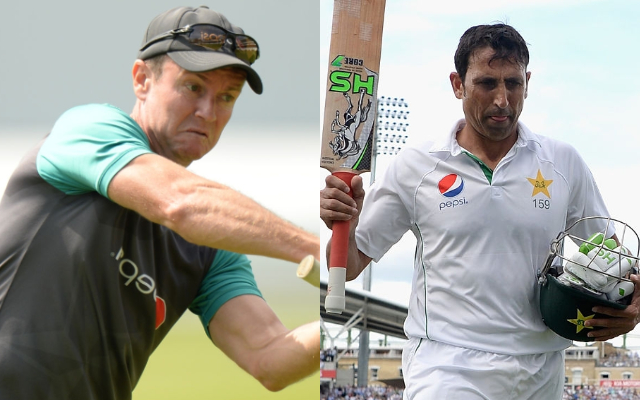 Former Pakistan batting coach Grant Flower raise a few eyebrows after claiming that ex-skipper Younis Khan had once held a knife to his throat. Recalling the incident, Flower said that Younis' aggressive response came after he tried to offer the Pakistan star some batting advice.
Flower, who is currently serving as the batting coach of Sri Lanka, sparked a controversy with his allegation. When the Zimbabwean was asked about the tricky characters which he came across his coaching career, he took Younis' name while revealing the incident on a Podcast. Younis, who had an illustrious career with Pakistan, was recently appointed as the batting coach of the national side ahead of the England series.
"I remember one incident in Brisbane, during the Test, at breakfast, I tried to give him a bit of batting advice … But he didn't take kindly to my advice and brought a knife to my throat, with Mickey Arthur sitting alongside, who had to intervene," said Flower on the 'Following On Cricket Podcast'.
Reacting to Flower's allegation, former Pakistan wicketkeeper-batsman Rashid Latif has claimed that India's Mohammad Azharuddin could've been the reason behind the incident. Latif recalled that Younis had acknowledged Azharuddin (not Flower) after smashing a double century at the Oval in 2016.
We don't know what happens in the dressing room: Rashid Latif
"Younis Khan is different. We do not know what happens in the dressing room. Azharuddin can be a reason for this. In 2016, Younis made a double century at the Oval. He [Younis] did not take the name of the batting coach [Grant Flower].
He said that I was struggling and talked to Azharuddin. That is a big factor that a player is opting for someone else rather than the coach. Flower must have done some things as batting coach and has served Pakistan. I think this Azharuddin factor must have been somewhere in his [Flower's] mind," Latif said in his YouTube video.
Former Pakistan head coach Mickey Arthur also confirmed the Younis-Flower incident while opting to refrain from revealing any details on the matter. Latif also reacted to Arthur's confirmation and said that the former head coach was simply justifying Flower's allegation.
"If I say something, people I know try to justify it. It is not Mickey Arthur's fault. The real focus should be the person who asked these questions and is still behind the scenes.
It could also be an organization behind the whole thing. That is a possibility. If Younis came on because of a higher authority, he would not have come as a batting coach working under Misbah-ul-Haq. He would have been in a much more influential position," said Latif.
Pakistan's next expedition in England is set to start from August 5 in Manchester, where the Azhar Ali-led side will play there the first Test against the hosts. Pakistan will play the remaining two games in Southampton, starting on August 13 and 21 respectively.
Here's the video: