Babar Azam discloses what Shaheen Afridi told him after he got his wicket in the first half of PSL 2021
Babar and Afridi will clash against each other on June 17 in PSL 2021.
Updated - Jun 10, 2021 5:18 pm
10.7K Views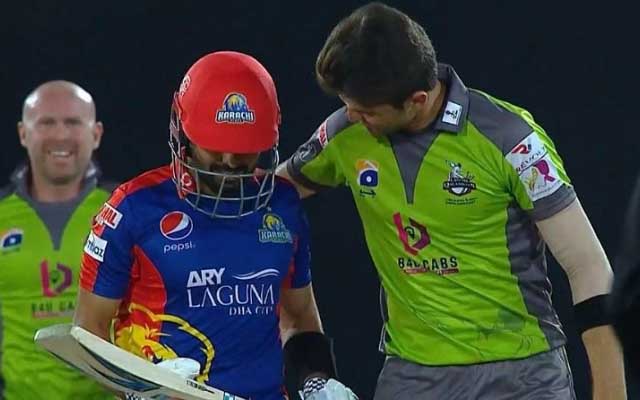 One thing that Pakistan does successfully over the years and which all the other teams seem envious of is their ability to produce phenomenal fast bowlers time and again. Be it Wasim Akram, Waqar Younis, Shoaib Akhtar, Mohammad Asif, or now Shaheen Shah Afridi, Pakistan will keep producing fast bowlers.
The latest pace sensation Afridi made his international debut in the year 2018 and has quickly risen through the ranks to be the leader of the pace attack. The lanky left-arm pacer generates the bounce from an awkward height which makes him a tricky customer. The 21-year-old is currently busy playing the sixth edition of the Pakistan Super League (PSL) which resumed on June 9. Afridi plays for Lahore Qalanders and is the team's vice-captain as well.
Afridi has troubled the best of the batters and he also has managed to dismiss Babar Azam during the first half of the PSL 2021. The Pakistan skipper revealed how the left-arm pacer is always looking to take his wicket while speaking with CricWick.
"As you saw in the last match, he is always telling me 'I have to dismiss you, I have to dismiss you!'. After he dismissed me that day, he came and said "See I dismissed you!'. It feels really nice seeing the aggression of Pakistan bowlers and hopefully, he will win more matches for us in the future," Babar Azam said.
Babar Azam on how the focus is important while scoring runs against Shaheen Shah Afridi
In the battle between Afridi and Azam, currently, the latter has the bragging rights as he has scored over 160 runs being dismissed only once. The former has a chance to make his record better when the two teams face off on June 17. When quizzed further on what is his success mantra in scoring runs easily off the left-arm pacer, the Pakistan skipper pointed out his focus on playing each ball on its merit.
"If you play with each other for the entire year, you understand the strengths and weaknesses of each other. We both focus on enjoying the moment when we come up against each other. I don't get relaxed while facing him, I play him with 100% focus and mindset because he is one of the best bowlers and can dismiss you anytime," Babar mentioned.
Azam concluded by saying how he mastered the art of cover drive over the years. The elegant right-hand batter is widely regarded as one of the best drivers of the ball but initially, he struggled with it by not playing regularly.