'Babar Azam is a wonderful player' – Hashim Amla hails No. 1 T20I batsman for his incredible work ethic
According to Hashim Amla, Azam's incredible work ethic is what makes him a special player.
Updated - Feb 27, 2020 12:10 pm
1.8K Views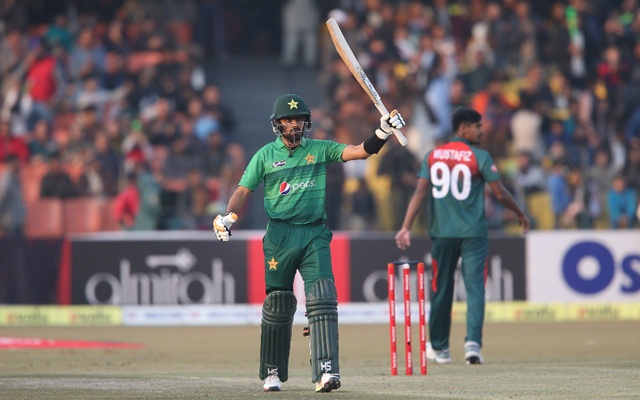 Follow us on Google News
One of the things that play a huge role in determining whether a precociously talented batsman/batswoman realizes his potential to the absolute hilt at the International level or ends up as just another unfulfilled talent, is his/her work ethic.
We, as fans and pundits, get easily gobsmacked after seeing an outrageously talented young cricket, to an extent that we do not take much time to hail the cricketer as the next big thing. But, after a few years, we see the same cricketer and realize he/she is a pace shadow of those initial days. And, this is where work ethic comes into play.
Time and again we have seen cricketers fade away after 1-2 good seasons and that is because they did not work hard enough to get better, allowing the opposition to work them out. Babar Azam is another one of those outrageously talented cricketers who has been earmarked as the next big thing.
But, according to Hashim Amla, Peshawar Zalmi batting consultant, Azam's incredible work ethic is what makes him a special player, "Babar Azam is a wonderful player. I retired fairly recently and I have played with him. Over the last year, he has been a wonderful player. He is getting better and better and at a young age that he is at, he will have to go through ups and downs like anybody but he is a great talent and his work ethic is very good," Amla was quoted as saying by Express Tribune.
Hashim Amla enjoying his stay in Pakistan
This is Amla's third tour to Pakistan. The South African legend toured the country for the first time in 2007 before returning a few years later where he featured in the World XI outfit, led by Darren Sammy, and the right-hander is loving every minute of it.
"It's been a very enjoyable trip. To be very honest, the security arrangements have been excellent. We haven't had any issues. We have managed to get out of the hotel and go to have dinner as well as other places, so it's been really good. We have thoroughly enjoyed how professional everything has been," Amla revealed.
He added, "This is my third time in Pakistan. I came here in 2007 with the South African team on a Test tour. We played a Test in Lahore and then in Karachi. Two or three years ago, we were fortunate to come here with the World XI team."
Follow us on Telegram