Ball goes through the stumps; bails remain intact; old video goes viral
The batsman went on to receive a surprising reprieve in the most bizarre manner as the ball passed between the off and middle stump.
Updated - Nov 14, 2020 11:44 am
533 Views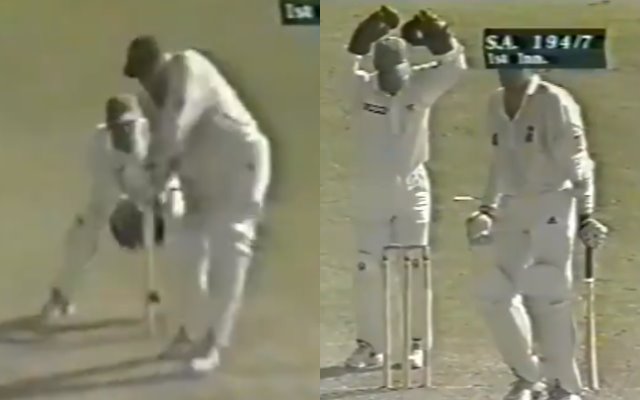 The game of cricket has witnessed several instances of the bails not falling despite the ball making contact with the stumps. Such instances are definitely rare but have happened on a regular basis in the game. But bails not falling despite the ball passing through the stumps is definitely something that is unheard of.
However, it has happened in the game too. A video posted on Twitter by cricket footage archivist Mainak Sinha has shown a remarkable incident in a Test match played between South Africa and Pakistan in 1997 when a delivery from Mushtaq Ahmed passed through the stumps but the bails didn't fall on the ground.
The bizarre incident
The unbelievable incident occurred in the first innings of the third Test of the series at Faisalabad. Mushtaq Ahmed bowled a flipper to South Africa's Pat Symcox and completely beat him all ends up. Symcox had tried to play the delivery by making room for himself but had failed to make any contact with the ball.
However, South Africa's No.9 went on to receive a surprising reprieve in the most bizarre manner as the ball passed between the off and middle stumps. The incident is well known in the cricketing circle but the latest clip provides new angles. The clip showed that even the commentators were initially not clear about the incident.
"Well that was a quicker one and Symcox making a little bit of room for himself," said Henry Blofeld. "And I dare say he got a little edge onto his pad otherwise we would have had a very loud appeal."
"That looked like a flipper, a real quicker one and it kept low, don't know what happened there," said Geoffrey Boycott, before the commentators realised what had actually happened after seeing the replay.
"It went through the stumps! I thought he was bowled myself, and then when he didn't go, Henry said it must have hit the bat onto the pad, but it went straight through the stumps. Can you believe it? I've never seen that. I have never seen that before. I've seen a lot of cricket around the world, but there's always something new you can learn," said the former England batsman.
Here is a clip of the remarkable delivery from Mushtaq Ahmed:
RARE CRICKET INCIDENT:

Ball goes through the stumps. Bails remain intact. This happened during the 3rd Test of SA in Pak in 1997-98. A Mushtaq Ahmed delivery goes straight THROUGH the stumps & everyone is baffled. A tiny 22 sec clip of this is on YT but here's extended footage. pic.twitter.com/yTYc8poFgG

— Mainak Sinha🏏📽️ (@cric_archivist) November 12, 2020