Bangladesh v South Africa report card – South Africa Player Ratings
Updated - Aug 3, 2015 3:14 pm
45 Views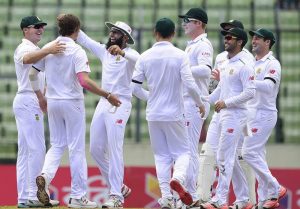 Follow us on Google News
Bangladesh v South Africa report card – South Africa Player Ratings: A disappointing tour of Bangladesh came to an end for the South African team. They crushed Bangladesh in the first ODI but failed to beat them in the next 2 ODIs and thus lost the series. There were some encouraging performances from some players but all in all a forgettable tour for the Proteas.
Here is the Report Card – South Africa Player Ratings:

1. Quinton de Kock – 2:
The wicket keeper had a miserable time in the Bangladesh. His best score on the tour was just 35 and failed to affect any game with his batting. He was quite decent behind the stumps but he was not able to lift his team in time of need. As an opener it was his responsibility to give a solid start to the innings but he failed in that task quite miserably.
2. Hashim Amla – 1:
Amla was the partner in crime of de Kock and was equally responsible along with his opening partner in ODIs for the Proteas' miserable performances. His best score in the series was just 22. Amla being such a dangerous batsman, a lot more was expected from him and he failed to deliver. A dreadful tour has thankfully come to an end for the dashing opener.
3. Faf du Plessis – 4:
He was quite decent in the series but considering his talents it was still a below par tour for the much travelled Du Plessis. He tried his best to right a sinking ship, but eventually failed to do so. The South African team depends much on his dependability which was sorely missing on this tour.
4. Rilee Roussow – 2:
Another player who wished for the tour to end sooner rather than later was Roussow. His highest score was just 45 runs in the series and he would've hoped to score a lot more runs. His attacking instinct was missing in the ODIs this time around and the team paid dearly for it.
5. David Miller – 3:
He just got 2 innings to bat and scored 44 in one of them. Yes he didn't get many opportunities but Miller was still expected to bring his team home at the end with some slogs in the final overs. His impact was not very influential in the team. He will be very upset with the team results and would have wanted to do a lot more to get them over the finish line.
6. Jean Paul Duminy – 3:
4 wickets and just one fifty for the experienced and dangerous Duminy is a poor return for a player of his caliber. He was decent with the ball but his batting was not upto the mark in the series and the Proteas missed his composed innings in the middle overs quite badly. Duminy is a player who can switch from defence to attack in a matter of a few balls, but sadly he wasn't able to do either very well in the series.
7. Farhaan Behardien – 2:
He was largely anonymous in the tour with a couple of below par batting displays. He has only been allowed to play in the lower order and thus he hardly gets enough innings to showcase his skills. But in the few games he has got to bat, he has still not shown enough.
8. Dean Elgar – 3:
47 and 28* are nothing extra ordinary for an opening batsman but it is also not completely worthless. Also he picked up a wicket. Overall, it was a strictly average performance.
9. Dane Vilas – 1:
Played in washed up 2nd Test. 2 catches but not enough to judge his performance or even his contribution.
10. Stiaan van Zyl – 3:
34, 33* and 1 wicket is again only acceptable if not a poor performance.
11. Temba Bavuma – 3
He scored a fifty in the only inning that he got to play on the tour in a Test match. That would have helped his confidence but it was again not a breath taking or smashing performance. At this level it was a decent performance but nothing extra ordinary.
12. Vernon Philander – 2:
He picked up just 2 wickets in the two Tests that he played. For a bowler of his caliber, it was another average performance. His bowling was clearly lacking something in the Bangladeshi conditions.
13. Simon Harmer – 2:
3 wickets in the first game and no wickets in the next. It was a good outing for him in the first test but again a forgettable performance in the next game. But still it was too few outings to judge him.
14. Dale Steyn – 7:
Steyn was the only consistent bowler for the Proteas in the Tests. Picked up 3 wickets in each game and kept the Bangladeshi batsmen in check. He was sorely missed in the ODIs. Bowler with precision and pace and made the other team wary of his excellent bowling.
15. Chris Morris – 1:
He picked up 2 wickets in the first ODI and was dreadful in the second and was subsequently dropped for the final ODI which the Proteas lost anyway.
16. Kyle Abbott – 1:
Picked up just the one wicket in the ODI series and had a series to forget. He was poor and failed to make any impact for his team. Abbott would be extremely displeased with his dreadful performances and would be waiting for the next series to prove his doubters wrong.
17. Kagiso Rabada – 7:
8 wickets in just 3 games is an excellent return for any bowler. Rabada single handedly dismantled the Bangladesh batting line up in the first ODI and practically handed his team the victory. He was surely the pick of the bowlers for the defeated Proteas on this tour.
18. Imran Tahir – 2:
Tahir picked up just the two wickets in the series and thus had a disappointing series in the Asian nation. His experience in the IPL was supposed to come in handy in these situations but he failed to replicate his IPL form on Bangladeshi pitches.
19. Morne Morkel – 1:
The experienced fast bowler had a torrid time in Bangladesh with his bowling coming up well short on the Asian nation's pitches. He would like to quickly bounce back from this setback. He would be really disappointed with his performances and would be relieved to finally head back home after a disastrous tour.
Follow us on Telegram