BCB asks U14, U16 and U19 players in Bangladesh to give trials over WhatsApp
Tamim, Rahim and Akbar Ali have explained the process in a video.
Updated - Oct 13, 2020 10:39 pm
593 Views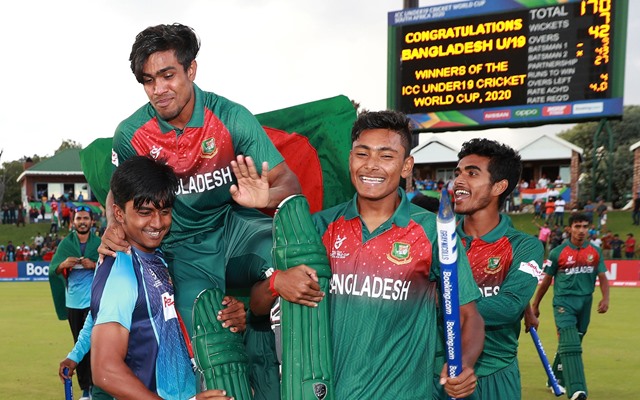 Follow us on Telegram
COVID-19 pandemic has impacted all the sports including cricket. Though cricket has resumed in some of the countries, it is still taking baby steps in Bangladesh. A three-team One-Day competition has marked the resumption of cricket in the country from October 11. However, the Bangladesh Cricket Board (BCB) is still taking precautionary measures and are refraining from rushing to the conclusions.
But the board believes that the development pathway for young cricketers and have decided to take trials through video-clips. The BCB announced this unique programme on Tuesday with the likes of Tamim Iqbal, Mushfiqur Rahim and Akbar Ali explaining the process in a video.
Three WhatsApp groups created for U14, U16 and U19 age groups
BCB has made three WhatsApp groups (one each for U14, U16 and U19 players) for each of the 64 districts and eight divisions, and eight others – based on zones – for the Dhaka metropolis area. All the players from these districts, divisions and zones will send their trial videos over the respective WhatsApp groups. Once this is done, the regional coaches will choose 35-40 players for each age group of the particular district, division and Dhaka metro.
Post this process, the shortlisted players will be called for in-person proper trials with proper COVID-19 protocols in place and once impressive will be selected for their respective age-group squads. "Previously the open trial was in-person. Five hundred or more kids would show up for the trials at specific venues around the country. It is not suitable in the present pandemic reality.
"Health safety is a real concern, but we have to continue our player development pathway. Regardless of how many videos we get, it will be shortlisted to around 40 players for each of the district or division Under-14 teams and around 35 each for their Under-16 and Under-18 sides. The shortlisted cricketers will be called for the in-person trial in their region after ensuring health protocols. Districts, which are more safe as far as Covid-19 is concerned, will hold these trials first.
"From these 35-40 players, the coaches will make a 15-man squad for registration, age-verification medical test and then begin training. Once the situation improves, we will hold the age-group tournaments," BCB's game development manager AEM Kawser said while speaking to ESPNCricinfo.
Follow us on Google News