BCCI officially announces India's schedule for 2021-22 home season
India will face New Zealand in a T20I series from November 17, only three days after T20 World Cup final.
Updated - Sep 20, 2021 5:16 pm
26.8K Views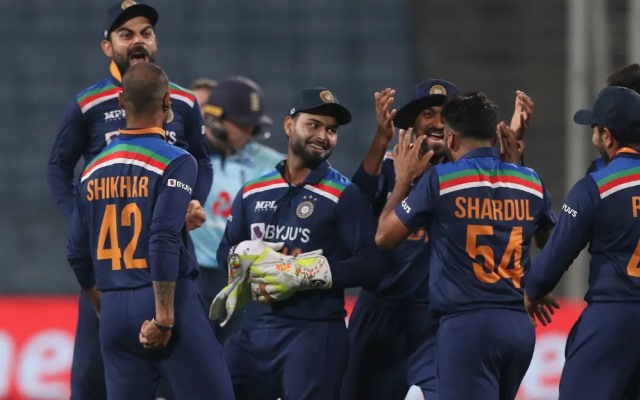 Follow us on Google News
BCCI has officially announced the schedule for India's upcoming home internationals for the 2021-22 season. India will host New Zealand, Sri Lanka, West Indies and South Africa during their home season. The season is cut into two halves though as the team is slated to travel South Africa in December-January after hosting the Kiwis for three T20Is and a couple of Test matches.
There is no respite for the players after the T20 World Cup which concludes on November 14 as only three days later they will be featuring in the T20I series against New Zealand. The three matches are set to be played in Jaipur, Ranchi and Kolkata while Kanpur and Mumbai will host the first and second Test respectively.
India's home season will resume in February again when West Indies are scheduled to tour for three ODIs and as many T20Is. The ODI series will commence on February 6 and the tour will conclude on February 20.
Sri Lanka to tour India for 2 Tests and 3 T20Is
Soon after the West Indies series, India will indulge in a contest against Sri Lanka in two Tests and three T20Is. Bengaluru and Mohali will host the two matches in the longest format. The three T20Is will be played on March 13, 16 and 18 in Mohali, Dharamsala and Lucknow respectively.
After this series, all the players will be busy featuring in the 15th edition of the Indian Premier League (IPL) in April and May, the schedule for which is yet to be announced. After the cash-rich league, South Africa will tour India for a five-match T20I series with the long home season concluding on June 19, 2022 in Delhi.
Here's the detailed schedule:
India vs New Zealand (2021)
1st T20I- November 17, Jaipur
2nd T20I- November 19, Ranchi
3rd T20I- November 21, Kolkata
1st Test- November 25-29, Kanpur
2nd Test- December 03-07, Mumbai
India vs West Indies (2022)
1st ODI- February 06, Ahmedabad
2nd ODI- February 09, Jaipur
3rd ODI- February 12, Kolkata
1st T20I- February 15, Cuttack
2nd T20I- February 18, Visakhapatnam
3rd T20I- February 20, Trivandrum
India vs Sri Lanka (2022)
1st Test- February 25-01 March, Bengaluru
2nd Test- March 05-09, Mohali
1st T20I- March 13, Mohali
2nd T20I- March 15, Dharamsala
3rd T20I- March 18, Lucknow
IPL 2022 (April-May) Schedule yet to announced
India vs South Africa (2022)
1st T20I- June 09, Chennai
2nd T20I- June 12, Bangalore
3rd T20I- June 14, Nagpur
4th T20I- June 17, Rajkot
5th T20I- June 19, Delhi
Follow us on Telegram