Bhuvneshwar sharing success credit with Praveen Kumar
Updated - Jul 19, 2014 3:58 pm
25 Views
The thin small Indian pacer with gentle pace has extremly precious gift of swing. In him I ndia has found a gem of swing bowler who can move the ball both ways has a calm head over his shoulders.
An English type bowler with that swing & seam he has had more success right at the start of the tour at Trent Bridge with little assistance he troubled and scalped 5 Englishmen. Coming to Lords the home of Cricket and a pitch any swing bowler dreams to bowl on with the magnitude of assistance it offers. Bhuvineshwar also has batted responsibly in both the tests getting half-century in each innigs of the previous test.
He is honest to admit and credit Praveen Kumar who on previous tour took a fifer and registered his name on the Lords honorary board. Bhuvneshwar who is state mate to Praveen credits his success to the later's guidance and tips he acquired before coming on tour "He is my idol, have watched a lot of his bowling,"I did have a discussion with him before I came here. He almost my big brother, we play together for the same team. He still helps me a lot with my bowling."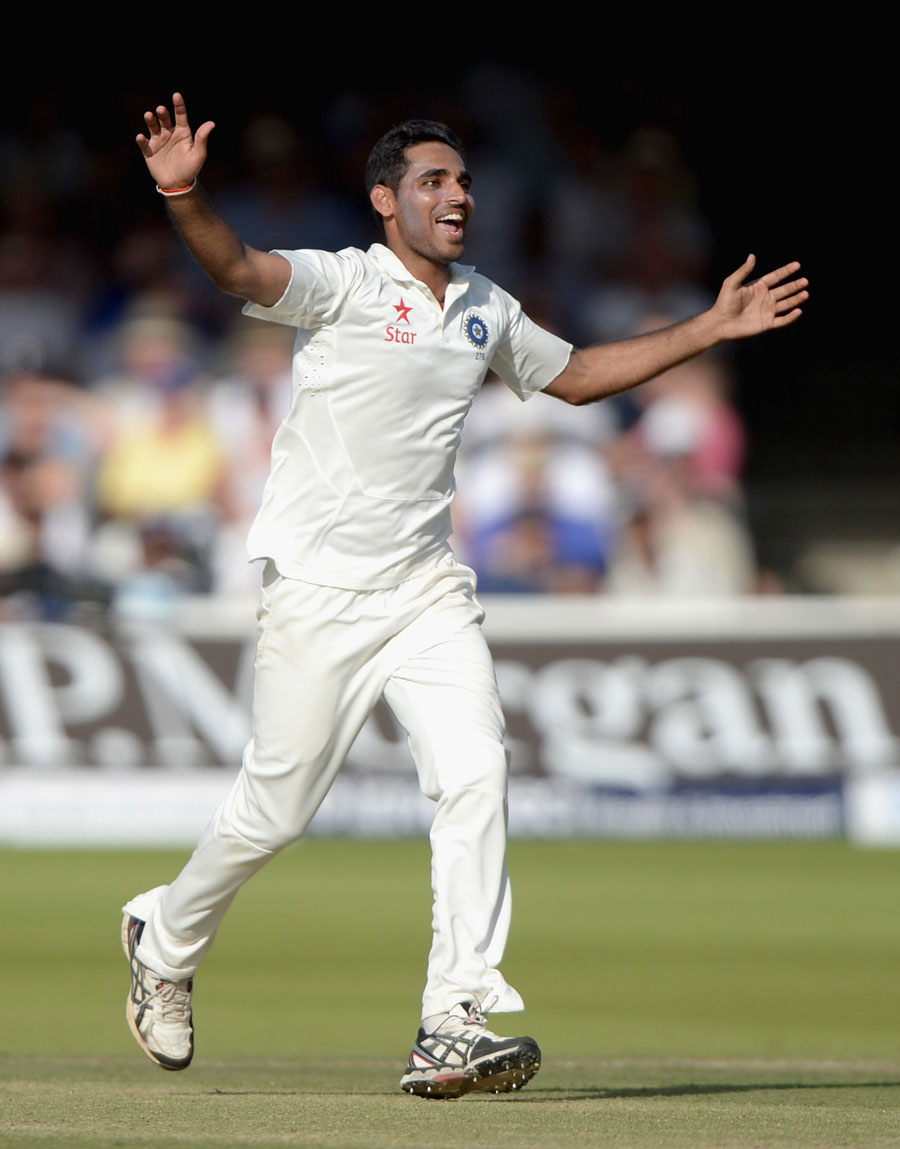 Follow us on Telegram
On taking yet another five wicket haul and helping India get into a better position even though the wicket was a lot easier to bat when England were batting. He created enough doubts in the minds of the batsman to get them in trouble. Always keeping the pressure on not letting them off the hook is his strength. Bhuvneshwar said, "The pitch became a bit easier for batsmen after the first session, "We have bowled in the right areas and kept them quiet. We did well to keep Ballance quiet, even his hundred was not an easy one. We didn't give any easy runs."
On his batting in these condition & the crucial partenerships he has stitched together to save India from crunch situations. Bhuvneshwar here as well ensured India did not fall off too early and was there for Ajinkya Rahane to get his hundred as well before getting bowled by a Stuart Broad delivery. "I have been enjoying batting here in England,The partnership with Ajinkya was really satisfying, the ball was moving around quite a much, and we were in a bad situation, having lost seven wickets. So, from that point of view, yes it was a good effort and I think a better effort than in the first Test." Bhuvneshwar was quoted saying.
He will have a lot to do again in the second innings more with the ball as India will set a target for England to get in the fourth innings. Which will decide if they can win this one or not.
Follow us on Google News