Bhuvneshwar Kumar to undergo training at Victoria Park before Australian tour
This will be in presence of his coach Sanjay Rastogi who was an influential figure for him in the 2014 tour to England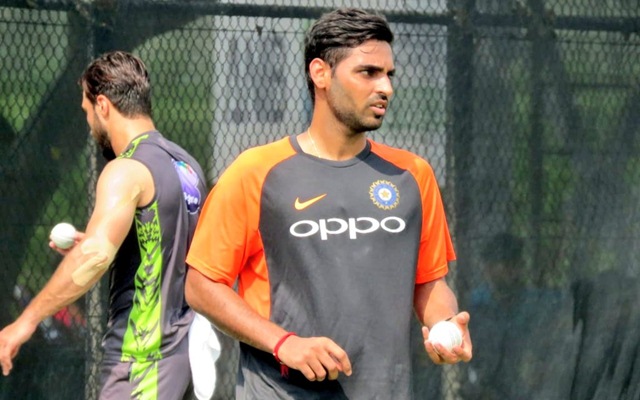 In the recent tour to England, the Indian bowling dearly missed the services of Bhuvneshwar Kumar. The right-arm swing bowler was out of action owing to a back injury. However, he was back in action during India's victorious campaign in the Asia Cup. To keep his workload in check ahead of the Australia tour, Bhuvneshwar has once again been rested for the ongoing Windies series.
With India scheduled to go Down Under later this year, Bhuvneshwar Kumar is already focusing on training hard. Currently, at the NCA, Bhuvi is likely to spend 3-4 days at the Victoria Park in Meerut. This will be in presence of his coach Sanjay Rastogi who was influential for him in the 2014 tour to England.
Bhuvi should just focus on his strengths
The fast bowler took swing lessons early in his career from Rastogi. Bhuvneshwar has 63 T2est wickets that too at a fantastic bowling average of 26.09. His coach who confirmed the news asserted that there was no new advice for the pacer. Instead, he will be asked to continue focusing on his line and length.
"He is currently at the National Cricket Academy. When he comes to Meerut this month, he will spend at least three to four days at the ground. There is nothing new that I should tell him. He should just focus on his line, length and back his strengths. He will also need to plan according to the wicket and the weather," he told according to Sportstar.
Bhuvi has proved himself at every opportunity
Sanjay was all praise for the Indian pacer. He lauded Bhuvi's performances in recent years and his influence on the youngsters. He further downplayed the injury and stated that every player has to go through it. The coach was confident of Bhuvi ahead of the much awaited Australian tour.
"He mixes with the youngsters at the academy, and shares his experience while training with them. He hasn't changed. He has proved himself at every opportunity. Injuries are a part of the game. You can't say when it may happen. It shouldn't bog down a bowler. Many batsmen get injured too," he said.