Big Bash League Winners List From 2011 to Present
Sidney Sixers and Perth Scorchers are the two most successful teams in BBL having won the title three times each.
Updated - Jul 1, 2021 12:35 pm
116 Views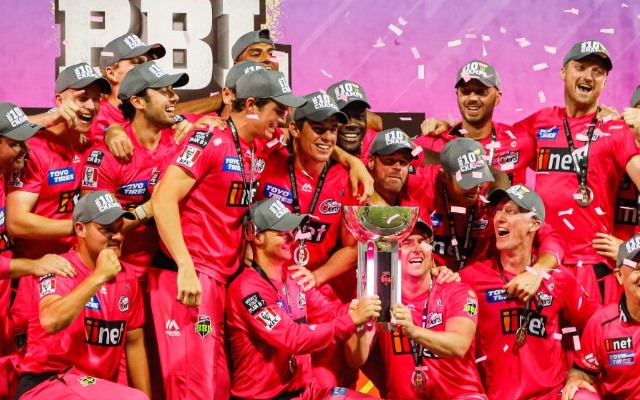 Follow us on Google News
T20 cricket has grown manifolds in the last few years. The growth can be attributed to the presence of a number of T20 leagues around the World. The IPL, BBL and CPL are among the most popular leagues right now. The Big Bash League is the T20 league which is held in Australia every year since 2011. It features eight city-based franchises and has gained major attention over the years.
These eight teams are Adelaide Strikers, Brisbane Heat, Hobart Hurricanes, Melbourne Renegades, Melbourne Stars, Perth Scorchers, Sydney Sixers and Sydney Thunder. Out of these eight teams, six have won the title at least once. Sidney Sixers and Perth Scorchers are the two most successful teams having won the title three times each. In this article, we will be listing out winners of the Big Bash League in each edition.
In the very first edition held in 2011-12, Sydney Sixers emerged as the winners. They defeated Perth Scorchers in the final by achieving the required target of 157 runs with seven balls to spare. In the next edition, Brisbane Heat lifted the trophy defeating Perth Scorchers by 34 runs in the final encounter.
After losing twice in the finals for first two fears, Perth Scorchers finally won the title in the 2013-14 season. They retained the title in the next season as well. In 2015-16, Sydney Thunder won their first trophy registering a three-wicket victory over Melbourne Stars in the final. Perth Scorchers again emerged victorious in the 2016-17 season.
Adelaide Strikers won their maiden title in the 2017-18 season as they defeated Hobart Hurricanes by 25 runs in the final match. Next year, it was time for Melbourne Renegades to lift their first title. The winners of the inaugural season Sydney Sixers won their second trophy in 2019-20. Later, they retained their title in Big Bash 2020-21 with a 27-run win over Perth Scorchers in the final game.
BBL Winners List
| | | | | | |
| --- | --- | --- | --- | --- | --- |
| Year | Winner | Score | Runners-Up | Score | Result |
| 2020-21 | Sydney Sixers | 188/6 | Perth Scorchers | 161/9 | Sydney Sixers won by 27 runs |
| 2019-20 | Sydney Sixers | 116/5 | Melbourne Stars | 97/6 | Sydney Sixers won by 19 runs |
| 2018-19 | Melbourne Renegades | 145/5 | Melbourne Stars | 132/7 | Melbourne Renegades won by 13 runs |
| 2017-18 | Adelaide Strikers | 202/2 | Hobart Hurricanes | 177/5 | Adelaide Strikers won by 25 runs |
| 2016-17 | Perth Scorchers | 144/1 | Sydney Sixers | 141/9 | Perth Scorchers won by 9 wickets |
| 2015-16 | Sydney Thunder | 181/7 | Melbourne Stars | 176/9 | Sydney Thunder won by 3 wickets |
| 2014-15 | Perth Scorchers | 148/6 | Sydney Sixers | 147/5 | Perth Scorchers won by 4 wickets |
| 2013-14 | Perth Scorchers | 191/4 | Hobart Hurricanes | 152/7 | Perth Scorchers won by 39 runs |
| 2012-13 | Brisbane Heat | 167/5 | Perth Scorchers | 133/9 | Brisbane Heat won by 34 runs |
| 2011-12 | Sydney Sixers | 158/3 | Perth Scorchers | 156/8 | Sydney Sixers won by 7 wickets |
Follow us on Telegram