BPL 3 Match 6 Review: Sylhet Super Stars v Barisal Bulls, Bulls pull off a thriller
Updated - Nov 24, 2015 5:20 pm
26 Views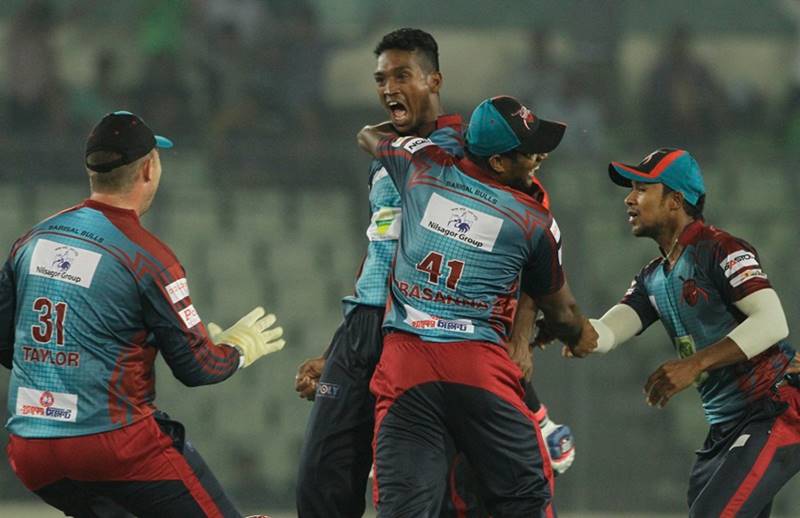 Al-Amin's phenomenal spell of 5/36 inspired a thrilling victory for the Barisal Bulls in a low-scoring match against Sylhet Super Stars. The Super Stars batsmen were miserable as they were unable to chase a paltry target of 109 runs. It was an unbelievable win for Barisal Bulls.
Barisal Bulls, playing their second consecutive match, won the toss and chose to bat first. However, the BB batsmen played in a very disappointing manner today as they were bundled out for a paltry 108 in 19.3 overs.
Rony Talukdar and Shahriar Nafees gave a decent start to the innings. However, Subashis Roy, the first change bowler, managed to get a nick off Talukdar's bat and dismissed him to strike the first blow of the match for Sylhet. After the fall of the first wicket, the BB batsmen began the ritual of throwing away the wicket. The other opener Shahriar Nafees (12 runs from 11 balls) was dismissed in the next over with the space of one ball. The hope of batting revival was still there as Brendan Taylor and last match's hero Mahmudullah were in the middle. But, left arm spinner Nazmul Islam removed Taylor cheaply before he could create any impact.
BB faced another blow when the captain ran himself out. They were in trouble with just 53/4 against their name in the 9th over. BB found some solace with a small 22 runs fifth wicket partnership between Nadif Chowdhury and Sabbir Rahman. However, they were not able to score the crucial boundaries and the batting slide continued. Soon the Nazmul Islam struck twice in the 13th over. He tempted Sabbir for a big shot to get him caught at deep midwicket and then got S. Prasanna caught at mid-wicket.
There were no signs of any fight back from the BB batsmen. One over later, Kevon Cooper also departed. Nadif Chowdhury was still fighting a lone battle as wickets kept falling at the other end. Taijul Islam played a small supporting role and both somehow managed to take BB past hundred. But, both Nadif Chowdhury (24 from 28 balls) and Taijul Islam (10 runs from 17 balls) were dismissed in successive overs. Barisal Bulls' innings soon ended at the disappointing score of 108 when their last batsman Al-Amin Hossain was cleaned up by Mohammad Shahid.
There was a little drama in the end as Al-Amin Hossain and Mohammad Shahid barges into each other and exchanged words with each other. The umpires and players had to interfere to stop them.
With a small score of 109 runs to chase, it should have been a cakewalk for the SSS. But that was not the case as seamer Al-Amin struck in the second over of the innings. An uncomfortable looking Mominul Haque tried to make room and slash the ball but edged it straight into the gloves of wicketkeeper Brendan Taylor. However, before the new batsman Ravi Bopara could settle down, Al-Amin came back in the next over and struck again. A clueless Bopara hung his bat outside the off stump to edge one more catch to Taylor.
There were more interesting things to come as Al-Amin went to take two more wickets of Nurul Hasan and BB skipper Mushfiqur Rahim from successive balls, thus completing a stunning hattrick. It was the first of this season. This inspiring 4th over by Al-Amin broke the back of the Sylhet Super Stars batting order. SSS were at a score of 18/4.
As a result of Al-Amin's fantastic bowling display, the match looked wide open. The Barisal Bulls now felt that there was a chance to defend the small target. However, Munaweera was batting with ease while Owais Shah hung in there in the middle with him. Shah, eventually, departed after getting trapped leg before by Taijul Islam. He made 11 runs at snail's pace off 29 balls. Kevon Cooper and S. Prasanna were bowling tightly in the middle overs. Although the match was swinging its momentum from one team to the other, 47 runs required from 49 balls was gettable. But, the dangerous Munaweera wasted all his hard work after unsuccessfully trying to go over the cover only to get caught by Prasanna at long-off. Sylhet was now at 62/6.
Nazmul Hossain and Nazmul Islam raised some hopes. But every bit of hope was squashed by a full and straight ball by M. Sami which uproots the middle stumps of Nazmul Islam (16 runs from 14 balls). Nazmul Hossain (15 runs from 21 balls) was also dismissed in the 19th over by Al-Amin.
8 runs were needed off the last over for Sylhet to win the match. However, they had only two wickets in hand. Taijul Islam was handed over the ball by the skipper Mahmudullah and he struck with his first ball. Mohammad Shahid could not hold his nerves and was caught at deep covers by Nadif Chowdhury. With only one wicket in hand and 8 runs to chase, the pressure was on Fidel Edwards and Subashis Roy. However, both could not do anything spectacular and could only take six runs off the last five deliveries as Barisal Burner pulled off a thrilling one-run victory over Sylhet Super Stars.
Brief scores
Barisal Bulls – 108 all out in 19.3 overs (Nadif Chowdhury 24; Al-Amin 5/36 )
Sylhet Super Stars – 107/9 in 20 overs (Dilshan Munaweera 36; Nazmul Islam 3/18)
Man of the Match- Al-Amin Hossain (Barisal Bulls)