Brad Hodge faces music for criticising Virat Kohli on his men's product ad
Stuart Broad made a funny comment, but people didn't take Brad Hodge's mockery in a funny way and stood by their skipper.
Updated - May 17, 2019 4:05 pm
69.9K Views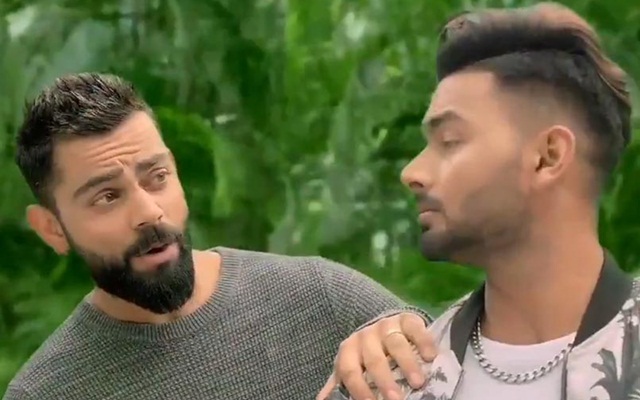 Ever since India captain Virat Kohli was found featuring in a men's product alongside ace wicketkeeper-batsman Rishabh Pant, hell has broken loose in the cricketing world. The Indian captain, who is known for endorsing brands of various kinds, was seen dancing with Pant to promote a product that cures pimples and former Australia cricketer Brad Hodge could not stop himself from mocking it. He faced a huge backlash on the social media as a result.
Hodge taunts Kohli only to get roasted by Indian fans
The 44-year-old former Australia international remarked in a tweet that was in response to the video of the ad campaign by Kohli saying: "Amazing what people do for money". The remark did not go down well with the Indian fans who found it to be a case of double standard with the Australian.
While Hodge was the target in general, some of the supporters lashed out at Australia as a whole, calling them "cheats" and also mocking: "Amazing what people do to win games". The reference was certainly the infamous Sandpapergate incident in South Africa that saw two frontline Australian players getting banned for a year.
Earlier, England bowler Stuart Broad had also reacted to the advertisement though he did not take any dig at Kohli and rather opined that his compatriots Ben Stokes and Jos Buttler could fit well into the roles that were being played by Kohli and Pant since those two players are known for their camaraderie.
While the Twitterati found it funny, Hodge didn't find things easy after his dig at the Indian captain. The Indian fans also cited ads in which Australian player Steve Smith was seen dancing and said that even the Kangaroos come to India during cash-rich tournaments like the Indian Premier League to earn money.
If that is fine, then why not Kohli's engagement, they asked. Some also mocked Hodge for having failed to earn as much as the ace Indian batsman who will lead India in the ICC World Cup starting in less than two weeks' time. Hodge tried to defend himself, saying he would do the same. But the Indian fans were irked far too high to spare him a smile.
Funny, I never did say there was nothing wrong with it. I would do the same. Your interpretation of my comment was so 'glass half full' if I attach 😃. Your interpretation would be different

— Brad Hodge (@bradhodge007) May 17, 2019
Here are some of the Twitter reactions that Hodge faced after making his remark on the Indian cricket skipper
Amazing what people do for money

— Brad Hodge (@bradhodge007) May 16, 2019
Amazing what people do to win games #sandpaper

— King kohli⚔️ (@Kingkalyann) May 17, 2019
— 𝒫𝓇𝒶𝓉𝓎𝓊𝓈𝒽 🇮🇳 (@pks_2611) May 17, 2019
Yeah. Anything for 💲https://t.co/BMoTtYlCVn

— Nitesh Khandelwal (@k_nitzz23) May 17, 2019
Lol….his earning last yr itself was 23m..only cricketer in Forbes,total nearly 60million+.. tis could be just peanuts fr him

— 💁‍♀️Yashasvi🦋🌸 (@Girlwithwingss) May 17, 2019
That ad was cringe. But your statement is unnecessary and exposes your Hypocrite nature. Ever wondered why Australian players like Watson have retired from BBL but still ready to play IPL next year? Yeah right – MONEY. There is nothing wrong in that tbh.

— . (@_cleanbowled) May 17, 2019
Better than cheating sandpaper guy

— Chowkidar Rahul Pandey (@MSDRAHUL) May 17, 2019
He gets 1,14,285.714$ for one instagram post.
1000 times better than your earning @bradhodge007 ?

— Vinit ❤️ (@Forever_Virat) May 17, 2019