Brian Lara is my all-time favourite cricketer: Chris Jordan [Interview]
Back in December 2020, Jordan became England's all-time leading wicket-taker in T20Is, surpassing Stuart Broad.
Updated - Jul 6, 2021 2:28 pm
2K Views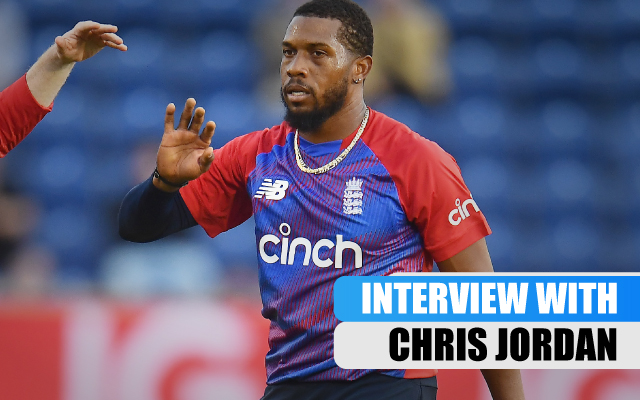 Chris Jordan's contribution to England cricket is way beyond numbers. The Barbados-born helped recover Jofra Archer's career after the latter was unceremoniously ousted from the West Indies U19 team back in 2014. Archer would go on to make his debut in all formats in three months and also bowled the Super Over in the 2019 World Cup final in front of a packed crowd at the iconic Lord's.
However, while Archer is one of England's leading paceman across formats, Jordan has had his fair share of ups and downs in his career. Since making his debut way back in 2013, the pacer has 105 matches for the Brits. Jordan's Test sojourn hit a wall in 2015 after he played against the Caribbean team in Barbados.
His ODI career hasn't taken off either, though he is still in the national reckoning. But hard work has paid dividends for him in T20 cricket. Apart from being a critical member for Sussex in England's domestic circuit, Jordan has made the 20-over format his very own.
In fact, seven years since his T20I debut, he is the all-time highest wicket-taker for his country. In 63 T20Is, Jordan has picked up 73 wickets and in December 2020, he left behind Stuart Broad on his way to the top.
Having 237 T20 wickets under his belt, Jordan has also been a sought-after buy in various T20 leagues around the world. In the meantime, the 32-year-old took time out of his busy schedule and featured in CricTracker's Question-and-Answer session 'Free Hit'.
During the chat, he talked about a number of interesting topics, regarding English cricket and also had some words to say for Punjab Kings, his team in the Indian Premier League.
Here are the excerpts from Chris Jordan's interview:
What's your favourite moment in IPL 2021?
The win against Royal Challengers Bangalore (RCB) by 34 runs in Ahmedabad. It was a complete team performance.
Who's your all-time favourite cricketer?
Brian Lara. As a kid in the Caribbean, I used to watch him a lot. He is sheer class and his batsmanship against the best seamers and best spinners in the world was amazing.
Who's your best friend in the cricket world?
I've got quite a few, but I'd pick Jofra Archer and Moeen Ali. When I played for the West Indies, it was Kirk Edwards.
Who's the one player from IPL 2021 you thought did exceptionally well?
Shahrukh Khan from our team did very well. He came with a reputation and he showed glimpses of the same.
Which T20 team do you prefer- West Indies or England?
England.
What's the one thing you would steal from a cricketer?
Jofra Archer's extreme pace and Kieron Pollard's strength in clearing boundaries.
What's your biggest phobia?
I am claustrophobic. Somehow, I can't get out of it.
Three words to describe Anil Kumble?
Enthusiastic, Calm and Calculative.
Marvel or DC?
Marvel.
Who would you pick- Stuart Broad or Jofra Archer?
Stuart Broad in red-ball cricket and Jofra Archer in white-ball cricket.
What's the best moment in your career so far?
When I represented England for the first time in the West Indies in Barbados (2014). It was the first time when my family and friends were watching me play international cricket live. I managed to take a catch in front of them and hit a few (four) sixes. I also picked three wickets and got the Player of the Match award. It remains my most memorable moment.
What's the one thing you like about India?
The passionate fans and how they support their team and cricket in general. They are also very knowledgeable.
Who's your favourite captain- Eoin Morgan or Joe Root?
Eoin Morgan, simply because I've played more under him.
What's the one thing on your bucket list?
I want to do a skydive.
What angers you the most?
When I practise something a lot and I don't get it right the first time.
Who's your biggest inspiration?
My dad.
Complete the following- KL Rahul is….
A genius.
Who's the more powerful hitter according to you- Chris Gayle or Jonny Bairstow?
Chris Gayle. He's hit so many sixes over 100 metres, but Jonny won't be too far behind.
Are you a better cook or a dancer?
Cooking.
One word that describes Chris Jordan
Calm.
Follow us on Google News