Central contracts offered to the India disabled cricketers
"We have high hopes from the CoA. Mr Vinod Rai has promised full support to us. The BCCI CEO has also materialized to hear us out after IPL," he quoted.
Updated - May 10, 2017 11:01 pm
320 Views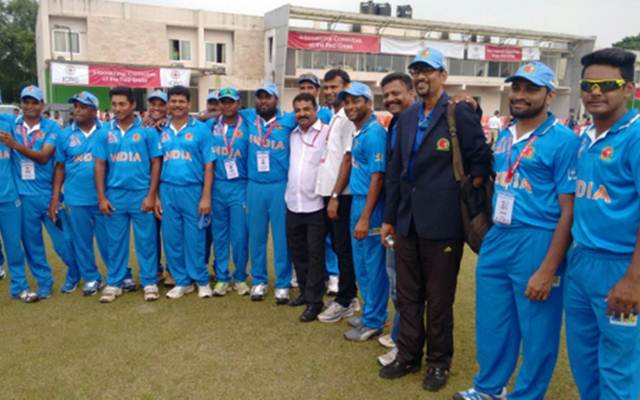 The physically disabled cricketers are yet to get the recognition they deserved in India. The disability cricket has not received the official recognition from the Board of Control for Cricket in India (BCCI). However, as per the recent recommendations made by the Lodha Committee, the board was asked to give recognition to this degree of cricket body as well.
Despite this, the Physically Challenged Cricket Association of India (PCCAI) has been taking significant strides to promote their cricketers in the country. As per the reports and quotes in the Hindustan Times, the top 20 players in India disability circle are set to get central contracts by the PCCAI. PCCAI's general secretary Ravi Chauhan noted that the plan is just the beginning. They aim bigger things for the players in India.
"This is just the beginning. It was in the pipeline for quite some time, but we are happy it has finally materialized. This is the best we could start with and we will increase the contract fee as we play more tournaments," quoted Ravi.
He further added that the basic agenda was to give the foundational facilities to the players because they do not have too many other sources of income. The grading contracts have been on the lines of the BCCI central contracts with three grades of cricketers. Grade A players will get INR 30000, Grade B with INR 20000, and Grade C with INR 11000.
"Our intention was to provide some basic assured source of income to these cricketers as most of them don't have regular jobs. A lot of them hail from poor backgrounds, so it will help them fund their academics or their cricket," added Chauhan.
Lastly, he noted that they hope the BCCI will recognise their cricket sometime soon. They had a lot of hopes from the new BCCI setup as well. Also, he cited that all other major cricket playing countries support the disability cricketers.
"We have high hopes from the CoA. Mr Vinod Rai has promised full support to us. The BCCI CEO has also promised to hear us out after IPL. Except India, every national board supports disability cricket. Even Afghanistan, who is not even a full member of the ICC yet, wholeheartedly promotes disability cricket. Our appeal to the BCCI is to take these disabled cricketers into their wings," he conceded.