'Chance pe stance' – Twitter trolls Fawad Alam for his unique batting stance
The veteran cricketer was subjected to a lot of memes and trolls after his poor performance against England at Southampton.
Updated - Aug 14, 2020 10:00 am
44.1K Views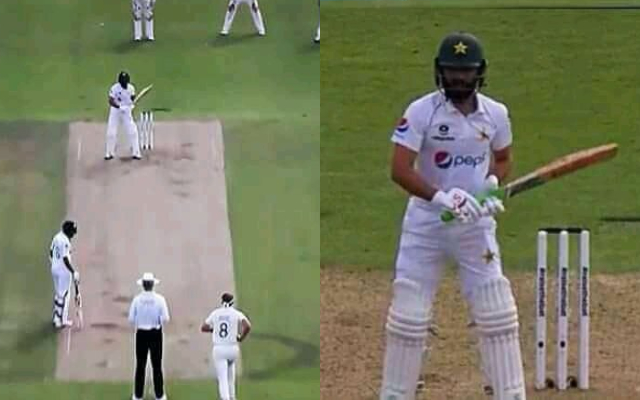 Pakistan's batsman Fawad Alam must be going through a plethora of emotions. The left-handed batsman finally made a comeback in Pakistan's Test team after a wait of 3910 days and 88 Test matches. However, Alam was left disappointed as he saw his near 11-year wait for a return to Test cricket end with a four-ball duck.
Pakistan is up against England for a three-match Test series where the hosts outshined the Men in Green by three wickets at Manchester in the inaugural match of the series. Subsequently, the visitors have been reduced to a score of 126-5 by the Englishmen on Day 1 of the second Test match at Southampton.
Fawad Alam disappoints with his comeback to international cricket
Fawad was the only change to Pakistan's squad that lost the first Test, effectively replacing the leg-spinner Shadab Khan. This is only his fourth appearance in a Test match from Pakistan's side. He last played three Tests against New Zealand in Dunedin in 2009 where he averaged over 41.
The swashbuckling batsman is listed at 25th number in the list of cricketers who have made another Test appearance after a wait of at least 10 years. Also, he is the second Pakistani player to do so after Younis Ahmed, who played 17 years after his previous Test in 1987.
Alam had made headlines with his consistent performances in first-class cricket, scoring a double century in the Quaid-e-Azam Trophy 2019 for Sindh against Southern Punjab. This prompted the team management and the selectors to give him another chance to the all-rounder to prove his mettle for the National team.
The 34-year-old's performance must have let down the team management and the captain as Pakistan was already struggling on the first day. Fawad was batting with an extremely open stance and was lbw on review to all-rounder Chris Woakes. Though the on-field umpire had given a not out but England decided to go for a review.
It proved to be a good decision for the England team as the review revealed that the ball had pitched in line, with a squared-up Alam trapped in front of his stumps.
The visuals of Fawad going back to the pavilion for a duck went viral on social media as the Twitterati poked fun at the batsman. Also, people found the batting stance of Alam quite weird. The veteran cricketer was subjected to a lot of memes and trolls after his poor performance against England at Southampton.
Here are the best tweets
Fawid Alam's stance reminds me of when Smart car owners park the other way round #BBCCRICKET pic.twitter.com/xHvEbJE432

— Jack Sears (@Jacks_ears) August 13, 2020
Fawad Alam facing his first ball today. This is his usual stance. It's known throughout Pakistan as the 'NevBann' or 'Shitmipants'. Alam scored 0@nevbann @CresswellPete pic.twitter.com/maKlKDnRY6

— David Robertson (@drobbocity) August 13, 2020
Fawad Alam's stance surely borrows from this woman's broom technique. #bbccricket pic.twitter.com/rV7opE0d3q

— Mark Burt (@MJBurt1) August 13, 2020
Sir Fawad Alam didn't even bother scoring any runs. His stance on crease is as funny as memes circulating on SM.#PakvsEng

— Faizan (@FaizanRajja) August 13, 2020
Has Fawid Alam been taking batting practice from Red Sox legend David Ortiz? Big Papi's stance looks more suited to cricket! #bbccricket pic.twitter.com/YUoEdd5sIN

— David Beckett (@iamdavidbeckett) August 13, 2020
Fawad Alam Batting Stance 🤯 #ENGvPAK #fawadalam pic.twitter.com/0u5SLyNhoh

— Selva Bharathi (@selva_cskian) August 13, 2020
English bowlers looking at fawad Alam's batting stance 🙄 pic.twitter.com/vzFaZygrWR

— Granger❤️ (@muski_sm) August 13, 2020
That Fawad alam batting stance is only justified when you are facing Daryl Tuffey.

— 🍆 (@Abiidism) August 13, 2020
Fawad Alam's stance is just like Shivarine Chanderpaul's and he wasn't bad to be fair #bbccricket

— James Bower (@JamesBower93) August 13, 2020
Last time I saw a stance anything like Fawad Alam's was Dennis Amiss on his return to test cricket against the West Indies at The Oval in 1976. He scored 203 mind. #bbccricket

— Mark Braund (@MarkBraund) August 13, 2020
Fawad Alam what are you doing with that stance pic.twitter.com/cwlgAJZO4h

— London Baggies (@LondonBaggies) August 13, 2020
Chance pe Stance …!

Fawad Alam #ENGvsPAK pic.twitter.com/AYgCDhc94e

— Khushamtweet! (@XitijNanavaty) August 13, 2020
Who's stance is more absurd, Fawad Alam vs Burns ? #ENGvPAK

— Rizwan Haider (@razi_haider) August 13, 2020
Special talent to get lbw out with this stance. #fawad alam

— Dr jitendra jha (@WOUNDEDHEALAR) August 13, 2020
Fawad alam batting Stance 😦😦#ENGvsPAK pic.twitter.com/aHEf5wRsIS

— Sarathy Partha🎭 (@Sarathy229) August 13, 2020
Shivnarine Chanderpaul had filed a patent on his unique stance. No one can replicate and be as successful as him, without his permission. Fawad Alam should have known this. #ENGvPAK #ENGvsPAK

— Mazahir Rizvi (@TheQambar) August 13, 2020
Quite amazed that Fawad Alam is out lbw when this is his batting stance. pic.twitter.com/o2ewxBG4z8

— Jack Faulkner (@jackfaulkner) August 13, 2020