Change Ranji Trophy to change the condition of Indian cricket
Updated - Oct 9, 2014 2:24 pm
82 Views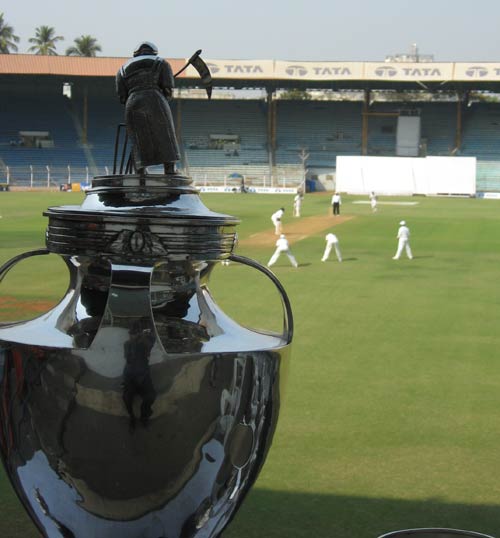 Follow us on Telegram
Looking at the condition domestic cricket in India is and the focus of young, aspiring cricketers towards T20 and IPL these lines suit the situation perfectly 'Change yourself or you will get replaced' 'It is the call of nature and with time change is bound to happen. One needs to adapt themselves according to the conditions to prevail.' The premier domestic competition of Indian cricket " The Ranji Trophy" has passed its nascent stage and is  80 years old now. The need of the hour is an urgent change in the manner in which it is carried out.
In these 80 years, numerous transformations have transpired in the game of cricket. From the invention of ODI and T20 cricket to the addendum of incredible number of equipment in game. A rangy sport of 5 long days has become a crispy one of 3 hours .Cricket is totally a chop and cheese of what once it was. On the contrary our Ranji Trophy is all the same nothing pertinent has changed about it in these prolonged itineraries of 80 years.
India has a Spate of talent in cricket like no other nation playing this sport. Yet, it is not the superpower of cricket it would like to be. It is yet to become the BRAZIL of Football or USA of Basketball. This is largely because Ranji Trophy has not been able to adapt or modify itself with time. The tournament certainly lacks staunch followers as its TRP is dreadful and more importantly the level of cricket at times is just not up to the mark. The Indian Cricket Team abashed its every ardent follower in the recently concluded TEST Series in England and in a tortuous way it portrays the incompetence of our Domestic competition.
We tried to analyze the flaws in the current system and here are the suggestions CricTracker has for the betterment of Indian Cricket.
Reorganizing the Domestic structure-The biggest flaw in our domestic competition is that Four day matches and the limited over's competitions are not played simultaneously. Ranji Trophy i.e. the 4 day tournament only starts once Vijay Hazare Trophy gets finished in early December and there is no ODI competition for the next 3 long months.
This means if one of our players gets injured in the middle of  the upcoming World Cup Downunder  its replacement has to be called on the basis of 4 day performance as no ODI competition would be on at that time in our domestic calendar.
As we all know Test and ODI format are different ball games all together. The former requires fortitude, technique, grit and determination whereas the latter needs flamboyance, audacity and hitting prowess. The set of skill requires to excel in each format is different, so a player can't be picked in the ODI team on the basis of his performance in 4 days games and vice-versa. But, unfortunately this is what happens in Indian cricket at the moment.
To eradicate this flaw Ranji Trophy , Vijay Hazare trophy and Syed Mushtaq Ali trophy must be played simultaneously through the season and  Duleep Trophy  must be scrapped off Indian domestic calendar as they won't be relevant after six teams Ranji Trophy tournament.
Allow Foreign players to participate– In Australia's Sheffield Cup or in England's county championship foreign player are allowed to play then why can't India, the superpower of world Cricket call foreign players to participate in its domestic competition.
The inclusion of foreign player will increase the standard of our first class competition. We don't posses high standard in fast bowling department so inviting the bright young talent of England, Australia, South Africa or West Indies will be a tougher challenge for batsman representing domestic teams and that will make their life easy somewhat when they face those bowlers on the foreign tours.
On a question asked related to it Rahul Dravid recently at the Dilip Sardesai memorial lecture said and I quote "You should open up the doors to allow foreign players to come here. Though it should not be like six foreign players playing in the XI but, to an extent yes they should open up if players are willing to come and play"  
Reduce Number of Teams– Sixteen teams participates in Ranji trophy and each team has a squad of at least 15 players which means approximately 250 players participate in Ranji trophy .Surely, all 250 players can't be world class so to maintain the standard the number of teams needs to be reduced.
Our suggestion will be to have North Zone, Central Zone, South Zone, West Zone, East Zone and Mumbai to participate in Ranji Trophy. Mumbai the only city based team because of its sheer dominance in the Indian domestic circuit having won the Ranji Trophy 41 times. These six teams should play each other twice on the home and away grounds and the best two team's advance into the finals.
This new avatar will ensure the high standard of cricket and will captivate more fans as six teams tournament will remove the complexity which current system has and it will make it fan friendly tournament. As the number of games will drastically come down, high action and quality cricket will be the focus.
Often we see misleading stats in Ranji cricket as some players score big or take wickets handsomely against the weaker opponents or in favorable condition. This way they get into the spot light but more often than not fail to replicate their performance against the quality sides and in adverse challenging conditions.
Classic example of this is Ravindra Jadeja who is in the Indian Test team for his bowling prowess, but he has reached the illustrious mark of 300 thrice in his domestic career as he play his cricket for Saurashtra whose home ground Rajkot is renowned for producing placid tracks.
Domestic competition is the stepping stone of a strong cricketing nation. Arguably, Australia has the most organized domestic competition and hence it is the most successful team of the sport. Some pertinent modification in our domestic structure can do the world of good for our cricket. BCCI must ponder over giving a New Avatar to RANJI Trophy.
Follow us on Google News