Cheteshwar Pujara deserves better than being dropped from the XI
Let's hope that those who ignored Pujara for whatever reasons they only know for the first Test, they will undo the misjudgement at Lord's.
Updated - Aug 8, 2018 3:22 pm
147 Views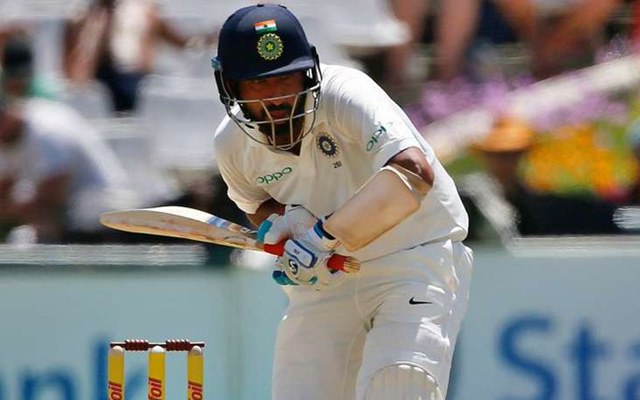 Follow us on Google News
India's top-order batsman Cheteshwar Pujara has remained a mystery in the Test series against England so far.
Though there was no dearth of support for the 30-year-old batsman as an automatic choice in the visitors' batting line-up and he himself also expressed confidence about his place in the XI, his fans saw with disappointment the player's exclusion in the first Test in Birmingham which India lost by 31 runs. And since it was primarily the batsmen's failure that led to India's downfall in a game which they could win, the demand for Pujara's return has only grown stronger.
The reasoning behind Pujara's ouster from the XI in the first Test is suspected to be his poor run in county cricket this season. Pujara played six games for Yorkshire in the run-up to the England series but could not accumulate even 200 runs and averaged less than 15. He also failed to make a mark in the three-day match against Essex ahead of the first Test and in between his county stint. Pujara also did ordinary against the one-off Test against Afghanistan.
But does this reasoning really hold any ground for leaving him out? If current form is a big yardstick, not many Indian batsmen pass the test and if a player deserves to be judged by the virtue of his preparation for a big occasion. Pujara scores cent per cent marks and qualify as an automatic No.3 candidate.
Worked in county cricket for England tour but was dropped when the time came!
After India's last big series got over in South Africa and most of the players prepared themselves for the lucrative Indian Premier League (IPL) – two players – Pujara and speedster Ishant Sharma headed for England to play county cricket as a preparation for the big England series.
Sharma had a better time in county and his performance in the first Test where he took seven wickets is a testimony that he indeed gained from bowling in England over the past few months. Pujara did not get the kind of returns but one shouldn't forget that he too gained some wealthy experience by batting in the English conditions which many other Indian batsmen in the current line-up lack. Why didn't we show a minimum respect to his efforts that he put in county ahead of the series?
A comparison with Rahul Dravid of late 1990s
In 1999-2000, Dravid was one who had high hopes on him in the Indian batting order when the team toured Australia under the captaincy of Sachin Tendulkar after a gap of eight years. In the side matches, Dravid scored a century against Tasmania and the Indian fans expected that the wall will offer full resistance to the mighty Australian bowling line-up in the three-match series. But the wall crumbled and in six innings in three Tests that India were hammered, Dravid could manage only 93 runs at a woeful average of 15.50.
In 2003-04, when India went to Australia again under the captaincy of Sourav Ganguly, Dravid scripted a majestic turnaround and in eight innings in four Tests, he accumulated 619 runs which included three unbeaten knocks (average 123.80). If such a story of a turnaround was expected to be seen for Virat Kohli on this tour compared to the 2014 series when he averaged a paltry 13.50, then why not for Pujara?
Pujara was not successful in the 2014 series against England but at least he had done better than Kohli scoring 222 runs in 10 innings, including a fifty. But those who take the call on the team selection went solely by the numbers and overlooked the fact that Pujara's experience in English conditions could not be measured by just numbers. In the late 1990s, Dravid had also found himself out of India's ODI team often since he used to struggle in the 50-over format.
In a match against Bangladesh in a tri-series at home in 1998, Dravid could manage 1 off 21 balls and there was a strong disapproval of his batting in the limited-overs format. In 1999, Dravid still made it to England to play the World Cup since the team management felt that the technically sound batsman would be key in those conditions and he did not let the expectations down and returned from the tournament as the highest scorer even though India couldn't make the semi-finals. If the wall of Indian cricket could be shown some trust to deliver, why not the wall of Indian cricket today?
Pujara has a record against England in Tests only second best to Kohli
Another major factor that should have gone in his favour is his record against England. Although the man has done less well in England in 2014, he has quite a decent overall record against them in Tests. Out of his 14 Test hundreds so far, four have come against England, including the 206 not out which Pujara slammed in the very first innings that he had played against them – in Ahmedabad in 2012. Pujara averages 46.13 against England in Tests, not much less than his overall Test average of 50.34.
Apart from Kohli who has four Test tons against England (he just hit the fourth) and averages 49.04 against them, none of the other top Indian batsmen have a better show than Pujara against England in the longest format.
Shikhar Dhawan averages 20.12 with no hundred; Murali Vijay averages 39.25 with three hundreds; KL Rahul averages 41.66 with one hundred; Ajinkya Rahane averages 23.68 with one hundred and Rohit Sharma, another frontline Indian batsman who has recently fallen back in the race to Test berths, averages 17 against England in Tests with no hundred. Why is Pujara still not given a berth he deserves in the side?
To those who believe that Pujara eats up too many balls but scores nothing, they should see how Dravid used to bat in the same place in the past. In Tests, eating up balls is not a crime but to throw one's wicket away. Perhaps our audience today is so obsessed with the T20 brand of cricket that they forget the demands of Test cricket and why it is called by the name of 'Test'.
The Indian batting line-up has too many stroke makers today – so much so that the team lose wickets in a heap. If there is a Pujara to play the anchor role, it will only help those who love to play the shots and also those who love to see them.
Let's hope that those who ignored Pujara for whatever reasons they only know for the first Test, they will undo the misjudgement at Lord's.
Follow us on Telegram