Cheteshwar Pujara gives an update on Virat Kohli's back injury
The Indian captain was attended by the team physio during his knock where he played over 200 balls.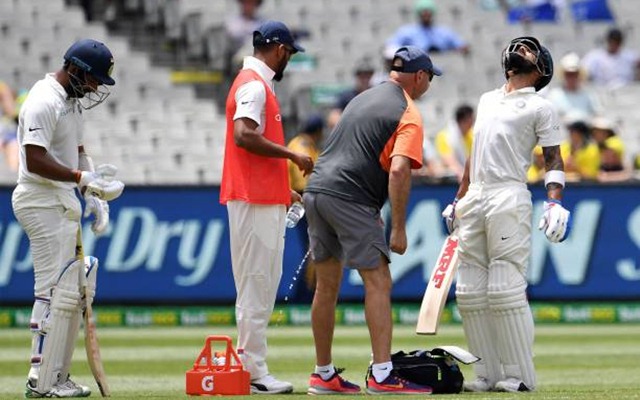 Follow us on Google News
Team India holds the edge in the ongoing Boxing Day Test match at the MCG. The young openers provided a promising start, of which debutant Mayank Agarwal went on to score 76. At No.6 Rohit Sharma also posted a fifty in the end as India declared the innings at 443/7 a few minutes before stumps on the day. Ajinkya Rahane and Rishabh Pant had also invested time and looked comfortable during their stay at the crease.
However, the highlight of the Indian innings was the partnership between Virat Kohli and Cheteshwar Pujara. The two batting heavyweights combined for a 170-run partnership for the second wicket that gave the Indian innings immense solidity. The Australian bowlers went through a dry spell going 68 overs without a single wicket. While Pujara scored his second century of the tour, Kohli got out on 82 and hence missed out on a deserving hundred.
I don't think Kohli's injury is serious
During the course of the innings where he batted over 200 balls, Kohli had issues with his back. He was even attended by the team physio during a break. The fact that the Indian captain got out in the very next over might as well have something to do with the discomfort. However, Pujara rued out any possibility of the injury being a concern.
"I don't think it's serious. The cause of the injury, I'm obviously not a physio so I can't say much about it. But I don't think it's serious. We had a wonderful partnership today, so I'm really pleased with that," Pujara said after the end of the second day's play.
Virat Kohli's fitness has been a matter of concern for some time now, though his workload level has been managed well he had downtime due to injuries. He was rested from the Asia Cup and even the T20I series against the Windies at home.
Before the tour to England, Kohli was also forced to miss the Surrey Stint due to an injury. With the World Cup not far ahead, the team management needs to step up their game and make sure the skipper is at his best when it matters the most.
[interaction id="5c21c7ef2a8a2d4031aa14ed"]
Follow us on Telegram