Cheteshwar Pujara- The monk who needs to leave a message
When Pujara made his debut in 2010 against Australia, little did he know that he will be filling up the big shoes of Dravid.
Updated - Jan 23, 2018 10:04 pm
1.5K Views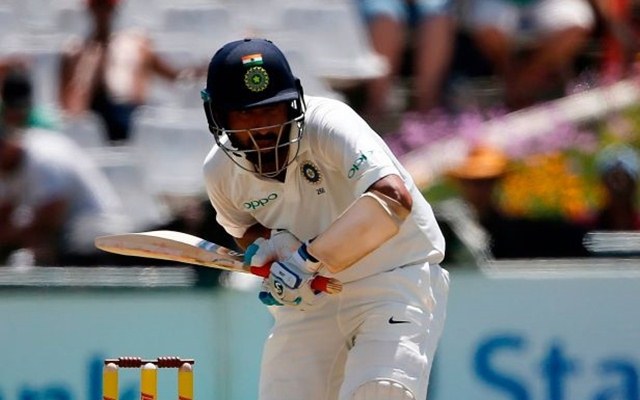 Follow us on Google News
Australian summer of 2011-12 was a painful sight for an avid cricket lover. Deep down everyone knew that this would be the end and how! To accept that someone else would now take up the No.3 spot wasn't easy after all those years of joy and glory. Such was the aura of Rahul Dravid.
But this piece isn't much about Rahul Dravid as it is about the man who replaced him at No.3. Cheteshwar Pujara. When Pujara made his debut in 2010 against Australia, little did he know that he will be filling up the big shoes of Dravid. His place in the side wasn't guaranteed and his position wasn't fixed.
It was in August 2012 against New Zealand that he made his Test comeback and scored a century. That was the moment. Everyone took notice and welcomed him with open arms, and make no mistake, the place he was welcomed to, was the No.3 spot. He is a traditional Test batsman, who just loves batting for elongated periods and pilling up the runs but shockingly has failed to reproduce his home accomplishments in away conditions.
Days of glory and gloom
After his comeback to Tests, he made it count. Scoring 654 runs at an average of 81.75 in 2012 and 1483 runs at an average of 78.05 in 2013. He was making merry and then suddenly reality hit. The reality of India being poor travellers with batsmen contributing majorly to underprivileged shows.
In 2014, he played 10 Tests in Australia, New Zealand and England combined and could only fetch two 50+ scores. A number you would never associate with him. Pujara's numbers outside Asia are run-of-the-mill kind and his failures don't augur well for the future.
Comparison with Dravid
And why not? Pujara has played 56 Tests and these are a lot of Test matches to make a comparison.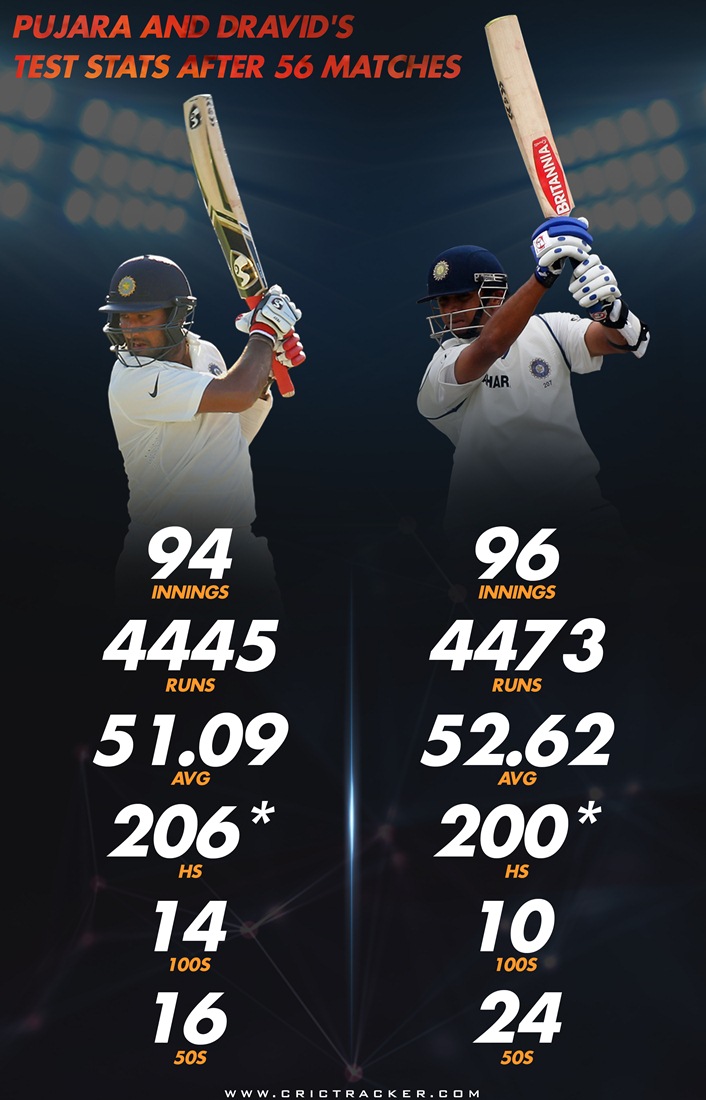 Here is the contrast of Pujara's career with Dravid's first 56 Tests.
It is an even association between these two. But these figures are very good at playing hide and seek. Every player does well in home conditions but scoring in extra-terrestrial conditions demonstrate the mettle of the character, technique, class and unfortunately, Pujara's numbers throw us a nightmare here.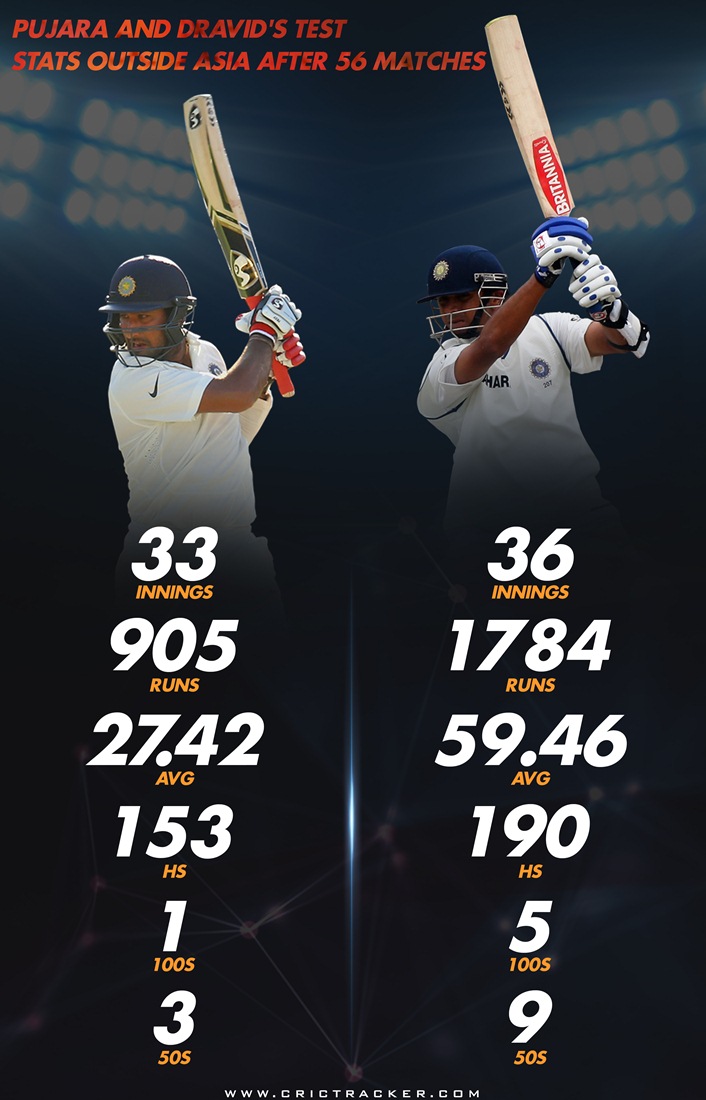 Having played the same number of Tests, the Saurashtra batsman has scored half the number of runs that Dravid managed at a very pitiable average. The difference between Pujara's record in Asia and rest of the world tells a story that portrays him as a villain.
Comparison with current Indian top order players
Having played almost same of Test matches, among the current lot of players Pujara has the worst record outside the Asian subcontinent with Virat Kohli at the top having scored most runs and the highest number of centuries. Sometimes, it's just not the technique that is a prerequisite to prosper in tough conditions, you also need to come out of your comfort zone and try different things.
There have been quite a few occasions in the past when batsmen have deviated from their habitual batting grip, stance, standing guard and bat position. Ricky Ponting's eminent off-stump guard against Murali and Sachin's middle stump guard against Glenn McGrath to name a few. Maybe, India's No.3 needs to come out of that zone and try something diverse.
Maybe, the 'zone' is the problem. Otherwise, it was very uncharacteristic of him to play a thoughtless shot on the first ball after the lunch in 1st Test and getting run out twice in the 2nd Test. Out of all the players, you wouldn't imagine him getting run out in a Test. Bizarre!
The road ahead
Patience- one word that defines Pujara. He has to remain patient and leave the ghosts of past behind him and relish this long overseas season. There is absolutely no doubt that he is a fantastic batsman with the ability to build long innings. He is already a very good player but there is a large room for him to become a great player and coming 14 months can be a testimony to it. He is a monk who meditates for hours and hours on the cricket pitch. Monks don't speak for themselves, they leave a message, and hopefully, it will be a good one for the Indian fans in coming days.
Follow us on Telegram