Chris Cairns shares pictures from his recovery phase, gets shifted to wheelchair for movement
Cairns could be seen pushing himself in the gym in the pictures shared by him.
Updated - Nov 14, 2021 1:25 pm
433 Views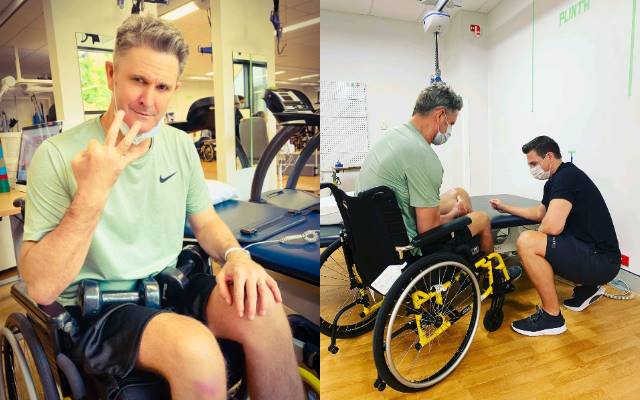 Follow us on Google News
Former New Zealand cricketer Chris Cairns went through a really difficult phase of his life in the last few months when a severe spinal stroke made him confined to the hospital for a long time. He later underwent an aortic dissection to gain some normalcy and is currently getting better one step at a time. In the latest turn of events, Cairns posted some of his pictures from the recovery phase where he could be seen getting on a wheelchair.
Cairns stated that three months after his traumatic experience, his chest support is finally removed and he is being shifted to a wheelchair. He also added that he has started pushing a little harder in the gym now and that he can move his chest in a normal manner. In the pictures shared by him, he could be seen sitting in a wheelchair and doing some physio and gym sessions.
"3 months (12 weeks) post-op! External chest precautions are off and I got a new set of wheels!! Able to start pushing a little harder in the gym – can transfer on my own and allowed to use my chest finally!! Today is a good day. #anniversary #3months #aorticdissection #survivor #spinalstroke #SCI #makeitcount #notdoneyet," posted Cairns on Instagram.
Chris Cairns shares pictures from his recovery phase
View this post on Instagram
It was during late September when Cairn posted how his family is helping him every day to get better. His little daughter is a tennis player and she brought a motivating poster to his hospital room to cheer father. The poster had a quote by Arthur Ashe (a famous tennis player) and those words helped him get going.
"My 10-year-old daughter is a tennis player, and when I woke up and came out of my haze in ICU I saw that she had made me a poster and Mel stuck it on my wall."
"It was a quote by Arthur Ashe (fitting as the US Open was also on at the time and got me through a few of those long nights in ICU). 'Start where you are, use what you have, do what you can.' 500 reps each leg this morning. Going for 600 tomorrow! #notdoneyet #makeitcount #arthurashe #clever10yearold," Cairn had posted earlier.
Follow us on Telegram