Chris Gayle vs Virat Kohli – Detailed analysis on who is the better batsman in T20s
Virat Kohli or Chris Gayle? Here's our in-depth analysis.
Updated - May 14, 2020 6:42 pm
783 Views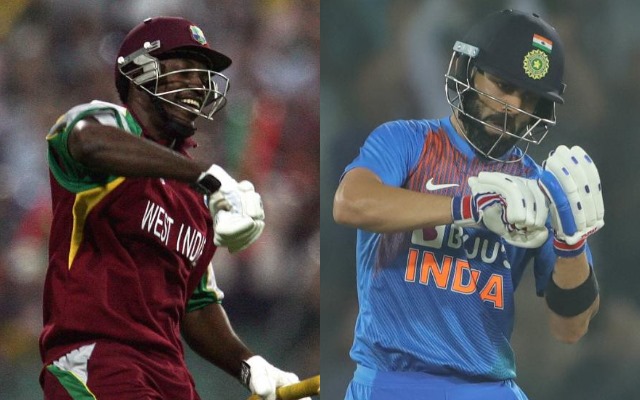 Recently, Chris Gayle edged past Virat Kohli to go into a further round of Greatest T20 cricketer poll organized by a popular cricket website. The fans of Kohli created a storm in Twitter trending a tag against the website that held the poll with screenshots of Kohli leading at the time of the deadline. The website cleared the controversy and decided to reopen the poll to please their audience. Gayle won the re-poll as well and this time, he ended up getting 75% of total votes.
Such polls are likely to overshadow the popularity of a player on most occasions rather than what they have achieved. It is one of the reasons why players from the subcontinent especially of India usually win majority polls. Gayle winning the poll might be a surprise considering such factors but there is no doubt the West Indian remains at the pinnacle of the Twenty20 format and also the Indian Premier League (IPL).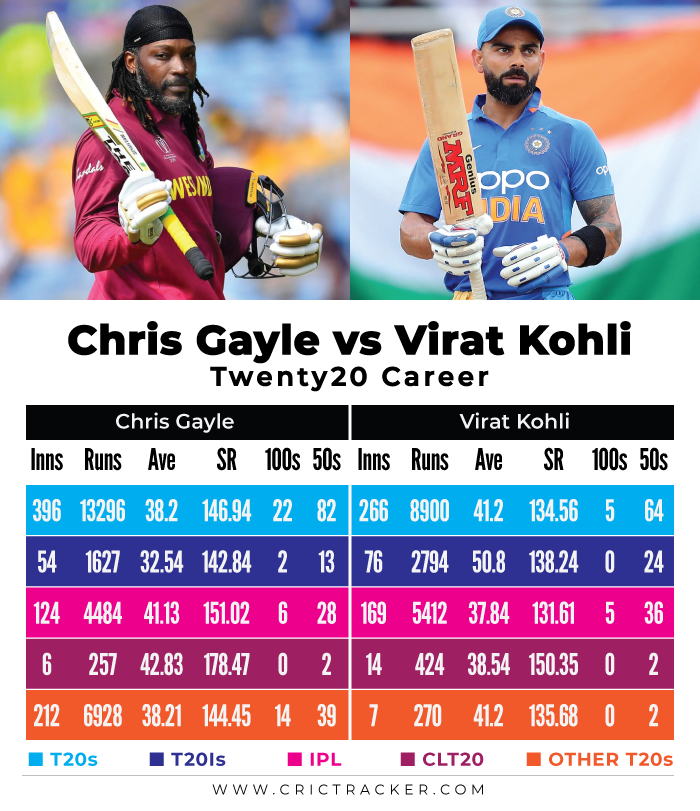 In terms of consistency, both Gayle and Virat stand around the same position as they record a 30+ score in every 2nd innings and score 50+ runs once in every four innings. However, Gayle storms ahead of Kohli when it comes to striking boundaries. At an average, both the top-class batsmen hit a four every 8-9 balls but a huge gap is there between the balls taken for a six of the two players. The Universe Boss smashes a maximum every 9 balls he faces while Kohli takes 23 balls.
There are only two players in T20 history to have scored more than 10000 runs – Chris Gayle and Kieron Pollard. Gayle alone smashed 10000 runs through boundaries out of the 13000+ runs in this format. The veteran batsman has earned experience by playing T20 Leagues in various countries. When it comes to Kohli, he hasn't played much outside the T20Is, IPL and CLT20. At these three levels, Kohli earns an edge in average but Gayle has got the superior strike rate.
Every time the Jamaican got past 30 runs, it is likely that he ends up with a high strike rate irrespective of his inning's longevity. Out of the 170 scores of 30+ runs in T20 cricket, Chris Gayle has ended his innings with a strike rate of 200+ in as many as 41 instances. When it comes to Kohli, he has got only three 30+ scores with came at a strike rate in excess of 200. Kohli has a total of 69 scores of 50+ in Twenty20 cricket but just one of them was reached in less than 25 balls.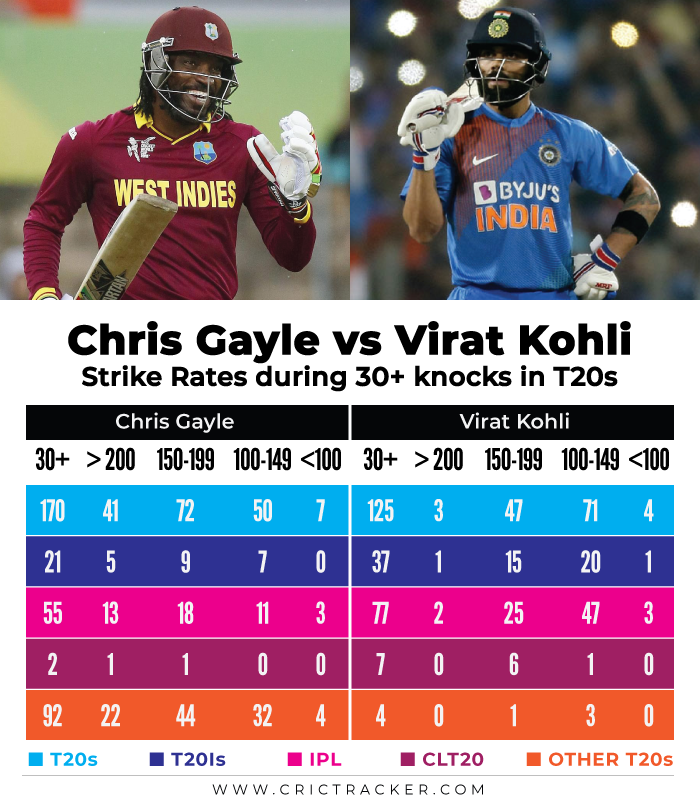 Gayle reached 50-run mark in less than 25 balls on five instances in the IPL including four times for the RCB team while playing along with Kohli only. He also has three such half-centuries when it comes to the T20I format. The only thing where Kohli remains ahead of Gayle in T20s is him opening the inning. The captain of RCB and India has quite solid numbers that could challenge someone like Gayle. Virat has batted 67 times as opener in T20s where he averages over 45 and strikes at 140+.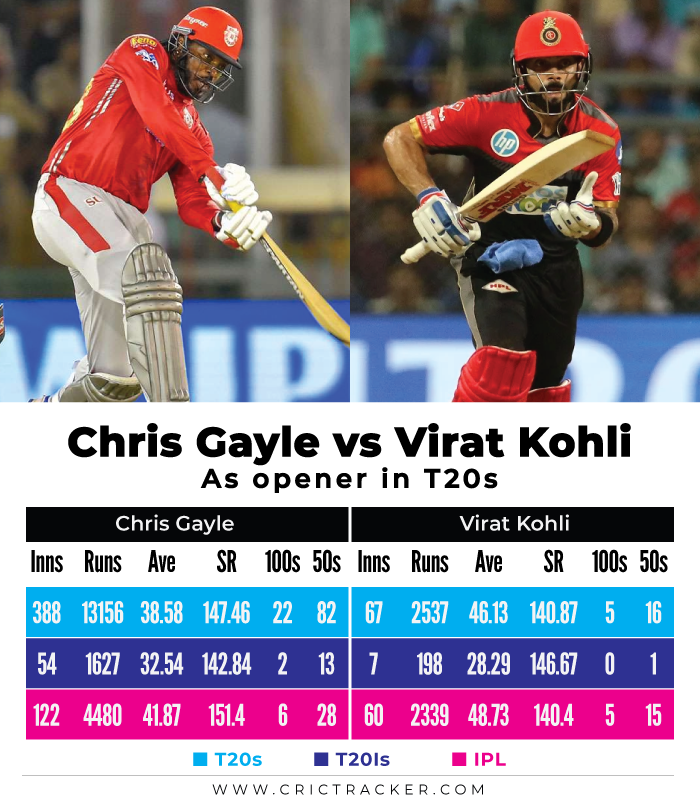 Virat Kohli's sum of average and strike rate in T20s as an opener read 187 while Gayle's sum is little behind of Kohli 186.04. It can be said that Kohli, the accumulator, bats differently when he bats up the order. It is one of the reasons why he scored all his five tons while batting first. Going through various stats of careers of both the players, it can be said Virat Kohli is a pretty clever T20 batsman and a beast in T20Is. But Chris Gayle has to be considered as the best for his top-class records in all countries where he raised the standard of the format.
(Stats as on May 6, 2020)