'Closed stands at MA Chidambaram stadium will get reopened for IPL 2020' – MCC President
MCC to apply to the corporation to carry out the demolition of gym.
Updated - Jan 30, 2020 3:33 pm
596 Views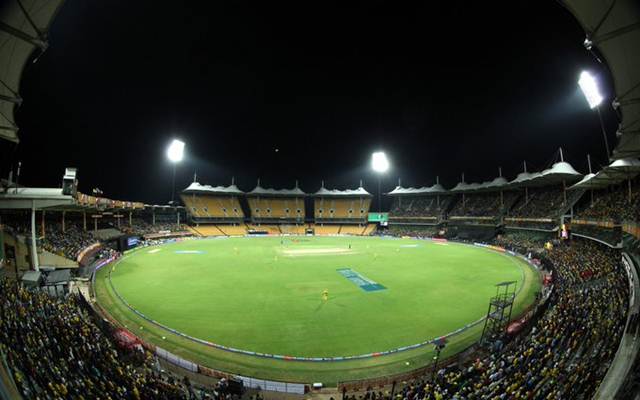 Follow us on Google News
MA Chidambaram is arguably one of the well-known stadiums across the country. It has hosted several national games as well as Indian Premier League matches. But, in the last few years, it has been affected by some legal issues over its three stands. However, now, there is news that MCC has agreed to open the stands for the fans with some modification in the near future.
The international stadium located in Chennai was hit with some legal controversy due to which its three stands I, J and K were closed for the spectators. It also deprived the city of the opportunity to host matches at various events including the World T20 in 2016 and the IPL 2019. There were speculations that the non-operational stands will be opened for an ODI game between India and West Indies but that was not the case.
MCC President gives an important update on MA Chidambaram stadium
Now, R. Ramesh, the President of Madras Cricket Club said that the general meeting that was held on Wednesday went quite smoothly. He stated that the association will apply CMDA in order to carry out the demolition of the gym. In affirmation, he also said that the gym is not a heritage property so they are certain to get permission for the same.
As per him, only the squash courts, billiards room, club office and MCC complex are reckoned as the heritage property. The gym will get demolished near around February in order to get the stadium ready for the upcoming international and IPL games. Moreover, he looked quite happy over the fact that they will get to watch more spectators at Cheapauk in big games.
"Now we will apply to the corporation and the CMDA for permission to carry out the demolition and we are sure we will be granted that since the gym is not a part of any heritage structure. Only the two old squash courts, the billiards room and the club office, the three buildings within the MCC complex, have been declared heritage structures.
"We expect the gym will be demolished sometime in February so that the three stands can be reopened for the IPL. Chennai should not, anymore, be denied international matches and the IPL final because these three stands remained closed. The cricket fans of the State are the biggest winners. Now we can have more spectators and more big matches at Chepauk," R. Ramesh said as quoted by Sportstar.
Watch: Irfan Pathan's interview post his retirement
Follow us on Telegram