Colour footage of Don Bradman batting at the SCG found after 71 years
Sir Don Bradman holds the record of having a highest individual average in Tests.
Updated - Feb 21, 2020 12:16 pm
9.8K Views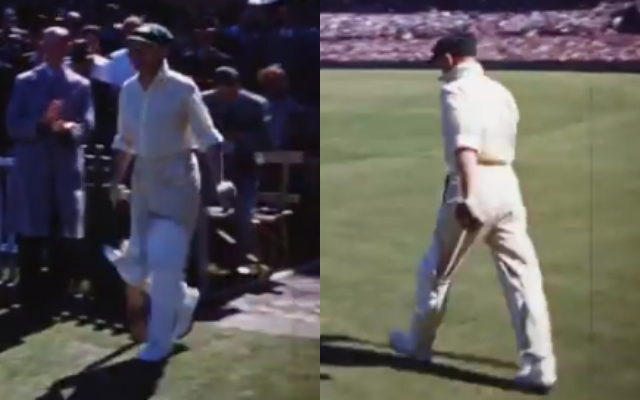 Sir Don Bradman is regarded as one of the best batsmen to have played the sport, not only for Australia but in the history of cricket. However, the current generation didn't have the honour to watch such a great player batting on the cricketing field as the world was short of technology at that time. Hence, there are not many clips available for the same. But now, a coloured clip of Don Bradman, which has been released by National Film and Sound Archive of Australia on the social media, has gone viral like a fire in the forest.
Cricket has witnessed many brilliant and the gem of batsmen in its history like Sachin Tendulkar, Sunil Gavaskar, Viv Richards, Michael Bevan, Ricky Ponting and many more. But there was none equivalent to Sir Don Bradman, who holds several accolades till date.
Some of them are impossible to break like he holds the record of having the highest average in Test cricket in minimum innings. In a span of his 20-year illustrious career, he donned the national jersey in 52 Tests in which he mustered 6996 runs with 29 hundred and 13 fifties at a staggering average of 99.96.
NFSA releases a coloured clip of Sir Don Bradman
It was known that Don Bradman bid adieu to cricket back in 1948 as he played his last Test series was against England. But, as per the reports of NFSA, he featured in three testimonial games after that showdown. He went onto play testimonial games at SCG  followed by his next game in Adelaide where he played for South Australia against Victoria.
In the clip released by NFSA, Don Bradman was spotted coming out of the pavilion to bat at Sydney Cricket Ground in testimonial game between AF Kippax and WA Oldfield on 26 February 1949. They also gave credits for such a wonderful clip to the cameraperson at that time named George Hobbs, who later on worked for ABC TV.
The 16-mm clip is of 66 sec which is silent but shows a humongous crowd that came out to the stadium to watch the testimonial game between the two teams as it was the last game of Sir Don Bradman at that ground.
Here is the clip:
This is the only known colour footage of #DonBradman playing #cricket, filmed at the AF Kippax and WA Oldfield testimonial match in Sydney, 26 February 1949!
It comes from a home movie donated by the son of cameraman George Hobbs.
Read more: https://t.co/0K36LLb77l pic.twitter.com/HwFPf2V9hF

— NFSA -National Film and Sound Archive of Australia (@NFSAonline) February 21, 2020