Continuous rains dampen the Moin-ud-Dowlah Gold Cup tournament
The Hyderabad Cricket Association (HCA) XI and Air India made it to the finals of the tournament.
Updated - Aug 29, 2017 8:41 pm
155 Views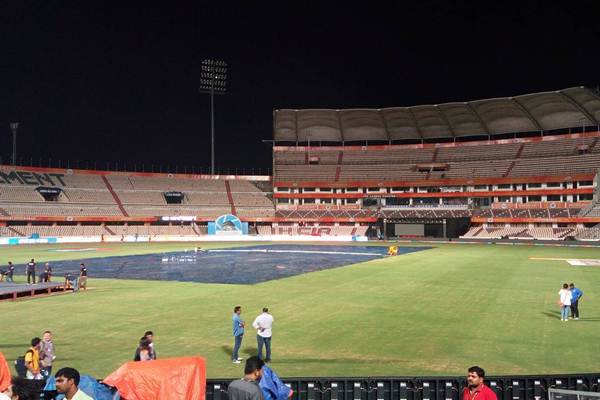 Follow us on Google News
The Moin-ud-Dowlah Gold Cup tournament has been affected by the rain for the fourth consecutive day due to constant rains in the city and the wet conditions not permitting any play in the semi-finals on Tuesday. The Hyderabad Cricket Association (HCA) XI and Air India made it through to the finals on the basis of a better net run rate and will be facing off at the Rajiv Gandhi International Cricket Stadium on Thursday if weather permits.
The tournament which kicked-off on 22nd August had a safe start with all the games on the first three days producing a result. But after the rest day on 25th, Hyderabad was affected by continuous rains which had an impact on the play. The four matches to be played on 26th were postponed to the rest day on 28th while only two games were completed on 27th (Sunday).
However, the postponed games had the same fate with the weather and ground conditions not allowing any play in the three matches scheduled to be played on 28th August while the HCA XI got a walkover in another game with the Vidarbha Cricket Association players not turning up. The HCA XI with 14 points and the Andhra Colts with 12 points got through to the semis from Group A while Air India and Baroda Cricket Association, both with 12 points qualified for the final four from Group B.
Air India moved ahead of Andhra Colts in the first semi-final with the former having a far better NRR (2.638) when compared to the Andhra Colts (0.698). The home team HCA XI stepped ahead of Baroda Cricket Association with an NRR of 2.43, which was substantially higher than Baroda's 1.77.
The three washouts in three days spoiled the Air India captain Suresh Raina's hopes of getting into the rhythm ahead of the domestic season, which is going to be a crucial one for the 30-year-old who is aiming a comeback in the national side. He will also be playing in the All India Buchi Babu Invitational Cricket Tournament in Chennai later this week.
Follow us on Telegram