Controversial remark from brother of RPS owner on MS Dhoni infuriates Twitterati
He said that the decision to replace Dhoni with Smith was absolutely correct; the way he said it was shameful.
Updated - Apr 7, 2017 1:10 pm
38.3K Views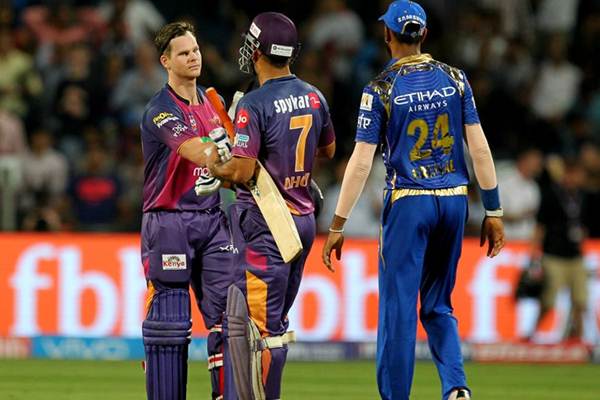 The brother of Rising Pune Supergiant owner Sanjiv Goenka, Mr. Harsh Goenka, has come up with a very harsh remark on former Indian skipper MS Dhoni recently. His controversial remark came on the micro blogging site Twitter where he posted a tweet in favor of Steve Smith soon after RPS registered their first home win at Pune against Mumbai Indians yesterday night.
Harsh Goenka, who is the chairman of the RPG Enterprises, said that the move to appoint Steve Smith as the captain of the franchise in place of MS Dhoni was a very right move. Well, his words might be true for some followers but the way a person of his stature put his words forward was absolutely disgusting. His words were clearly an insult to the most celebrated captains of the modern day cricket. Goenka, in his tweet, wrote, "#RPSvMI Smith proves who's the king of the jungle. Overshadows Dhoni totally. Captains innings. Great move to appoint him as captain."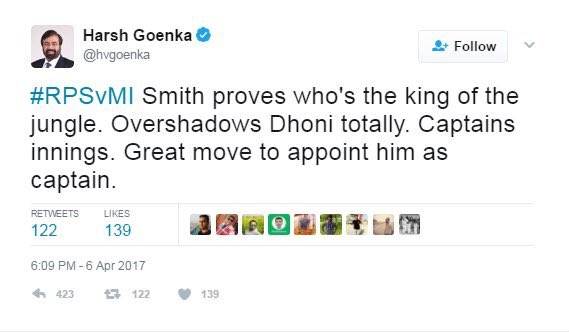 The heart of the matter dates back to the 2016 edition of the IPL when Rising Pune Supergiant had made their tournament debut. They were led by the then India skipper MS Dhoni. However, the team had a forgettable time in the IPL as they finished at the penultimate position in the points table. Dhoni was heavily criticized for the poor performance of the side.
This year, days before the tournament commenced, the RPS owner sacked MS Dhoni as the captain of the Supergiant and named Steve Smith as their new skipper. In the first match of the season for the team, Smith scored an unbeaten 84 to seal the match for the RPS side and finished off with two maximums. Dhoni was at the non-strikers end and had very little say in the win.
It was this fact that prompted Harsh Goenka to come up with a shameful tweet as that. He drew a lot of flak and criticism for his tweet as the Twitter world was very infuriated with his remark. Here is what the Twitter world had to say about the tweet:
@hvgoenka You will instantly lose 80% of the supporters the day Dhoni leaves the team …btw you already lost 20% when you tweeted this!

— Drunk BATMAN (@Caped_Humor) April 6, 2017
@hvgoenka Remember everyone supports Pune due to one reason that is Dhoni. Dhoni nahi toh Pune kuch bhi nahi. Please don't disrespect him.

— Nisarg Mistry (@nisarg1999) April 6, 2017
@hvgoenka Praising Smith is fine but degrading Dhoni is not the way. You forgot that @msdhoni came to bat lower in the order.

— Kirtika Garg (@kirtika_msd) April 6, 2017
Shame on You @hvgoenka
Show some respect towards @msdhoni .
Donot insult #Indian players over foreigners.#RPSvMI pic.twitter.com/QToKQuSAOZ

— Pardeep Parihar (@PardeepParihar) April 7, 2017
@hvgoenka R u out of sense? Leave cricket how did u even become a businessman with that Brain?Whats d need 4 this crap when its goin smooth?

— Karthik (@onenonlykarthik) April 6, 2017
Looks like @hvgoenka didn't like the Dhoni Dhoni chants in Stadium today. Ha ha, You have to live with it this season too #MSDhoni

— Prabhu ? ‏ (@Cricprabhu) April 6, 2017
Dear @hvgoenka if we support #RPS it's not because U or #Smithy it's coz one n only #MSDhoni #Dhoni is not just a name it's emotion 4 us

— ραηकज (@impankaj2721) April 7, 2017
@hvgoenka It May Be Smith's Day Today … Learn To Respect The Legend Who Had Won All The Trophies For His Nation … B4 Comparing With Someone ?

— ? Dhoni Fan Here ? (@HariMsd48) April 6, 2017
@hvgoenka Don't you dare insult Dhoni. Your team has got supporters coz of the main man.

— Rashmi Srivastava (@10_Rashmi) April 6, 2017
@hvgoenka You will instantly lose 80% of the supporters the day Dhoni leaves the team …btw you already lost 20% when you tweeted this!

— Drunk BATMAN (@Caped_Humor) April 6, 2017
@hvgoenka According to your logic if Dhoni overshadows Smith in next match will you make him the captain again ??#RPSvMI

— Dhoni ~ SRH (@Pranavv9999) April 6, 2017
@hvgoenka As MS always Says, Never take your wins to Head – losses to heart. Such outbursts are common when you are desperate for success. Take rest

— Prabhu ? ‏ (@Cricprabhu) April 6, 2017
@hvgoenka It May Be Smith's Day Today … Learn To Respect The Legend Who Had Won All The Trophies For His Nation … B4 Comparing With Someone ?

— ? Dhoni Fan Here ? (@HariMsd48) April 6, 2017
@hvgoenka Dhoni was intentionally giving strike to Smith as he was settled. That's called team spirit which you businessmen would never understand.

— Vaibhav (@vabskrishna) April 6, 2017