Cook calls Anderson a better bowler ahead of Steyn
Updated - Aug 20, 2014 8:50 am
47 Views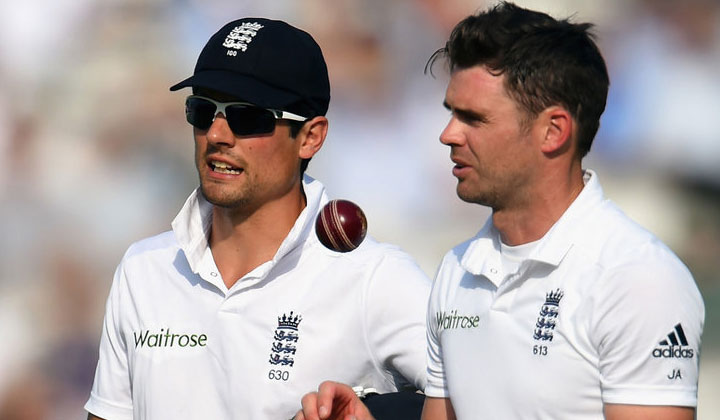 Follow us on Telegram
Alister Cook captain of the England cricket team in the longest format was under tremendous pressure weeks ago is a man high on confidence now. His team has done extremely well and his form is back too. Cook played a leading role with the bat to hand over India 3 straight defeats. But, winning a test match and a five match series you need your bowlers to pick you 20 wickets as quickly as possible.
Cook had the leisure and pleasure of having someone with just the right skill and application to do so in James Anderson. Anderson raided havoc on the Indian batsmen with the new ball partnership with Stuart Broad. Ensured all the star Indian batsmen were never given enough space to settle in and also allowed his co-bowlers to bowl freely. Jimmy not only ended the series as leading wicket taker with 25 wickets. He is now just 3 wickets away from Sir Ian Botham's record 383 wickets which is the most number of wickets by an English bowler.
Now that Anderson stands a match away from becoming an all time legend for England. His skipper is all praises for his trump bowler and went on to the extent of calling him the best bowler in world cricket at the present day. Cook said no doubt Dale Steyn is among the most dangerous bowlers and has the additional feather in his cap of express pace. But Jimmy is a more skilled bowler the way he swings the ball both ways with due respect to Steyn I don't think he can do that.
In the post match press meet after the 4th test Cook told the media that, "He's the most skilful bowler in the world.And I think that's a pretty good attribute as a bowler. You saw his guts and determination last week, when he was bowling when he wasn't very well. That was extraordinary. That pretty much tells me, tells everyone, what a bloke he is and to back it up with his talent and skill means he is a very good bowler."
If one goes on to compare the two bowlers test career what we find is Steyn is in a better position at the moment. Steyn has played 75 tests for South Africa and has picked up 383 wickets his career bowling average is 22.56. While figures for Anderson are 376 wickets in 98 tests and a career average of 29.86. Statistically Dale looks to be in a better position to be called the best. The two bowlers have had success recently but Steyn's is more significant by the fact that he performed extremely well on flat Sri Lankan wickets and Jimmy did so on juicky home strips.
In limited overs cricket Dale Steyn has played a total of 82 ODI's for South Africa and picked up 125 wickets averaging 25.98 there and economy under 5 as well. At the same time Anderson has picked 255 wickets after playing 180 matches and has maintained an average of 28.69. Though figures look better for him in the one dayers considering the fact that he has played at least a 100 more games than Steyn. In this comparative analysis of both these world-class pacers we conclude that Anderson though can be called the best England pacer. Dale Steyn rules over him if we talk about the best in the world.
Follow us on Google News