CPL 2021: Sheldon Cottrell takes a left-handed screamer to get rid of Glenn Phillips
Cottrell also picked up a wicket and scored a seven-ball 20 in the Patriots' run-chase.
Updated - Sep 3, 2021 10:36 am
661 Views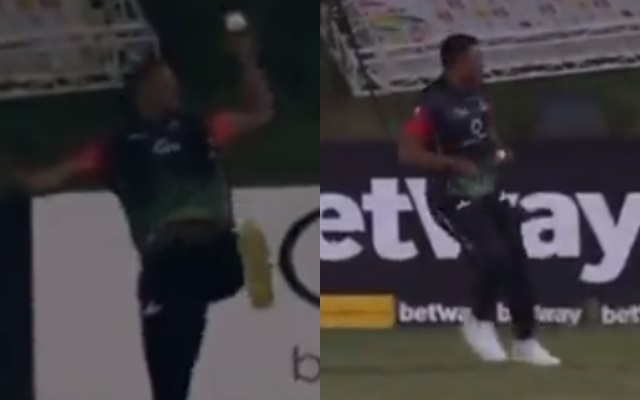 Follow us on Google News
Sheldon Cottrell had an incredible day in St Kitts and Nevis Patriots' match against Barbados Royals in Match No.14 of the 2021 CPL. The left-armer bowled brilliantly as he picked up the crucial wicket of opener Johnson Charles. The dismissal broke an ominous-looking 36-run stand between Charles and Smit Patel for the third wicket. Cottrell was also impressive with the bat in hand.
He scored a seven-ball 20 with one four and two sixes to help the Warriors to their fifth win in CPL 2021. He smashed Ashley Nurse for a six downtown to seal the fate of the game. Cottrell was also outstanding in the field. In the first ball of the 13th over, Dwayne Bravo bowled a full-length delivery, and Royals' batter Glenn Phillips tried to lift the ball down the ground for a six.
But he couldn't get proper timing as the ball found the toe-end of the bat. Thereafter, at the long-off boundary, Cottrell moved swiftly and stuck out his left hand to take the catch. He was able to maintain his balance and didn't allow the ball to go over the ropes.
Here's the video of Sheldon Cottrell's catch:
— Hassam (@Nasha_e_cricket) September 3, 2021
The Patriots won the game by two wickets at Warner Park. Cottrell said that though he doesn't get a lot of chances to bat, he prefers to focus on his batting. He also talked about the stupendous catch at the long-off boundary.
"As a bowler, we don't bat much. So whenever we go out in the middle we just enjoy our batting. There is no pressure like a batsman. I have had experience in those types of situations and knew what I was getting into. This is the first game that my knees have given me a chance to be myself and I was able to put full effort in the field (referring to his one-handed catch)," Cottrell said.
Jason Holder, on the other hand, admitted that the Royals were 10 runs short of where they would have liked to get. "I thought it was a good total. Credit to our batters for getting stuck there. Probably 10 runs short from the position we were in but we would have taken it at the start.
"The wicket was holding and gripping, there was a left-hander at the other end and hence went with Nurse (for the last over). Credit to Cottrell for hitting that six," Holder was quoted as saying after the match.
Follow us on Telegram