Crazy fan stops MS Dhoni's Hummer outside Ranchi airport
There is no doubt over the fact that World Cup winning captain Mahendra Singh Dhoni is a huge fan favourite not only in Ranchi but in the whole country. A player of his dignity becomes the centre of attraction wherever he steps in. His humble nature and extraordinary coolness on the pitch has brought him even closer to the Indian cricket fans. Loved by all, Mahendra Singh Dhoni is surrounded by thousands of fans whenever he visits his hometown Ranchi.
A similar incident grabbed the headlines recently when a fan of his confronted the Indian wicket-keeper batsman as he was making his way home from the Birsa Munda Airport in Ranchi. The 35-year-old Dhoni, was in Kolkata to represent Jharkhand in the Vijay Hazare Trophy and returned to his hometown with all his teammates by flight on Tuesday.
A crazy fan of his had spotted the valiant leader in the aircraft and tracked him down in the airport all the way to his Hummer in order to get a selfie or at least an autograph. She managed to come in the way of Dhoni's car but the Airport authorities quickly came into the act and removed the girl to clear the ex-India captain's way.
If reports are to be believed as per Deccan Chronicle, in the tug of war that took place outside the airport, the fan's handbag accidentally fell and Dhoni's hummer ran over it. Dhoni stretched his neck out of the window to ensure that everything is okay.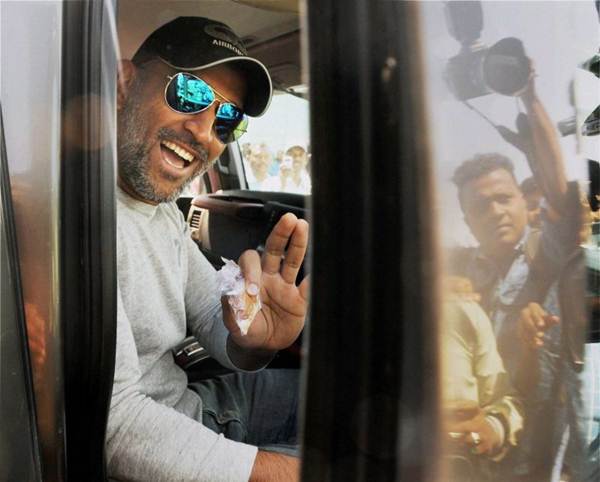 This is not the first time Dhoni got an idea of his insane fan following. Earlier this year a fan of his followed the Hummer from the airport to his home in the intention of clicking a selfie with the superstar. She got lucky as Dhoni posed with her for the much-desired selfie.
Even the Kiwi cricketers were amazed to see the stylish Mahendra Singh Dhoni drive past their team bus in his beautiful Hummer when New Zealand toured India last.