Cricket Australia journalist shares his side of the press conference incident involving MS Dhoni
Updated - Apr 1, 2016 12:22 pm
78 Views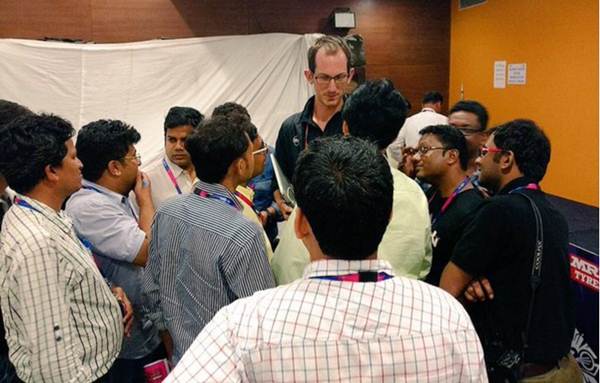 At the press briefing on Thursday night after India's loss to West Indies in the World T20 semi-final, Cricket Australia reporter Sam Ferris asked the Indian captain MS Dhoni about his retirement plans. Dhoni's response was far from brief. He made an elaborate show of calling Ferris over to sit next to him and started a little Q&A of his own. The writer for cricket.com.au has shared his experience on the website.
Ferris thought it was a pretty standard question asked by him. When Dhoni shocked the world with his Test retirement out of nowhere after the 2014 Boxing Day Test at the MCG, it caught everybody off-guard. With that in mind, Ferris was sure he (Dhoni) would get asked again if he was going to retire from limited-overs cricket after his team's exit from the World T20.
The writer felt it wasn't as if the Indian skipper had not achieved anything in white-ball cricket; Dhoni won the inaugural World T20 in 2007 in South Africa, hit the winning runs, a six no less, to win the 2011 50-over World Cup on home soil, and to complete the run of 3 wins, took out the 2013 Champions Trophy in England.
Ferris felt in case none of the India press pack was going to ask, he was ready. The writer though admits he can get nervous when asking questions at press conferences, but he thought it through, tried to keep it simple, and hoped he wouldn't mumble. Press conferences operate on a rotation system, so when his turn rolled around, the question still had not been asked, and he went for it.
Ferris says he never asked if Dhoni was going to retire, just how keen he was to play on. The writer claims he was not trying to retire one of the game's greats. He even prefaced it with "You've achieved pretty much everything in cricket" to soften the blow and tried to himself not look like some blood-thirsty mosquito looking for a headline which he admits he most definitely was.
Dhoni smiled and asked Ferris if he could repeat it. The writer mumbled and asked against, and instead of an answer got an invitation. At first, Ferris politely declined, but Dhoni insisted. He says why would he turn down India's greatest-ever captain?
Ferris was welcomed with a warm embrace, a sympathetic arm around his shoulder and a crisp white smile, the same smile he says he has seen on a dozen commercials featuring Dhoni on Indian television selling a vast range of products.
Having only experienced this situation from the other side of microphone, Ferris took a quick glance up ahead to see what all the fuss is about and could only remember the bright lights and his cameraman/photographer 'Doc' snapping away in the aisle on his camera phone.
Following the press conference Ferris was swamped by the local press. He realised this is what the players must go through, and called it a daunting experience. He couldn't remember anything he said, what happened and even had to check his accreditation for his name says Ferris explaining his state of mind.
Ferris says shortly after this his phone was going nuts with Twitter notifications and he was told he's now 'trending'. He claims no one has ever called him trendy. He felt Dhoni hates that question and was ready to pounce on an Indian journalist who was going to ask it. Even though he fired the wrong ammunition, Ferris felt he took a bullet for his Indian colleagues.