Cricket Australia shifts AUS vs IND women's pink ball Test venue due to worsening Covid-19 situation
Also, the ODI matches, that were supposed to take place in Sydney, will now be held at Mackay in Queensland.
Updated - Aug 29, 2021 11:36 am
475 Views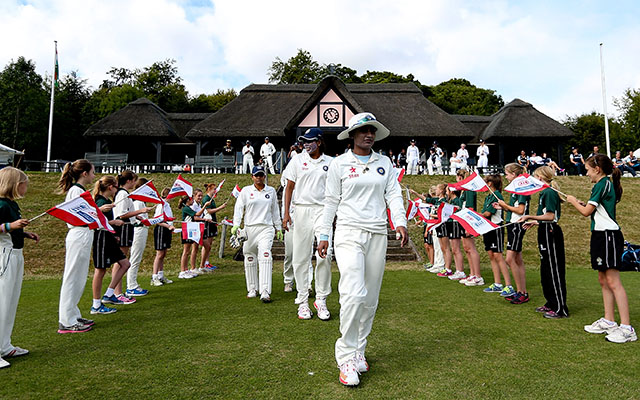 Follow us on Google News
The Covid-19 pandemic has once again disrupted the cricketing world. According to reports, the Covid-19 situation in Australia has worsened, and as a result, the venues for several matches for the India Women's tour of Australia have been reshuffled.
The venue for the hugely awaited Pink Ball Test match between the Australia Women and the India Women has been shifted from the WACA Stadium to the Carrara Stadium in Queensland due to the prevailing situation.
Also, there is a change in venues for the ODIs as well. The ODI matches, that were supposed to take place in Sydney, will now be held at Mackay in Queensland.
Sources suggest that there is a possibility that India's tour to Australia might be called off
Also, sources have suggested that Australia has been affected by Covid-19, and as a result, no cricket match can be played at Melbourne, Perth, and Sydney. Stating that since several cities are entering into a lockdown, the source added that the scheduling changes have been made by Cricket Australia.
"Australia is currently badly affected by Covid-19. The number of cases are constantly going up, which means no matches can be organised in Sydney, Melbourne and Perth. All these cities are repeatedly going into lockdowns. This has forced Cricket Australia (CA) to move the ODI and T20I series out of Sydney to Mackay, and the pink ball Test from Perth to Gold Coast, which will also host the three T20Is now," stated a source according to the Times of India.
And, as per the altered schedule, the Indian side will fly to Dubai on 29th August 2021 in a chartered flight, and from Dubai, they will once again take another flight to Brisbane and will be in quarantine for a couple of weeks. The source concluded by stating that the entire tour might also be called off if the Covid-19 situation continues to get worse.
"However, this is also a tentative schedule, which CA has communicated to the BCCI. As per the altered schedule, the Indian team will fly tomorrow (Sunday) evening from Bangalore to Dubai in a chartered flight. From Dubai, the team will fly to Brisbane, where they will quarantine for two weeks before going to Mackay.
Everything is uncertain due to the concerning Covid situation in Australia. Let's hope that the Covid situation doesn't get worse in Australia, otherwise, the tour itself may have to be called off even after the team reaches Australia," concluded the source.
Follow us on Telegram