Mohammed Siraj: The boy who went beyond what was destined for him
Siraj ended the series in Australia with 13 wickets in three games.
Tolichowki, a neighbourhood just 7.7 km from Hyderabad Deccan Railway Station, is surrounded by historical mosques, breeze with unconditional love blowing over tombs, streets full of eateries prepared with people's affection, kids playing cricket in every nook and corner, and Shahrukh Khan's 'Main Agar Kahoon' from the movie Om Shanti Om blasting on full volume in every tape recorder in the locality.
There's chaos in the neighbourhood where time moves at the speed of light and with people working two jobs a day trying to feed their families. But, on the other side, there are also kids dreaming about playing for India one day, scoring a century or two, or maybe picking up a fifer at the Rajiv Gandhi International Stadium, which is around 14 km away with 40,000 odd chanting their names at the top of their lungs.
In those chaotic streets, with all the mayhem around, was a baby boy born to Mohammed Ghaus, an autorickshaw driver and Shabana Begum, a housewife, in 1994 named Mohammed Siraj.
Siraj in Urdu means candle, and little did he know that he would go on to become be a candle that would illuminate billions of dreams in the country.
After a decade and a half, cricket became an escape route from the harsh realities of life for a young Siraj. The 16-year-old, bowling with his slippers on, fell in love with throwing a little yellow round object over 22 yards. He did not know about the money it could yield in return or the fame that cricket might offer, but he was there just to entertain himself, running around the streets and trying to bowl fast.
Siraj's first turning point came when he was 16 and picked up nine wickets in an innings for his uncle's society club in a one-day game. That night, he earned INR 500, which probably felt like the 2.6 cr he later got at the 2017 IPL auction. Well, when you get INR 70 to fill petrol and ride an old Platina to practice, 500 can may as well feel like 2.6 crores.
The society game was his first understanding of what he had, but he did not know this would enable him to make a living like he'd never imagined.
As years passed by, talent turned into potential, potential paved way to opportunities, and opportunities matured into adversity, and the fight in him to defy all odds finally handed him a life-changing moment. Siraj started to do what he had done all his teenage life, trying to bowl fast in the Hyderabad zonal games, and boy, bowling fast opened up a Ranji Trophy selection door.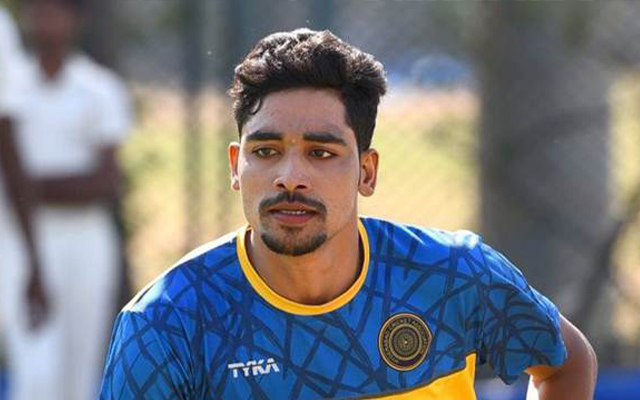 He made his Ranji Trophy debut in 2015-16, and the overwhelming experience of getting fast-tracked into professional cricket did not have the conversion rate it needed to fully develop into a performance.
At the time, Siraj was just a year old into professional cricket, and over the next 12 months, he changed.
He changed himself, developed his skills, and transformed his mental game. Also, with Bharat Arun, the then Hyderabad coach, tapping into his full potential the following season, Siraj enjoyed a breakthrough year like no other, picking 41 wickets and also dismantling Mumbai with a nine-fer.
Well, this time around, not pace, but performance opened up doors to his cricketing career's next stage. After pushing his name into a plethora of talent, he was bagged by the Sunrisers Hyderabad, as lakh zoomed into a crore, eventually turning into 2.6.
Life had changed and changed in a glamorous way, but Siraj remained grounded and firm to go beyond what was destined.
There are many things that stand out with Siraj. The appetite to succeed, the way he uses the crease, the seam movement, the wrist, and the swing he gets off the new ball. But one thing that sticks above all is his attitude and mentality.
Siraj played 15 games in the IPL 2021 season, bowling at an economy of under 6.8, constantly thinking about his father, who had helped him come a long way.
With thirty-nine IPL wickets, IPL contracts with RCB, and being subjected to the dark side of social media, Siraj travelled to Australia in 2021. They say a promise, once made, is a promise kept, and Siraj's moment in the sun came, a Test debut for India, but it was without his father, who did not live long enough to see his kid realise his dream.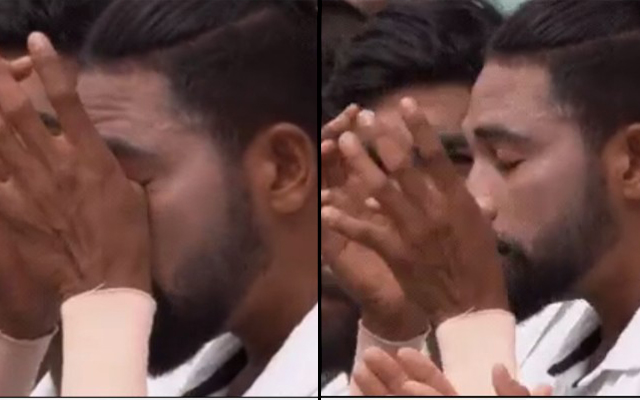 Mohammed Siraj ended the series with 13 wickets in three games, at an average of 29.53 and a five-fer at the Gabba in Brisbane. He had shed tears during the national anthem thinking about his father - all that after missing his father's funeral, only because that would stop him from doing what his father loved and lived for, playing Test cricket for India.
Two years later, Siraj is one of, if not the Indian captain's go-to strike master when the side is in a spot of bother. The Hyderabad-born speedster relived his magic, this time in the finals of the Asia Cup in Colombo, picking up a magical six-fer against the hosts and putting their challenge to bed.
It's just a little too early to predict what the future has in store for the right-arm quick. For people watching, it has changed them a little, and for Siraj, life has certainly taken off from the humble beginnings in Tolichowki.
In a world where elite athletes can be brash, Siraj is different. In a world where humility is exaggerated, Siraj smiles from a corner.
He was not a smug and never has been one. He wore the crown called humility with pride and proved the theory modesty is hypocrisy where the talent lies wrong by giving away the prize money of USD 5,000 for being adjudged the Player of the Asia Cup final to the groundsmen in Colombo and Kandy.

Watch Mohammed Siraj donate his prize money to Colombo and Kandy groundsmen
#Siraj, a true sportsman and India's pride, donated his cash prize to the groundsmen – a gesture that embodies the spirit of unity. Meanwhile look at the other self styled filmmaker who made a fortune at the plight of Kashmiri Pandits! pic.twitter.com/1HuNvYokIO

— Salman Nizami (@SalmanNizami_) September 17, 2023