Cricketers and celebrities congratulate Sourav Ganguly for becoming BCCI President
Ganguly will be at the helm for close to 10 months.
Updated - Oct 16, 2019 12:03 pm
4.3K Views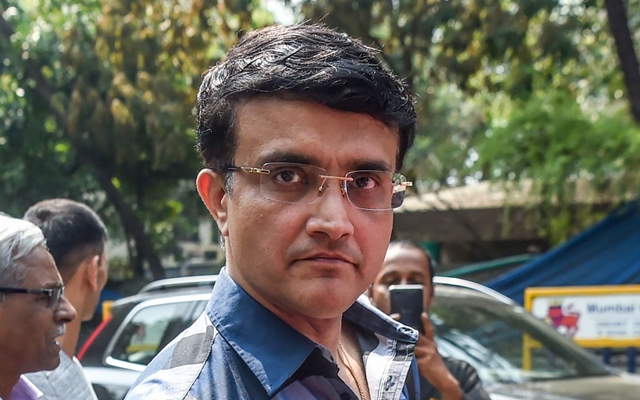 Former India captain, Sourav Ganguly is set to become the new president of BCCI within a few days. Like in his playing career, there was a lot of drama in electing him at the helm. Ganguly currently holds multiple roles in Indian Cricket and is likely to give up those once he holds the top position.
The 47-year-old, who is currently the president of the Cricket Association of Bengal (CAB), will have to resign from his post on July 2020, as he will go for a compulsory cooling-off period. After the fixing saga in 2000, Ganguly took over India's captaincy and played one of the important roles in taking the team forward. He built the side for the future and led the side admirably during his stint.
Sourav Ganguly's achievements as an Indian captain:
Finalist of ODI World Cup in 2003 & Champions Trophy in 2000.
Joint winners in Champions Trophy in 2002.
Drawn Test series in England and Australia.
ODI and Test series win in Pakistan.
Issues with Greg Chappel and poor form with the bat led to him stepping down from captaincy. Sourav Ganguly lost his place in the side but he returned to the side within one year and played in the 2007 ODI World Cup. He played 113 Tests and 311 ODIs for India and scored more than 18000 international runs. His 16-year long International career ended in 2008 against Australia but continued playing in IPL till 2012.
Sourav Ganguly cleared his vision on becoming the BCCI President and stated his first priority will be to look after the first-class cricket.  "For me, my biggest focus will be first-class cricket. I have been very vocal about looking after the first-class players, especially the time they invest.
"First-class cricket is the base, the strength. I have written so many times in the last few years that the remunerations need to increase, and increase manifold. So that's going to be a priority to set the FC cricket in order. Look at cricket structure, look how governance happens and see smooth functioning happens with no issues," he was quoted as saying by Cricbuzz.
After the news spread like a wildfire, cricketers around the world came in with wishes for Sourav Ganguly. From former Zimbabwe captain Tatenda Taibu to former Indian opener Virender Sehwag, many cricketers sent good luck tweets to Dada.
Here are some of the tweets:
Wishing you the very best dada as you take up your new role …be yourself … fearless and limitless.

— Suniel Shetty (@SunielVShetty) October 14, 2019
Congratulations to the prince of kolkata on becoming @BCCI president. Loved the first reaction which u gave about looking after the first class cricketers. It was much needed. Wish u al d very best 👍 May God bless u always @SGanguly99 pic.twitter.com/iaFofrOMbi

— MANOJ TIWARY (@tiwarymanoj) October 16, 2019
You are a leader who empower others to be a leader congratulations @SGanguly99 for becoming @BCCI president..I wish you all the best going forward.. 🤗🤗🙏 pic.twitter.com/l2Xj2rIahR

— Harbhajan Turbanator (@harbhajan_singh) October 16, 2019
Congratulations @SGanguly99 pic.twitter.com/x8pUqTNmOO

— Tatenda Taibu (@taibu44) October 15, 2019
Hearty Congratulations to @SGanguly99 for being elected as the #BCCIPresident pic.twitter.com/l4CYxFZ4jx

— Mohanlal (@Mohanlal) October 15, 2019
Here's wishing Dada all the best in his new role….often players don't make good administrators but he's cut from a different cloth. Expecting him to lead Indian cricket the way he led Indian Cricket Team to glory. @SGanguly99

— Aakash Chopra (@cricketaakash) October 14, 2019
The two most important men in Indian cricket at the moment. Last year when they launched my book we joked about ⁦@SGanguly99⁩ becoming ⁦@BCCI⁩ boss and ⁦@imVkohli⁩ becoming the best in the world across formats. pic.twitter.com/hSH13boZLd

— Boria Majumdar (@BoriaMajumdar) October 14, 2019
Congratulations Dada @SGanguly99 . Der hai Andher nahi.
Great signs for Indian Cricket. May this stint bevan extension of the tremendous contribution you have already had on Indian cricket.

— Virender Sehwag (@virendersehwag) October 15, 2019
Congratulations @SGanguly99
now future of Indian cricket is in your hand
💐
I hope that in your guidance cricket will achieve new hight pic.twitter.com/fc0pE3TabO

— Chetan Chauhan (@ChetanChauhanCr) October 15, 2019
I genuinely believe, and have often said so, that @SGanguly99 is the right man to take Indian cricket forward. I wish he had longer than ten months though.

— Harsha Bhogle (@bhogleharsha) October 14, 2019
Former Indian Cricket Team Captain Mr.Sourav Ganguly is being appointed as the President of BCCI, it's a proud moment for all of us in Bengal.

We extend our heartiest congratulations to Mr. Sourav Ganguly. pic.twitter.com/GaEB3ew6x5

— West Bengal Congress (@INCWestBengal) October 14, 2019
Sourav Ganguly:

1992: India debut

2000: India captain

2015: CAB President

2019: BCCI President

— Broken Cricket (@BrokenCricket) October 14, 2019
Congrats on being elected the @BCCI President, Dadi.
I am sure you will continue to serve Indian Cricket like you always have!🏏
Best wishes to the new team that will take charge. pic.twitter.com/ucGnOi0DRC

— Sachin Tendulkar (@sachin_rt) October 15, 2019
Congrats @SGanguly99 on becoming the President of @BCCI I have got no doubt that under your leadership Indian Cricket will continue to prosper.Wishing you lots of success in your new role Dada. pic.twitter.com/xU82q5JIzu

— VVS Laxman (@VVSLaxman281) October 15, 2019
My best wishes to my friend, @SGanguly99 on his future with @BCCI. Cricket in India will truly benefit from his years of experience on and off the field and his reputation as one of the best captains ever. pic.twitter.com/0LfAtWjy1y

— Sajjan Jindal (@sajjanjindal) October 14, 2019
From player to captain to BCCI President, bahut Mubarak ho Dada @SGanguly99 . Great signs for Indian cricket to have an outstanding leader be at helm of the BCCI , expecting innovative and much-needed things

— Mohammad Kaif (@MohammadKaif) October 14, 2019
Congratulations dada on becoming the new @BCCI president. I am sure you will steer Indian cricket to greater heights. 👍🏽 @SGanguly99 pic.twitter.com/1oHxHSH4cm

— Jhulan Goswami (@JhulanG10) October 15, 2019
~ Written by Johns Benny