Cricketing community pays its last tribute to former PM Atal Bihari Vajpayee
At around 5:30 PM on August 16, AIIMS in a media release confirmed the demise of the former PM.
Updated - Aug 16, 2018 7:02 pm
2.7K Views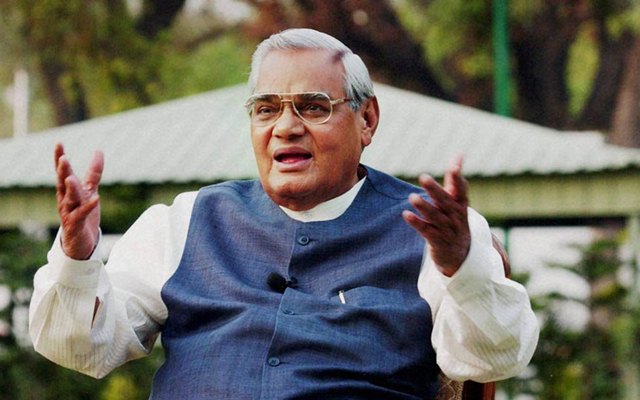 Former Indian Prime Minister Atal Bihari Vajpayee breath his last on Thursday, at the All India Institute of Medical Science in New Delhi. The 93-year-old a Bharat Ratna awardee was admitted to AIIMS on June 11 with a kidney tract infection and chest congestion and was under observation since. At around 5:30 PM on August 16, AIIMS in a media release confirmed the demise of the former PM.
Vajpayee one of the most reputed political leaders in the country was a three-time PM. He retired from active politics after 2004 with declining health, in the last few years it was said that he hardly had any memory and didn't recognize people. There was a lot of attention on the AIIMs medical bulletin since it was reported yesterday that he was on life support system.
All the political leaders from the country including Prime Minister Narendra Modi, LK Advani, Congress President Rahul Gandhi as well as Delhi Chief Minister Arvind Kejriwal made a visit to the hospital check up on him.
The AIIMS statement announcing the same read: "It is with profound grief that we inform about the sad demise of former Prime Minister of India, Shri Atal Bihari Vajpayee at 05:05 pm on 16.08.2018
Shri Vajpayee was admitted in AIIMS on 11.06.2018 and was in the last 9 weeks under the care of a team of AIIMS doctors.
Unfortunately, his condition deteriorated over the last 36 hours and he was put on life support systems. Despite the best of efforts, we have lost him today.
We join the nation in deeply mourning this great loss."
Vajpayee will forever be remembered as one of the strongest leaders in the country. He was with the Bhartiya Janta Party from his early days in politics. He took oath as the PM for the first time in the 11th Lok Sabha as the leader of the National Democratic Alliance in 1996 and once again in 1998. After the fresh elections in the same year, he once again was at the helm of the 13th Lok Sabha and remained the PM until 2004.
Among his most recognizable feats is the successful Atomic test carried out by India in 1998 and India's victory in the Kargil war in 1999.
Here is the cricketing community's tribute to the former PM:
India is at a great loss today. Shri #AtalBihariVajpayee ji's contributions to our nation have been innumerable. Thoughts and prayers go out to his loved ones.

— Sachin Tendulkar (@sachin_rt) August 16, 2018
Deeply saddened to hear about the loss of Shri #AtalBihariVajpayee ji. His values and ideologies will be remembered forever.

— cheteshwar pujara (@cheteshwar1) August 16, 2018
It's been a sad week, the demise of one of India's finest leaders "Mr. Vajpayee" is heartbreaking. #RIPVajpayee

— Ashwin Ravichandran (@ashwinravi99) August 16, 2018
Asaman ko choo gaya, jo asmaan sa vishal tha, dharti mein simat gaya, jo mitti jaisa narm tha.
Kaun hai jo Atal reh paya zindagi bhar, Atal banke wo zindagi ko paa gaya.
Om Shanti #AtalBihariVajpayee ji 🙏🏼 pic.twitter.com/56Xi1sqzEf

— Virender Sehwag (@virendersehwag) August 16, 2018
My Favourite PM is no more….R.I.P 😔#AtalBihariVajpayee

— Aakash Chopra (@cricketaakash) August 16, 2018
One of India's Most Loved Prime Minister, a great poet and a wonderful statesman. We as a nation will miss you sir #AtalBihariVaajpayee ji 🙏🏼 Deepest condolences to admirers and loved ones . pic.twitter.com/BPQRUD8nLG

— VVS Laxman (@VVSLaxman281) August 16, 2018
Another gem of a person, India lost.. He was one of the greatest leaders, an amazing orator and an extraordinary statesman.. He who won many hearts, even that of his opponents, may his soul rest in peace.. #AtalBihariVajpayee pic.twitter.com/xguDdX4BS0

— VINOD KAMBLI (@vinodkambli349) August 16, 2018
My deepest condolences on the passing of our former Prime Minister Sri Atal Bihari Vajpayee Ji. One of the few politicians I always respected for his honesty and devotion to the national cause. May his soul rest in peace.

— Shikhar Dhawan (@SDhawan25) August 16, 2018
One of the finest leaders, India has ever had. Feel a lot of gratitude for the love he showered upon me and also wished well for me in an election rally. The nation will miss him. Condolences to his loved ones #AtalBihariVaajpayee pic.twitter.com/Rr03FrfYWP

— Mohammad Kaif (@MohammadKaif) August 16, 2018
"क्‍या हार में क्‍या जीत में
किंचित नहीं भयभीत मैं
संधर्ष पथ पर जो मिले यह भी सही वह भी सही।"#RIPAtalBihariVaajpayee Ji. One of the Finest statesman and Prime Minister of India has left us when we needed him the most. pic.twitter.com/ffmjKw2Vmc

— Siddharth Kaul (@sidkaul22) August 16, 2018
#AtalBihariVajpayee ji lived every minute of his life in service of the nation. His poems and oratory skills were par excellence. There is so much for us to learn from his life. He was in every sense a 'Bharat Ratna'. May his soul rest in peace. pic.twitter.com/Aa1B5DltUe

— MANOJ TIWARY (@tiwarymanoj) August 16, 2018
The Indian Cricket Team and BCCI condoles the sad demise of former India Prime Minister Shri Atal Bihari Vajpayee. Atalji dedicated his life in service of the nation.

— BCCI (@BCCI) August 16, 2018