Cricketing fraternity pour heartfelt condolences to Asif Ali's daughter
She was in the United States for treatment and was battling stage 4 cancer.
Updated - May 20, 2019 12:19 pm
44.5K Views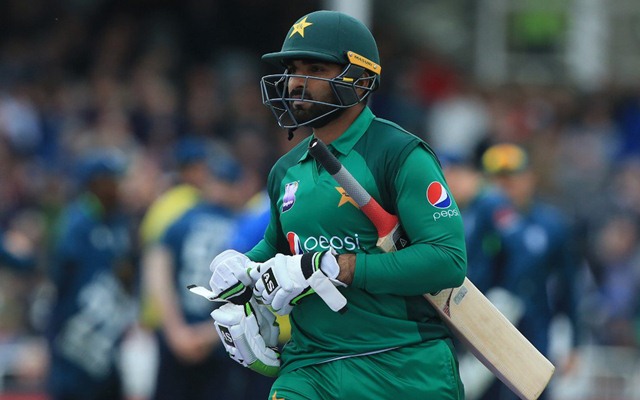 Follow us on Telegram
Pakistan batsman Asif Ali was fighting it out in the middle for his team as they were chasing a mammoth total of 352 runs. But somewhere inside him, the cricketer was worrying for his two-year-old daughter who was battling cancer. He scored 22 runs off 17 deliveries and soon Pakistan crumbled to a 54-run loss. However, an even more heartbreaking news stunned the cricketing fraternity soon.
Asif Ali's daughter who was being treated in the United States of America (USA) lost her battle with cancer and passed away late on Sunday night. Asif played all the matches of the five-match series with a braveheart and is most likely to make it to the World Cup squad as well. But he must have left heartbroken with the shattering news.
Even during the Pakistan Super League (PSL), while playing for Islamabad United, had broken down once while stating the condition of his daughter. He kept on playing even then hoping for better days to come.
Fraternity voices out support to Asif and his family
The cricketing fraternity was soon behind Asif Ali after the news broke out. While he is now expected to be with his family and is known to have left England as well, Twitterverse has shown support to the cricketer in these tough times. The likes of Dean Jones, Michael Clarke, Misbah Ul Haq, Mohammad Hafeez and many current and former cricketers have tweeted and expressed their condolences for Asif Ali and his family.
"Really sad to know about the daughter of @AasifAli2018. My prayers are with you and your family brother. You fought bravely in such tough circumstances and tried your best to save her but Allah knows better. May Allah help u in this toughest moment of sorrow," Misbah's tweet read. On the other hand, Dean Jones, Asif's Islamabad United coach advised the cricketer to stay strong and also showed his support.
Here are some of the tweets:
Absolutely devastating mate. Thoughts and prayers with @AasifAli2018 and family https://t.co/PkdTdQrjb9

— Michael Clarke (@MClarke23) May 20, 2019
Really sad to know about the daughter of @AasifAli2018 .My prayers are with you and your family https://t.co/97d6P9fw6W fought bravely in such tough circumstances and tried your best to save her but Allah knows better. May Allah help u in this toughest moment of sorrow.

— Misbah Ul Haq (@captainmisbahpk) May 20, 2019
Thoughts and prayers are with you and your family @AasifAli2018 😢😢😢🙏🏽🙏🏽🙏🏽

— Ashwell Prince (@ashyp_5) May 20, 2019
Such a sad news!!
Thoughts & Prayers for @AasifAli2018 & his family..
May Allah SWT give his family courage & strength to go through this unimaginable time of grief!🙁

— Syeda Nain Abidi (@SyedaNain18) May 20, 2019
On behalf of my family and the @IsbUnited players and families… we send our condolences and love to @AasifAli2018 and his family on the passing of his beautiful daughter. #staystrongAsif 😪

— Dean Jones (@ProfDeano) May 20, 2019
Inna lillah hi wa inna eliehi rajioon very sad to hear about the death of @AasifAli2018 daughter may Allah bless her with jannah Ameen.

— Azhar Ali (@AzharAli_) May 19, 2019
إِنَّا لِلّهِ وَإِنَّـا إِلَيْهِ رَاجِعونَ My heartfelt condolences are with @AasifAli2018 on loss of his beloved daughter May Allah Grant her highest place in Jannah & give strength to family to bear the loss Ameen

— Kamran Akmal (@KamiAkmal23) May 19, 2019
May almighty ALLAH bless @AasifAli2018 daughter JANNAH 🤲🏼 Aameen , Stay strong إِنَّا لِلّهِ وَإِنَّـا إِلَيْهِ رَاجِعونَ

— Mohammad Hafeez (@MHafeez22) May 19, 2019
May almighty give patience and strength to Asif bahi and his family, indeed it is a huge loss. Our thoughts and prays are with you @AasifAli2018 bahi. Very very sad news 😭 😭

— Sahibzada Farhan (@RealSahibzada) May 19, 2019
Extremely heart broken with the news of @AasifAli2018 daughter passing away my heart and duas goes out to the family may Allah pak grant them all with sabar. :(:(:

— Mohammad Amir (@iamamirofficial) May 19, 2019
Absolutely heartbroken to hear the news of the passing away of your little angel @AasifAli2018 May Allah grant you and your family lot of strength to bear this loss. She will be your source to jannah. It's so so heard for a parent to go through such a trauma.

— Umar Gul (@mdk_gul) May 19, 2019
ISLU family pays its deepest condolences to @AasifAli2018 on the tragic loss of his daughter. Our thoughts and prayers go out to Asif & his family. Asif is a great example of strength & courage. He is an inspiration to us.

— Islamabad United (@IsbUnited) May 19, 2019
إنّا لِلّه واِنَّااِلیْهِ راجِعُوٌنٌ
.@AasifAli2018 daughter has passed away 😭 she was fighting against stage 4 cancer. Last few months have been very tough for the whole family.
May ALLAH give him and the rest of the family patience and strength to bear such a Huge loss. #RIP

— Saeed Ajmal (@REALsaeedajmal) May 19, 2019
Ina lilahi wa ina ilayhi rajioon. Really sad to hear about @AasifAli2018 daughter. May Allah give sabr to him and his family in this difficult time.

— Muhammad Nawaz (@mnawaz94) May 19, 2019
انا لله وانا اليه راجعون
Allah @AasifAli2018 bhai ki beti ko jaanat naseeb farmaye aur un ki family ko sabr de. Asif bhai jesa saabir insaan maine nahi dekha. Asif bhai is mushkil waqt mai hum sub aap ke saath hein.

— Shadab Khan (@76Shadabkhan) May 19, 2019
Left with no words after learning about @AasifAli2018 little daughter.
Really heart breaking news it is💔
I am praying that your faith will help you through this very difficult time. I pray that you will find the strength to get you through your grief and sadness.Ameen

— Ahmad Shahzad 🇵🇰 (@iamAhmadshahzad) May 19, 2019
Inna Lillahi wa inna ilayhi raji'un.
"We belong to Allah and to Allah we shall return."
Deeply saddened to hear about the passing of your daughter @AasifAli2018, it's the most difficult thing a parent can face. May Allah bless her soul and give you all sabr. Ameen

— Wahab Riaz (@WahabViki) May 19, 2019
Sincere and heartfelt condolences to Asif Ali on the passing away of his daughter

— Saj Sadiq (@Saj_PakPassion) May 19, 2019
Inna lillahi wa inna ilayhi raji'un. Asif Ali's daughter has passed away.
Thoughts are prayers are with Asif Ali and his family. May Allah give them the strength to overcome this loss.

— Faizan Lakhani (@faizanlakhani) May 19, 2019
Follow us on Google News