Cricketing trends in Twitter today
Updated - Nov 1, 2016 3:56 pm
31 Views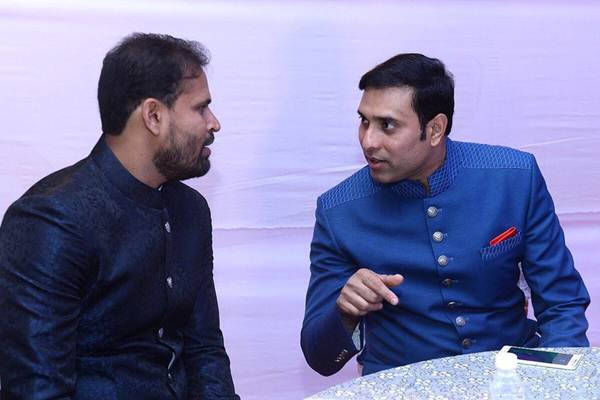 Cricketing trends in Twitter today began with a few cricketers trying out their muscle diet with varying results. First, it was Wayne Parnell who tried his hand at lifting a few heavy blocks before former Zimbabwe skipper tried his hand at a few weights.
Elsewhere, Chris Tremlett had a massive amount of protein as his muscle mask also seemed to be growing. Yusuf Pathan took a moment to wish former Indian batsman VVS Laxman on his birthday.
That said, here are some of the best tweets in today's edition of Cricketing trends in Twitter today.
1. Wayne Parnell seems to be working on his body ahead of the South African Test series
Being indifferent is an option but it's the wrong one. #TheresMoreToIt #DontBeMeh pic.twitter.com/UzFzsGeczG

— Wayne Parnell (@WayneParnell) November 1, 2016
2. Elsewhere, Brendan Taylor is also four months away from having the 'Jealous Body'
Solid workout today.. 4 months to get jacked! pic.twitter.com/Twd4VymjUd

— Brendan Taylor (@BrendanTaylor86) November 1, 2016
3. Angelo Mathews apologizes to his skipper for not making it to their walk
@MahelaJay @KumarSanga2 @TrailSL extremely sorry4not been able to walk due to my calf injury.Wil always give my fullest support#stayblessed

— Angelo Mathews (@Angelo69Mathews) November 1, 2016
4. David Lloyd knows exactly what to do when he is not on commentary duty
Flying dogs book turned up ! pic.twitter.com/BclsywGOoe

— David 'Bumble' Lloyd (@BumbleCricket) November 1, 2016
5.  S Badrinath has been looking at Golf Kits during his Diwali shopping spree
#diwaligoodies love them, thankyou @nike @nikegolf cant wait to wear them on the course?⛳️☺️ @… https://t.co/Ztj1sTJfqb

— subramani badrinath (@s_badrinath) November 1, 2016
6. Chris Tremlett knows where his muscles will come from
Yes yes!! @bpisportsuk #bestbcaas #protein ???? pic.twitter.com/delBLIDJbW

— Chris Tremlett (@ChrisTremlett33) November 1, 2016
7. Ben Stokes introduces his mate Jonny Bairstow to the wonderful world of Google
Try this thing called Google,it's pretty good @jbairstow21 pic.twitter.com/ReuJucQkNR

— Ben Stokes (@benstokes38) November 1, 2016
8. Roelof van der Merwe shows off his impeccable facial hair 
Help us raise some ? for charity,back our team @RealShavingCo @SomersetCCC at my MO link> https://t.co/OIiAfEf1uq pic.twitter.com/TZ8PSIswQd

— Roelof van der Merwe (@Roela52) November 1, 2016
9. Dean Jones is certainly keeping all his followers on their toes for his upcoming piece
My article outlining the solutions for Test cricket and a possible Test cricket Championship will be in @theage on Saturday ..

— Dean Jones (@ProfDeano) November 1, 2016
10. Stuart Broad and his epic moment on twitter along with mate Ben Stokes
@benstokes38 pic.twitter.com/d0T0bnBTbt

— Stuart Broad (@StuartBroad8) November 1, 2016
11. Yusuf Pathan calls on an old friend on the latter's birthday
"Aj hai mera birthday aj" this is what he is saying 2me in this pic,many happy returns of the day @VVSLaxman281 bhai pic.twitter.com/NaSvCxrulw

— Yusuf Pathan (@iamyusufpathan) November 1, 2016
12. Martin Guptill may be in India. but he sure does know who he will be supporting in the Plunket Shield
Serious win by the @aucklandcricket #Aces today. Colin de Grandhomme with a serious 144* to win it for us. Boys looking good! #PlunketShield

— Martin Guptill (@Martyguptill) November 1, 2016
13. Damien Martyn simply cannot wait for the release of this particular film
Conservationists. Investigators. Government officials. Risk their lives to end the senseless slaughter of elephants. Nov 4th! #TheIvoryGame pic.twitter.com/LwnWQXACZM

— Damien Martyn (@damienmartyn) November 1, 2016
14. Ravichandran Ashwin plays a dangerous game of catch with his daughter
She won't relent at all??? https://t.co/cDrELZpdhG

— Ashwin Ravichandran (@ashwinravi99) November 1, 2016
15. Mitchell Starc has finally gotten the one haircut he so desperately deserves
It's that time again people… Time to shave the upper lip and get growing, all for a fantastic… https://t.co/6ZC9WnAIm4

— Mitch Starc (@mstarc56) November 1, 2016
16. Dale Steyn senior runs into an old friend from the past
My old man and his brother reunited! 14 years since they last saw each other, now they get to watch me play in Perth together! STOKED! ? pic.twitter.com/ugkclk2pPI

— Dale Steyn (@DaleSteyn62) November 1, 2016