Cricketing trends in Twitter today
Updated - Jan 3, 2017 4:38 pm
26 Views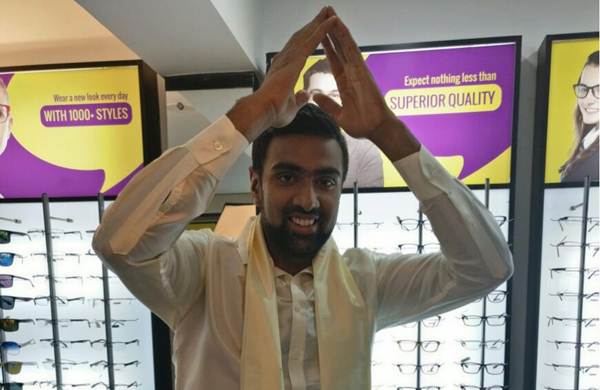 Follow us on Google News
Australian opener David Warner's trailblazing century against Pakistan at the Sydney Cricket Ground today kicked off the twitter activity for most cricketers. The left-hander struck an entertaining 78 ball century which came within the opening session of the first day.
His record-breaking effort was obviously impossible to ignore and cricketers from around the world highly praised Warner. The 30-year-old felt very grateful seeing all the message and thanked everyone for the love. Wasim Akram, the Pakistan fast bowling legend, wasn't very impressed with his boys and expressed his unhappiness masked in a tweet lauding Warner's effort. Ravichandran Ashwin was in a festive mood and was dressed up in traditional attire, celebrating an early Pongal.
Ravichandran Ashwin was in a festive mood and was dressed up in traditional attire, celebrating an early Pongal but for an advertisement not in real life. Ian Botham walked 5 miles to finally capture a rising sun from the valleys. He was astounded and so were his followers.
Injury struck New Zealand opener Martin Guptill and West Indies all – rounder Dwayne Bravo were hoping for a quick recovery. But, they won't be coming back to the field anytime soon, though. While Guptill is fit enough to have small cycling session but still recuperating, Bravo would require more time as he underwent surgery for his hamstring.
1.Motivation
I don't lose. I am fighter.I beat myself every day.I am an expert!Just like my #OPPOF1s #SelfieExpert#ILikeSelfieExperthttp://bit.ly/2io3qxE pic.twitter.com/nocJRhjZTB

— yuvraj singh (@YUVSTRONG12) January 3, 2017
2. Worth of the every second spent at this wonderful place
It was worth the 5 mile walk…don't you think ?? Love the Hebrides !! pic.twitter.com/riEdYiv2v3

— Ian Botham (@BeefyBotham) January 3, 2017
3. There is dejection in this tweet. Hope the Pakistan bowlers finds it out and resurrect their fortunes in the match
Australia nay maara bhi aur ghuseeta bhi.Incredible effort & batting by @davidwarner31 I haven't seen an innings like that for ages #AUSvPAK

— Wasim Akram (@wasimakramlive) January 3, 2017
4. Another achievement in the pocket of Aleem Dar. Flawless and gold class
Congratulations to ALEEM DAR on the achievement of supervising the world record no of matches at international level?????? keep going pic.twitter.com/jpnMVmI0ek

— Mohammad Hafeez (@MHafeez22) January 3, 2017
5. When will the curators stop building roads? 
Another flat pitch in the #AUSvPAK test in Australia? Bring the bowlers back into this. It's killing tests. #statspadding

— Scott Styris (@scottbstyris) January 3, 2017
6. With the young lad
After a short good break,Back to work with @raccelerate24365 ?????#theman #behindthescenes #fitness #awayoflife pic.twitter.com/Uj0l62leIz

— subramani badrinath (@s_badrinath) January 3, 2017
7. Martin Guptill on his way to recovery 
Rehab biking watching the @aucklandcricket #Aces playing at home in the @SuperSmashNZ . The outer oval looking a picture today! #UpTheAces pic.twitter.com/55SXvmHe1X

— Martin Guptill (@Martyguptill) January 3, 2017
8. Dwayne Bravo also on the same road. But his journey has just begun
Thankful for a successful surgery ??. On the road to recovery. Thanks everyone for the love and support #champion pic.twitter.com/XFQb8k9dj0

— Dwayne DJ Bravo (@DJBravo47) January 3, 2017
9. Welcome to the KKR family, Lakshmipathy Balaji 
Welcome back to the KKR Family, Laxmipathy Balaji! See you in the nets soon. #KKR pic.twitter.com/j71D0GX1Rq

— Gautam Gambhir (@GautamGambhir) January 3, 2017
10. Respect the soldier.
Celebrating and acknowledging our soldiers doesn't need an occasion.#IndianArmy simply the best.
Jai Ho ! pic.twitter.com/0ELJtWlaaf

— Virender Sehwag (@virendersehwag) January 3, 2017
11. Vannakm thalaiva !!!!
Thala thalabathi pongal.!! pic.twitter.com/2c82VuAfiy

— Ashwin Ravichandran (@ashwinravi99) January 3, 2017
12. Pakistan bowlers were on HollyWEED today!
This made me giggle….#AUSvPAK pic.twitter.com/FCwP1z3Rsu

— Jason Gillespie (@dizzy259) January 3, 2017
13. A pat on the back from the senior mate
Our first hug in the middle. Well done youngster. @renners96 #turtle&bull/rev https://t.co/XME8PwuUct

— David Warner (@davidwarner31) January 3, 2017
14. He is on his way for a quick beer
On my way ?? https://t.co/Bbcors6sTc

— Dale Steyn (@DaleSteyn62) January 3, 2017
15. A grand view of the grandest city in India
Nice view marriott hotel near international airport Mumbai pic.twitter.com/ZyjIzRdLeu

— Mohammed Shami (@MdShami11) January 3, 2017
Follow us on Telegram